Lili Reinhart & Cole Sprouse's Twitters Were Hacked & It's Totally An Invasion Of Privacy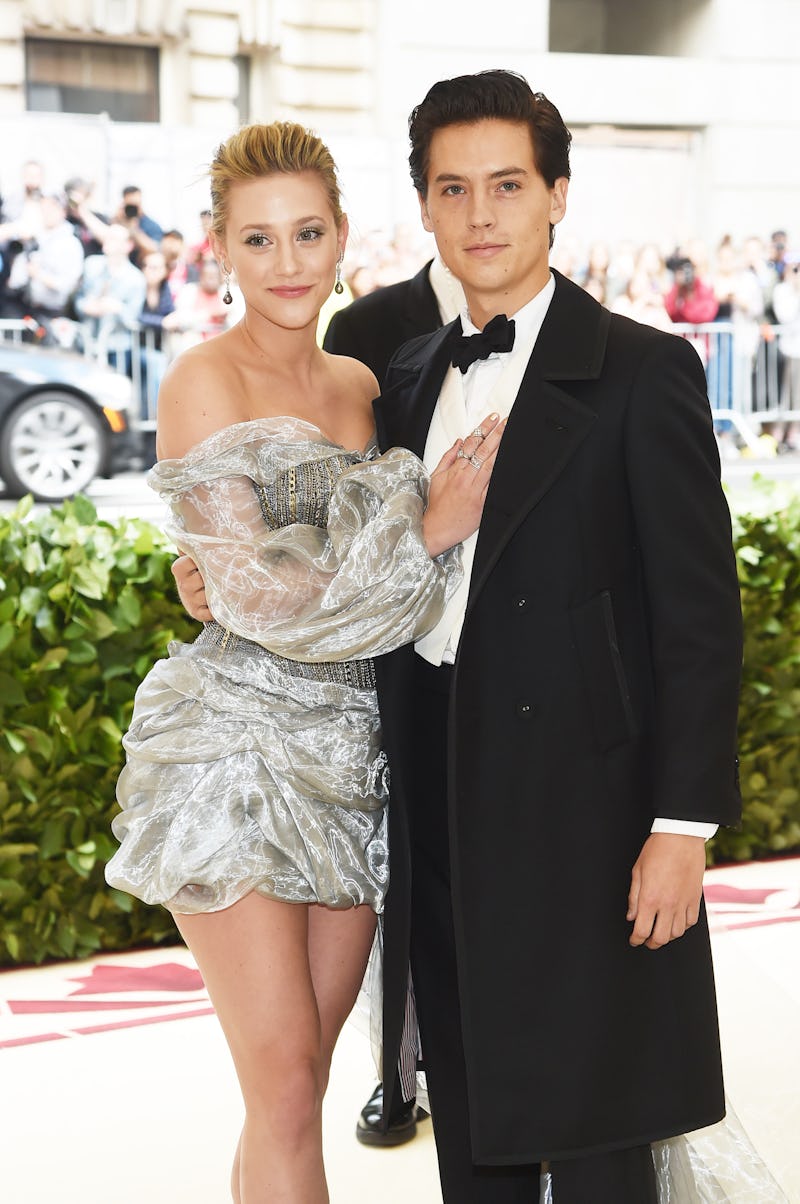 Jamie McCarthy/Getty Images Entertainment/Getty Images
The internet can be an unfortunate place. Early on Thursday, People reported that Lili Reinhart's Twitter account got hacked after Cole Sprouse's was hacked two days prior. According to People, Reinhart's Snapchat was also compromised, and it appears she experienced more harm on her social media compared to Sprouse. (Bustle reached out to both Reinhart and Sprouse's reps for comment, but did not receive an immediate response.)
According to The Blast, on Wednesday, the hacker allegedly posted a nude image on Reinhart's Twitter and claimed it was the CW star. At the time the alleged nude photo was posted, The Blast reported the hacker tweeted, "Shouldn't have talked sh*t about us, here's to lili fans found this masterpiece in iCloud." According to The Blast, the picture allegedly tweeted was "an old photo from a pornographic website that dated back to 2012." In addition to the photo, The Blast reported there were several tweets posted on Reinhart's account, but they were apparently deleted 20 minutes later.
As for Sprouse, his Twitter account was reportedly hacked on Monday. According to People, the hacker alleged Sprouse participated in sexual acts while working for Disney. Before her own account was compromised, Reinhart took to Twitter on Aug. 13 and wrote, "Cole's Twitter has been hacked BTW. F*ck people who do that, seriously."
According to Cosmopolitan, Reinhart's sister, Tess Reinhart, posted on Instagram Story on Wednesday, alerting everyone that not only was her sister aware her account got hacked, but the actor was trying to get the situation under control. "A PSA," Tess' message read. "Everyone in my family, including Lili, knows that her accounts are hacked. Thank you for trying to let us know, she's getting the situation handled."
Both Reinhart and Sprouse are well-known celebrities, who are beloved by Riverdale fans. They are also reportedly dating in real life, just like their characters, Betty and Jughead. As their fans know, they prefer to keep their personal lives private. As Seventeen's May/June 2018 cover star, Reinhart opened up about why she doesn't discuss Sprouse and their relationship publicly. She said,
"Every time someone asks me about it, I make a decision then and there about whether I'm comfortable. It's not like I'm in some kind of contract, but I'm not in the place where I want to talk about it, and that's totally fine. It's called a private life for a reason — it's mine, and it's special and sacred. My relationships are between me and whomever I'm with, not between me and the world."
Sprouse has also explained his privacy with Reinhart. He told People in November 2017 that it's an "invasion of privacy" when anyone inquires about them as a couple. He also added,
"So I just never talk about it because it's not anyone's right to know. People can speculate all they want, people speculate about me with every member of the cast practically, but it's really no one's right to know. It's also sexy, these parts of the relationships that are just yours."
Who knows if their accounts being hacked will affect what they share in the future on social media or if they become even more private. Regardless, the hacking is clearly a major invasion of their privacy and it's up to them what next steps to take. At this time, it's unclear if Reinhart and Sprouse have gained full control of their social media accounts.