Lili Reinhart's Birthday Messages For Cole Sprouse Will Make 'Riverdale' Fans Swoon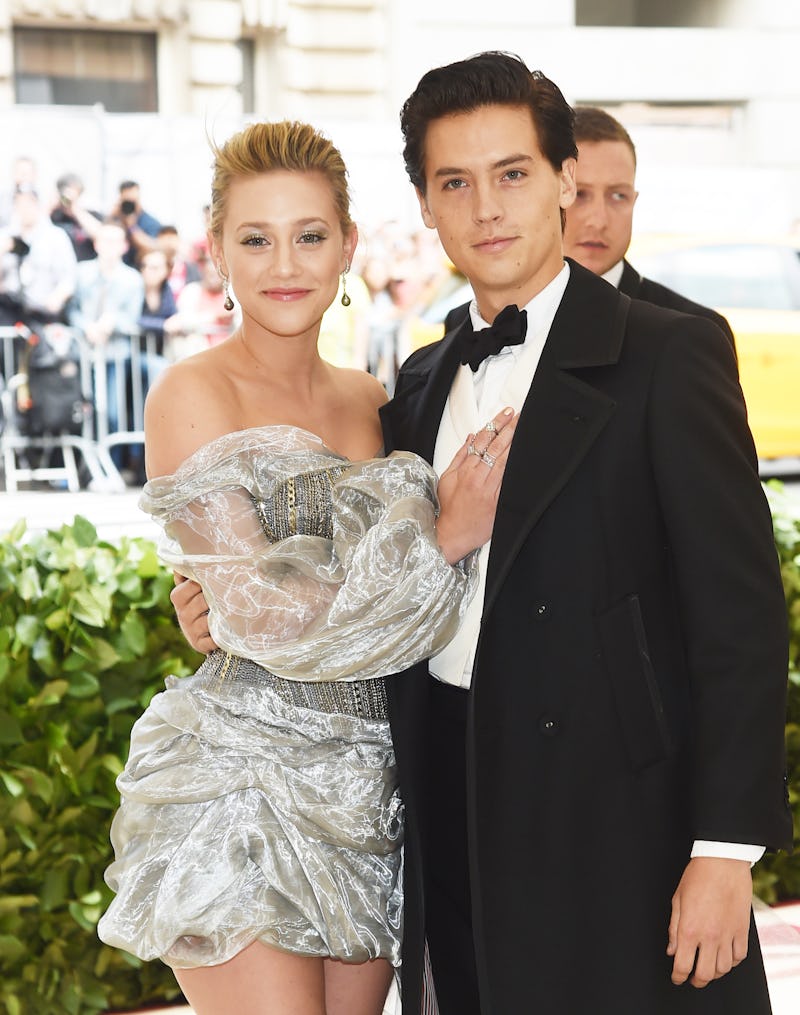 Jamie McCarthy/Getty Images Entertainment/Getty Images
Is Bughead officially updating their real-life relationship status? In Lili Reinhart's birthday messages for Cole Sprouse — which she shared via social media on Saturday, August 4 — the Riverdale actress used the "L" word to describe her on-screen boyfriend. Although she's long been adamant about keeping her private life, well, private, Reinhart (AKA the Betty to Sprouse's Jughead) paid tribute to her costar with a candid photo and sweet message in honor of his big 2-6 on Instagram:
"It seems as if the world would still be a stranger to me, if not for you. I'm so thankful that our paths intertwined to form this beautiful adventure~ Happy birthday, my love."
Sprouse gave the sentimental post a double tap, with Elle posting a screenshot of his "like." Among the additional celebs who gave their social media seals of approval were Game of Thrones star Sophie Turner, 13 Reasons Why's Katherine Langford, Elle Fanning, and Riverdale costar Camila Mendes, who plays Veronica.
Mendes wasn't the only cast mate who noticed the adorable birthday message. "F**K this is cute," wrote Madelaine Petsch (Cheryl Blossom on the CW teen drama). Meanwhile, Sprouse's onscreen dad, Skeet Ulrich, also added to the comment section with two heart emojis, both according to Entertainment Tonight.
Reinhart's Twitter message, however, was more in the vein of the pair's trademark silly sides. Posting a headshot of Duchess of Sussex, Meghan Markle (who's celebrating her 37th birthday today) next to a professional photo of Sprouse, she hilariously tweeted, "Happy birthday to the princess, and also to Meghan Markle."
Of course, the duo has never explicitly confirmed they are dating. Fans seemed to think Sprouse and Reinhart had confirmed their relationship when they walked the red carpet together at Met Gala in May. Reinhart also shared a playful black and white mirror selfie of the dressed-up pair on Instagram.
In a July interview with Harper's Bazaar, however, Reinhart drew a line in the sand when it came to questions about her love life. "I'm not okay talking about my relationship," she told the magazine. "I'm not going to tell you my love story. That's just not appropriate right now."
For his part, Sprouse has also kept quiet about their relationship status but did acknowledge that he understands fans' desires to know all the personal details. "Truthfully, it's very pleasing that people talk about Lili and I in that way because it means that we're resonating so strongly from our character perspective that people really want that to be true," he told Entertainment Weekly last September.
He may be ready to start opening up more, however — at least on the 'gram anyway. He revealed the following in an August 3 post:
"I've decided to start uploading some of my more personal photographs on this Instagram. If you've ever spent a bit of time with me, you'll know I take my privacy quite seriously, much of that paranoia influenced by my youth. I understand social media will always carry a bit of a curated superficiality, but I have so many sentimental photos that, like a collector, I've kept in the original packaging for far too long. I'm hoping some of the photos I'll be posting from here on out will feel a bit more...honest, as they do to me."
Hours after the announcement Sprouse shared a portrait of Reinhart with the caption, "Humming." Hmm...
Last week, Reinhart also documented the pair's Blood Moon celebration in a lighthearted series Instagram stories. In one caption she wrote, "If the world really is gonna end tonight, then I'm happy it's with my best bud."
Best buds or not, Reinhart's birthday posts seem to indicate that their relationship very well may be much deeper.