Lili Reinhart & Cole Sprouse's Blood Moon Photos Prove Just How Magical The Event Was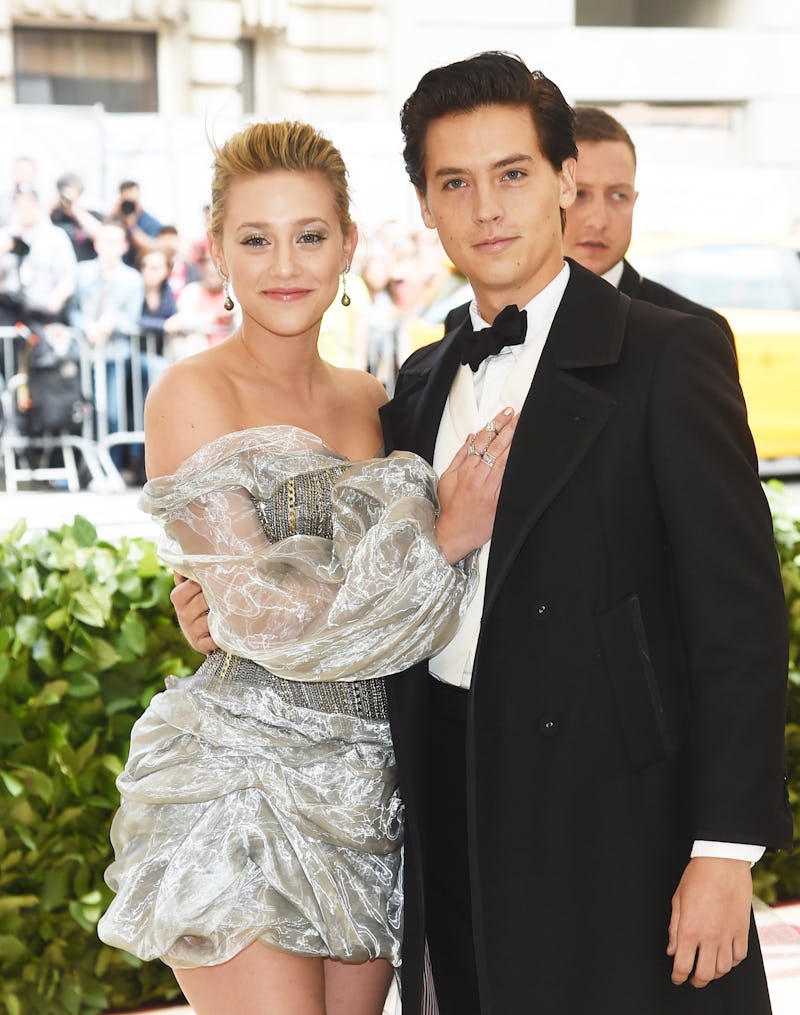 Jamie McCarthy/Getty Images Entertainment/Getty Images
The real-life actors behind the beloved Riverdale ship Bughead shared the most adorable photos in celebration of Friday's Blood Moon. Lili Reinhart and Cole Sprouse's Blood Moon photos were all about the jokes, but they also made it clear that these self-proclaimed BFFs can make anything fun (including what appeared to be a long night shoot). Reinhart was in charge of sharing the nocturnal silliness on her Instagram feed, and she did so with the kind of gusto that her onscreen counterpart Betty Cooper would be so proud of.
Reinhart kicked off the fun with a photo of her and Sprouse seemingly in costume. The duo are all smiles — well, Sprouse is sort of smiling, and the caption on the photo reads, "If the world really is gonna end tonight, then I'm happy it's with my best bud." The sweetness is real, Riverdale fans.
The 21-year-old followed that image up with a picture featuring Sprouse appearing to ignore her completely. She wrote, "Trying to squeeze in some great conversation on our last night on this planet — am I right, Cole? Lolol." The hilarity continued in the next picture in which Sprouse appears to be contemplating something deeply. Reinhart wrote,
"Asked him to tell me all the things he loves about me. He's been silent for 30 minutes. Awww, he must be thinking really deeply."
And the shenanigans only continued from there, with Reinhart reporting that Sprouse said she would be the first on his purge list, and sharing a photo of him leaving her hanging when she went in for a high five. Sorry, Sprouse, no one is buying that you're that aloof, pal. However, it's easy to see that these two make for a hilarious comedy duo.
Reinhart and Sprouse are rumored to be a couple in real-life, as well as onscreen. However, they've been careful not to confirm whether or not their Bughead vibes have translated to a romance between the Riverdale stars. Whether they're dating or not, these two are clearly close friends. Throughout the Blood Moon photo spree, Reinhart repeatedly called Sprouse her "BFF" and "best bud." And earlier this year, this duo even walked the red carpet at the Met Gala together.
No, it's not confirmation, but it's still sweet.
In a July 2 interview with Harper's Bazaar, Reinhart made it clear that she's not interested with sharing her relationship with the world. She told the magazine, "I'm not okay talking about my relationship. I'm not going to tell you my love story. That's just not appropriate right now."
The actor's desire to maintain a sense of privacy in her life is totally understandable. That makes her decision to share multiple photos of her and Sprouse palling around on set all the more rewarding.
Sprouse has been similarly candid about wanting to keep his private life out of the public eye as much as possible. Although, he did tell Entertainment Weekly in September 2017, "But, truthfully, it's very pleasing that people talk about Lili and I in that way because it means that we're resonating so strongly from our character perspective that people really want that to be true."
As Bughead shippers can attest, it's hard not to feel the chemistry simmering between these two gifted actors.
For now, fans should just thank the Blood Moon for bringing out Reinhart and Sprouse's comedic sides.
Who needs romantic confirmation when you can have two adorable people embracing their inner goofballs?
Come on, Reinhart even shared a photo of them hanging out while he played video games. It's truly an abundance of riches for fans of the rumored couple.
Real-life couple or not, they've got this whole best friend thing down to a science.
And anytime fans get to see Reinhart being exuberant, and Sprouse pretending to be perpetually grumpy, that counts as a win.
Bughead fans, say a big thank you to the Blood Moon. Without all of the universe's hard work, this perfect Sprouse and Reinhart photo palooza may never have happened. And your day probably wouldn't have been quite so happy as a result.