Lili Reinhart's "Tinder" Profile Picture Features Cystic Acne & Honestly, Same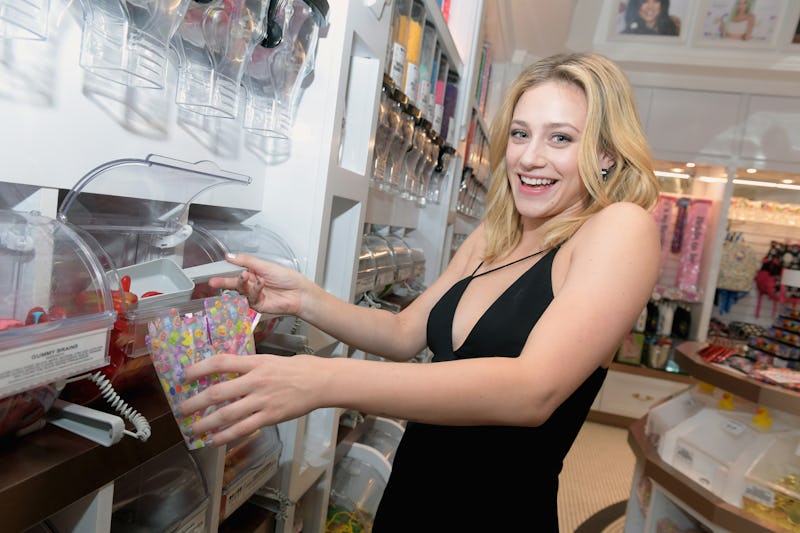 Bryan Steffy/Getty Images Entertainment/Getty Images
No one is immune to acne. But it's all about how you react to it that shatters stigma around the condition. As Teen Vogue found, Lili Reinhart's fake Tinder profile features cystic acne. Although the photo might not be real, you can likely totally relate to her realness. It's not the first time she's gotten candid about her acne, either. Reinhart is a veteran of tackling skin hiccups head-on.
Reinhart showed off her wild Friday night filled with zit cream and selfies on her Instagram Stories. Stars: They're just like us. The selfie shows the Riverdale star laying on her bed with a big smile, closed eyes, and pink dots all over her face.
The beauty world has become familiar with the zit cream marks, as celebrities like Lucy Hale and even Justin Bieber have shown them off. But even if they hadn't, Reinhart let people know what she was rocking.
"Tinder profile: Hi I'm Lili. I'm 21, a Virgo, Cali-Girl. And I have cystic acne. Hmu," the caption read.
Okay, so it's not really her profile, but it is a fun way to show off that she's confident in her own skin — blemishes and all. The only thing she didn't share was what zit cream she's using. If she wants to update her profile with that, it would be greatly appreciated.
Reinhart let's her personality shine on social media. She's constantly posting witty captions on social media and talks openly about her acne journey. She's not immune to blemishes and, while she sometimes pokes fun at herself, she also shares some real life struggles that it brings.
"Every time I have a big cystic pimple or something, it very much triggers that part of me where I don't want to look at myself in the mirror," Reinhart told Teen Vogue in a 2017 interview. "As I've gotten older, it's a matter of realizing that I can't let a pimple on my face decide what I do and where I go."
Cystic acne is more common than you might think. According to Dr. Axe, "cystic acne is noticeably painful and occurs when oil and dead skin cells build up deep down in hair follicles or pores." The website also states that it can continue into adult years and is caused by a hormonal imbalance.
Thankfully, Reinhart isn't just poking fun at herself on social media. She also gives some of her at-home skincare remedies for treating her hormonal acne. According to Elle, Reinhart uses Aztec Secret Indian Healing Clay to get a deep cleanse and prevent cystic acne. She said in a past Instagram Story photo that it is "great for cystic acne" and "super cheap on Amazon."
She isn't just saying that, either. Amazon shows that the product is available right now on Prime for $8.97. It comes in a one pound jar and is branded as "world's most powerful facial." The directions say to leave it on for five to ten minutes and apply once a week.
Reinhart isn't the only celebrity that uses this product. According to previous Bustle coverage, the Aztec Healing Clay is dermatologist approved.
"Clay masks are great for acne prone oily skin as the clay draws out the impurities from deep in the pores," New York dermatologist Dr. Green tells Bustle in a 2017 interview. "It will speed up the process of healing active breakouts, however don't expect your pimple to be magically gone or the size of your pores to be non-existent."
There's nothing better than a celebrity sharing a skincare hack that is super cheap and works incredibly. Now go ahead and put your Amazon Prime to good use, because this product is worth a try.