Lin-Manuel Miranda Is Reprising His 'Hamilton' Role & That's Not Even The Best Part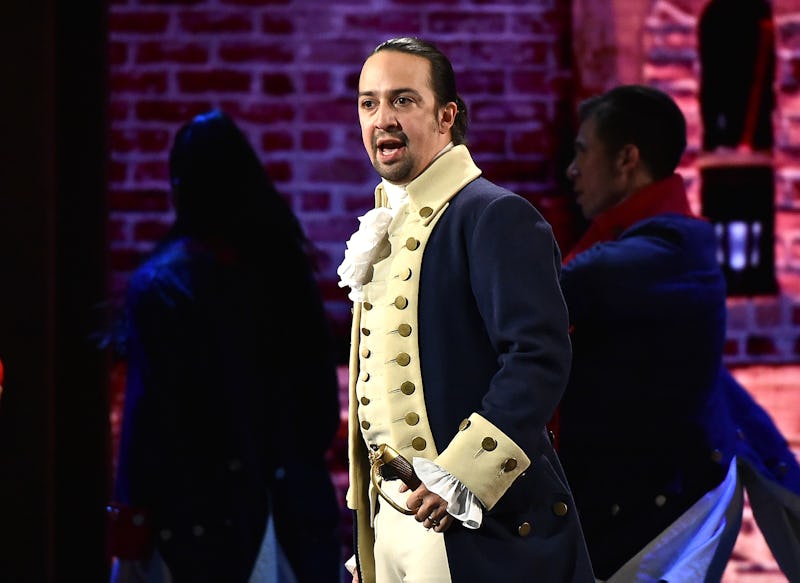 Theo Wargo/Getty Images Entertainment/Getty Images
Lin-Manuel Miranda is not throwing away his shot to help Puerto Rico. After releasing the song "Almost Like Praying" to help raise money for Hurricane Maria recovery, Miranda announced he's bringing his Broadway musical Hamilton to Puerto Rico in 2019. According to Playbill, Hamilton will come to San Juan for a limited three-week engagement that kicks off on Jan. 8, 2019 and will continue through Jan. 26. For this handful of shows, Miranda will play Alexander Hamilton for the first time since July 2016 when he left the original Broadway production. "Bit of a day," Miranda tweeted after making the announcement. "I have a year and bit to remember the words."
But, Miranda reprising the show's namesake Founding Father isn't the only reason to be excited. This rendition of Hamilton is meant to help in Puerto Rico's recovery process by "bringing the artistic pulse of the community back to life," according to a statement from Miranda and Hamilton producer Jeffrey Seller in Playbill.
Miranda also explained that bringing Hamilton to Puerto Rico was always a dream of his, but now felt like the right time to make it happen. "When I last visited the island, a few weeks before Hurricane Maria, I had made a commitment to not only bring the show to Puerto Rico, but also return again to the title role," Miranda, whose parents were both born in Puerto Rico, said in the statement. "In the aftermath of Maria we decided to expedite the announcement of the project to send a bold message that Puerto Rico will recover and be back in business, stronger than ever."
These performances will reportedly take place at Teatro UPR at the University of Puerto Rico, which is where Miranda announced his big Hamilton news. The island's most iconic theater, which was built in 1939, suffered major damage to its roof and ventilation system after the September hurricane and will undergo restorations and repairs before the musical's intended run.
These performances of Hamilton are meant to help Puerto Rico re-build, both figuratively and literally. "Arts and culture are pillars for economic development, cultural tourism, community empowerment and growth," Seller said in a statement. "As always, we will work to ensure accessibility for all audiences and a large proportion of our seats for every performance will be available by lottery for $10 each — a Hamilton."
On Tuesday, while in Puerto Rico, Miranda also announced that he'd be teaming up with the New York-based non-profit Hispanic Federation to donate $2.5 million in grants to help the island in its recovery. According to NBC News, he said,
"I'm going to continue speaking up and helping Puerto Rico. I want you to know we are here en las buenas y en las malas, during the good and the bad. There are so many people around the world thinking about this island."
In the months since Hurricane Maria, which has been called the Caribbean's worst hurricane in over a century, Miranda has made his voice loud and clear, calling out President Donald Trump in a tweet for his criticism of San Juan mayor Yúlin Cruz. "You're going straight to hell, @realDonaldTrump," he wrote.
Shortly after Miranda wrote an essay for The Hollywood Reporter asking for donations that would help get supplies to Puerto Rico, which was without power and basic supplies like food and clean water. "With so much to be done and such great urgency before us," he wrote, "let's use our own winds of change to help Puerto Rico dig out and rise up."
Miranda also put his money where his mouth is, helping raise $1 million for the relief efforts by sharing an awkward video of himself as a tween singing a song about Puerto Rico. It was all for Big Mouth's 'Nick Kroll and Stephen Colbert's #PuberMe Instagram campaign, which asked celebs to post their worst puberty photos to help raise money for Puerto Rico.
While it's clear Miranda will do anything to help Puerto Rico — even embarrass himself — it's unclear where he's willing to grow his hair back for the role or he'll be donning a wig this time around. He did, however, give a little clue about his costume. See, the original one he wore on Broadway is actually now in the Smithsonian and when CBS reporter David Begnaud tweeted that he'd have to get it out of there, Miranda wrote, "It's cool, David, @paulgtazewell will make me a new one."
Paul Tazewell just so happens to be the Tony Award-winning designer behind Hamilton. Will Miranda's costume look the same in 2019? Just you wait, just you wait.