Lin-Manuel Miranda's Star-Studded Song Is Supporting Puerto Rico In A Powerful Way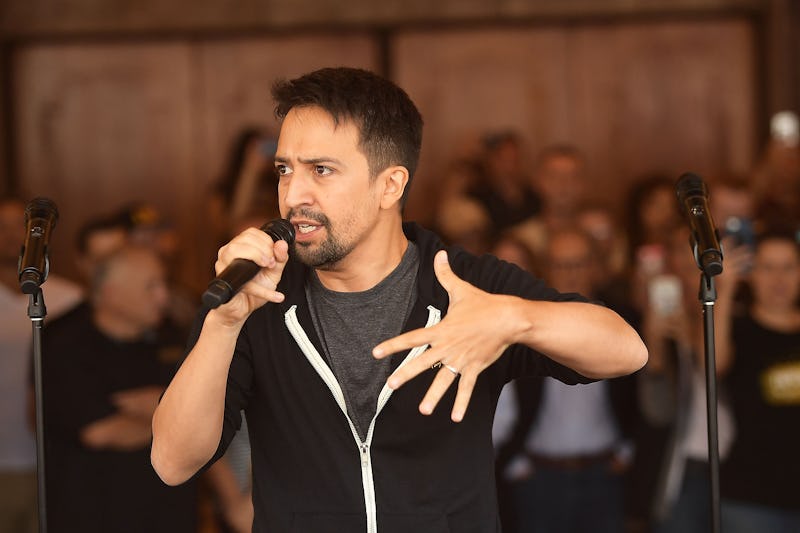 Matt Winkelmeyer/Getty Images Entertainment/Getty Images
In the wake of one of the most devastating storms ever to hit Puerto Rico, one encouraging aspect has been watching everyone come together in support. If you're in the mood to get your heart warmed, just look at all of the guest artists on Lin-Manuel Miranda's "Almost Like Praying." That's the name of his brand-new track to raise funds for Hurricane Maria recovery, and more than 20 famous voices — "Latin artists from across the islands," in the words of the press release — pitched in to help the song come to life. We're talking everyone from Jennifer Lopez, to Fat Joe, to Jane the Virgin's Gina Rodriguez, and many, many more.
But calling it brand-new isn't entirely accurate, perhaps. The song is actually a repurposing of a classic melody from the musical West Side Story, by Stephen Sondheim, with "rhyming arrangement of all 78 municipalities of Puerto Rico" overlaid on top of it. The song contains the line, "say it soft / and it's almost like praying," which is where Miranda picked up the title from. But in its original version, the track just so happens to be called "Maria," which made it a perfect fit for the songwriter's retooling. According to Miranda himself, in the press release cited above,
"I was acutely aware that the name Maria, which is the name of my favorite song from 'West Side Story' would forever have a destructive connotation as a result of this natural disaster, so my mind began flipping lyrics from 'Maria' to figure out how we could flip this tragedy into something positive, which is why I reached out to Stephen Sondheim for his permission to use it."
Sondheim agreed, clearly, and he isn't the only person feeling the collaborative spirit after Maria's ravaging pass through the islands. There are multiple wonderful stories about the artists who chipped in to record the fundraising tribute. Like Luis Fonsi, for instance, who's already having quite a year after the massive success of "Despacito."
It would have been easy for Fonsi to remain a little skeptical, or ask for more information, but the Puerto Rican singer leapt right on board. And somehow, his wasn't even the most inspirational story to come out of this process. Not by a long shot. Puerto Rican rapper PJ Sin Suela was difficult to get ahold of, because he was actually on the island and struggled to get power. But even after he'd found a working studio and recorded the track, he couldn't get enough internet bandwidth to send it to Miranda in Miami.
Enter Gloria Estefan. According to the press release, she was headed to Puerto Rico on a relief mission already — because, of course, she was — so on the way, she scooped up the thumb drive containing PJ Sin Suela's contribution. She reunited it with Miranda, and it's safe to say that some tears were shed.
Truly an unbelievable amount of people put themselves out there in a big way to make this happen, and during a time when many were contributing to the relief effort in other ways, as well. Gina Rodriguez isn't even a singer as her main gig, and she got in on it.
At every step, artists were eagerly offering their services for this track, and to help the embattled island. Even the cover art for the track was donated.
You're probably already going to chip in some money for the song, and maybe even a little extra for the amazing cause that is the Hispanic Federation. But once you've done that, take a look at all these impressive people who went above and beyond to help Miranda realize his vision. There are powerful forces out there looking out for Puerto Rico, and here are the 21 of them that were featured on "Almost Like Praying."
1. Luis Fonsi
You know him as the force behind "Despacito," with YouTube's most-viewed video ever.
2. Marc Anthony
The Grammy Award-winning singer-songwriter was glad to lend his skills.
3. Camila Cabello
Like many on this list, the former Fifth Harmony songstress isn't Puerto Rican — she's Cuban-American — and it's wonderful to see artists from so many other countries banding together in support.
4. Anthony Ramos
The 25-year old actor originated the roles of Philip Hamilton and John Laurens in Miranda's smash hit Hamilton — heard of it?? — and shows no signs of slowing down.
5. Ednita Nazario
The 62-year old singer-songwriter and actor has been in the industry since she was a little girl, and released more than 20 albums.
6. Gilberto Santa Rosa
Also known as "El Caballero de la Salsa," or "the Gentleman of Salsa," Santa Rosa is a bandleader, who in addition to salsa also sings bolero.
7. Rubén Blades
This Panamanian wears many hats, from singer to actor to activist to politician, but he's best known for his stylings in Afro-Cuban, Latin jazz, and salsa music.
8. Juan Luis Guerra
This Dominican singer has won two Grammys and 18 Latin Grammys, but he still made time to contribute to "Almost Like Praying."
9. Joell Ortiz
The son of Puerto Rican parents, this American rapper is a member of the group Slaughterhouse.
10. John Leguizamo
What can't John Leguizamo do? He's been a stand-up comic, a movie actor, and performed on Broadway, and now he's lending his vocal talents to this inspiring project.
11. Jennifer Lopez
Do you really need a description for Jennifer Lopez? She's a goddess who walks amongst us, putting out music, making movies, and dancing her little tushy off, and everything she touches turns to gold.
12. Rita Moreno
This triple threat has a career in singing, dancing, and acting that spans over seven decades, and honestly what have you done lately?
13. Dessa
If you haven't heard of Dessa yet, you're missing out. She's forging a career in rap, singer-songwriting, and spoken word, so keep your eyes open for her.
14. Ana Villafañe
The singer and actor is probably best known for her portrayal of another member of this list in Broadway's On Your Feet: none other than Gloria Estefan!
15. Tommy Torres
This producer and singer-songwriter has created tracks for artists like Ricky Martin, Alicia Keys, and fellow "Almost Like Praying"-contributor Ednita Nazario.
16. Gloria Estefan
You know her, you love her. The multiple Grammy Award-winning artist has a storied career, a star on the Hollywood Walk of Fame, and now a credit on this fundraising effort.
17. Pedro Capó
This Puerto Rican musician and grandson of Puerto Rican singer Bobby Capó kills it on guitar. (And is pretty easy on the eyes, as well.)
18. Alex Lacamoire
He and Miranda proved they were great collaborators with Hamilton, for which Lacamoire provided the musical direction and orchestration, and now the Dream Team is back together.
19. Fat Joe
The rapper is well known for having a feud with 50 Cent early in his career, but Fat Joe is putting a much more positive foot forward these days by signing on for this track.
20. PJ Sin Suela
This Puerto Rican rapper made a name for himself on Soundcloud, and now he's getting personally asked to collaborate on projects with Lin-Manuel Miranda. Not too shabby!
21. Gina Rodriguez
You know her as the title role in Jane the Virgin, for which she won a Golden Globe, but apparently the daughter of Puerto Rican parents can sing, too!
These are the 21 — 22 if you count Miranda himself — people who are making us smile particularly big today, and putting their talents to the best cause there is: helping others.