Lin-Manuel Miranda Celebrates Oscar López Rivera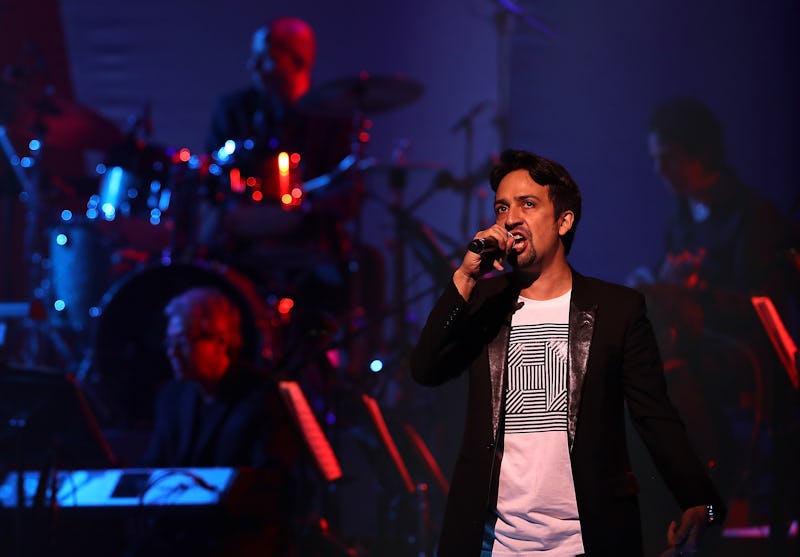 Justin Sullivan/Getty Images News/Getty Images
Never one to rest on his laurels, Barack Obama has been using his last days in office to issue pardons and commutations, including granting the release of former US army private Chelsea Manning in May this year. Another of his high-profile pardons included a famous Puerto-Rican grassroots activist, and one hit musical creator is very happy about it indeed. Apparently, Lin-Manuel Miranda wants to perform Hamilton for Oscar López Rivera; he reacted to the news by thanking Obama for Rivera's release and promising a Hamilton performance specially for Rivera in Chicago. But who is López Rivera?
The Puerto-Rican is an independent activist who, according to the Guardian, is considered one of the world's longest serving political prisoners, having spent 35 years (over half his life) behind bars. If it wasn't for Obama's pardon, he'd be exiting prison on June 26, 2023, almost half a year after his 80th birthday. But why did he go to jail in the first place?
While López Rivera was born in Puerto Rico, he moved to Chicago in his early teens and eventually got drafted for the Vietnam War. When he returned, he became involved in activism in the Puerto Rican community in the city. He eventually joined Fuerzas Armadas de Liberación Nacional (in English: Armed Forces of National Liberation), who argued that the use of force could be justly used as a tactic to campaign for the independence of Puerto Rico.
To clarify for those who aren't sure about this, Puerto Rico's status is a tricky one; it's neither a sovereign country nor the 51st state of the union— which means in practice "its people are U.S. citizens, hold U.S. passports, and can be drafted into the U.S. military," as happened to López Rivera. This concept in general is why Fuerzas Armadas de Liberación Nacional came into existence in the 1970s.
According to the Independent, the group "carried out hundreds of bombings" in the U.S., and, in 1981, López Rivera was found guilty of numerous charges, including "seditious conspiracy" (which the New York Times defines as "a charge used for those plotting to overthrow the United States government"), and classified as a terrorist by the U.S. government. His sentence was later extended when he was convicted for conspiring to escape prison, according to NPR. Meanwhile, F.A.L.N was behind actions like bombing four government buildings in New York on New Year's Eve, 1982, which seriously wounded three police officers. So why exactly might Lin-Manuel Miranda be rooting for him?
For a start, López Rivera has denied his involvement in any fatal attacks on multiple occasions and argued that he has only ever focused on activism campaigns that wouldn't harm anyone. He told the Guardian in 2016:
For me, human life is sacred. We called it 'armed propaganda' – using targets to draw attention to our struggle.
After the group dismantled in 1983, López Rivera campaigned against the use of violence and stated:
We realized other tactics to armed force could be more effective, mobilizing people through peaceful campaigning. Morally, also, we came to see that we had to lead by example, that if we are advocating for a better world then there are things you cannot do. You cannot get a better world by being unjust yourself. ‌
As the Guardian has stressed, despite López Rivera's incredibly long prison sentence, he has been "convicted of killing no one, of hurting no one." The newspaper also stresses that, in Puerto Rico, parallels are drawn between López Rivera and Nelson Mandela, the latter of whom served 27 years in prison for leading an anti-colonialist liberation struggle.
This, and the appeals made on the activist's behalf by the likes of former president Jimmy Carter and South African Archbishop Desmond Tutu may have been why, in September 1999, then-President Bill Clinton felt moved to offer López Rivera and the other F.A.L.N. members behind bars conditional clemency "if they would renounce violence." He argued that the sentences assigned to the prisoners were "out of proportion to the nationalists' offenses." However, López Rivera rejected the offer for many theorized reasons, none of which appear to have been confirmed.
López Rivera's importance to Puerto Ricans can't be stressed enough, and that's probably why Miranda feels so impassioned about this news. As the "son of Puerto Rican parents," Miranda probably grew up hearing a lot about López Rivera; it's no wonder he'd be so honored to perform for the well-known activist and community organizer.