You'll Hate Linda More Than Ever In 'OITNB' Season 6 & That's What Beth Dover Wants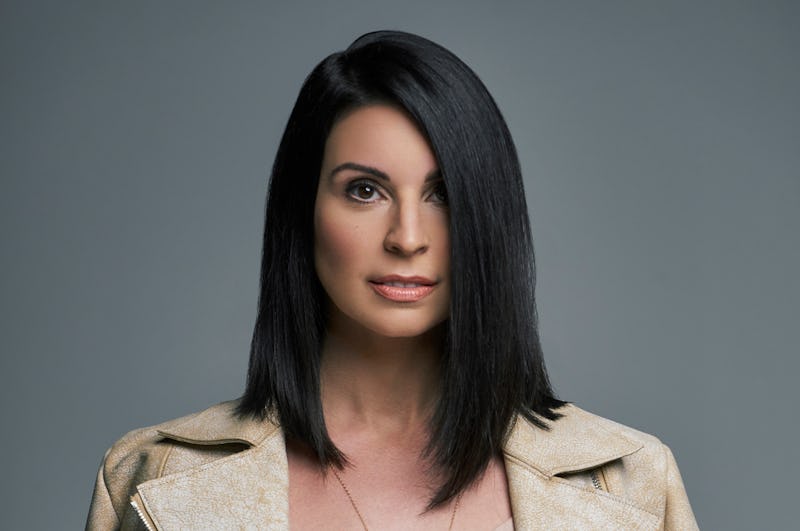 Riker Brothers
In the age of the antihero, fans love rooting for complicated, morally questionable characters rather than straight-up heroes, as long as their intentions are good. Orange Is the New Black is the perfect example of that — with an ensemble cast of characters all locked up with violent and nonviolent felonies under their belts, the Netflix series has become a master class in getting viewers to empathize with a diverse group of criminals over the past five seasons. Some characters are more empathetic than others, of course, as each season has introduced all kinds of terrifying villains who wreak havoc on Litchfield Penitentiary. But one character has grown into the role of the series' ultimate villain in Orange Is the New Black Season 6: Linda from Purchasing (Beth Dover), the corporate rule follower who became a hostage during last season's prison riot.
After pretending to be an inmate for her own survival, Linda did whatever it took to blend in with the prisoners, even striking up a sexual relationship with one and turning a blind eye as her coworkers were tortured by inmates. As the Season 5 finale ended, former warden Caputo (Nick Sandow) knowingly ignored Linda and let her be taken away to maximum security prison with all the other inmates out of revenge. It's safe to say that Linda is not going to forget that, and her time spent in prison is going to shape her into the most unlikeable character you've ever seen on the show. And that's exactly what Dover wants.
Speaking with Bustle ahead of Season 6 (streaming this Friday on Netflix), the actor reveals that she had no idea what would happen to Linda after that explosive Season 5 finale, but Season 6 picks up about a week later and viewers will finally find out where all the prisoners ended up. "She had this experience and I thought it was definitely going to shape her in some way," she says. "Is it going to make her an asset to the prison system or is it going to make her an advocate for change? Is it going to make her even worse than she was before she was in there? She reacts in pure Linda fashion."
While Linda is obviously not happy with Caputo, her only goal at the beginning of the season is "to get the hell out of this prison and get people to listen to her when she tells them who she really is," Dover says. "She's always in survival mode and she's definitely in survival mode at the beginning of Season 6. And she's pissed. She's very pissed off. She's got a lot of anger."
While the only glimpse of Linda in the Season 6 trailer shows her still incarcerated and getting her hair shaved off, it's hardly a spoiler to reveal that in the absence of the riot chaos, the authorities will figure out that she doesn't belong in prison. She doesn't have a record and she's an employee of the prison, so it's really only a matter of time.
"It makes sense that she would eventually get out because she's not a prisoner," Dover admits. So when Linda does finally get a taste of sweet freedom, she's going to get to work immediately. "She wants justice for herself, specifically from MCC," Dover teases. "She's pissed at Caputo, pissed at MCC and wants to make a change in the way she wants to make it, not necessarily for the betterment of others affected by it. A lot of her actions this season are fueled by anger."
While some might hope that Linda would become a better person as a result of her time spent seeing the inhumane conditions prisoners are forced to live under firsthand, get ready for disappointment. At first, Dover herself even hoped for the opposite.
"I thought, 'Okay, she's experienced this traumatic event and maybe she'll understand after seeing how horrible the prison conditions are and now she'll want to be an advocate for change,'" she says. "Maybe she just can't change her stripes and who she is is who she is. As much as she has these experiences that would change another person in her shoes, Linda never really ultimately changes. I'm realizing that the more I play her. She changes, but at her core she is still selfish and a survivor and possibly a little bit sociopathic."
Dover laughs at how she has to have empathy for Linda in order to play her ("As an actor, I have to find her humanity," she says), which results in her making excuses for Linda's behavior all the time. "I don't want her to be this horrible villain, either," she says. "I try to not see her as a villain even though I know that she is. But I think ultimately she is that person you love to hate. She's selfish and she cares about her own well-being, rising up the corporate ranks, justice and revenge for what's happened to her. She feels she's been done wrong and she wants to make it right for her. She's a villain, no arguments here."
Once Dover accepted that, her performance flowed out of her. Season 6 is some of Dover's best work, and it was also the most she's enjoyed playing a character. "It's really fun to play a person that lives by a different code of ethics than I do," she says. "It's so much more fun playing someone bad than playing anything else. And just being on a show that is so important politically, especially in these times, has been such an honor, even if I am the villain. We're doing good for humanity, or at least trying to, and playing the bad guy is how I do my part."
Dover is reveling in getting to play a complicated female character, as those types of roles are still few and far between. "It's moving the conversation forward even more," she says of Linda's Season 6 arc. "I think it's okay to play a villain because we need to shine a light on villainous things that are happening in the world and in the prison system and in life. These things are actually happening in society, so I'm more than happy to play someone so unlikeable if it does good in the world. As long as I don't only play villains for the rest of my life, I'll be happy. But I'm loving it right now. It's so freeing."
Season 6 finds Linda becoming more comfortable in her skin; she's absolutely unapologetic in her actions and isn't as fearful about optics as she has been in the past. "She's been creating herself for years," Dover explains. "This season shows that she wants to be a powerful woman and that's her goal. If that means creating some enemies and stepping on others to get where she needs to be, that's what she does. But that's what is so amazing about this show – you think your character is one thing and then they go in a completely different direction." And even if you think you know where Linda's heading this season, you haven't seen anything yet. Go along for the ride when Season 6 drops on Netflix this Friday.