Lindsay Lohan Went All Natural For Her Latest Cover & Fans Are Loving It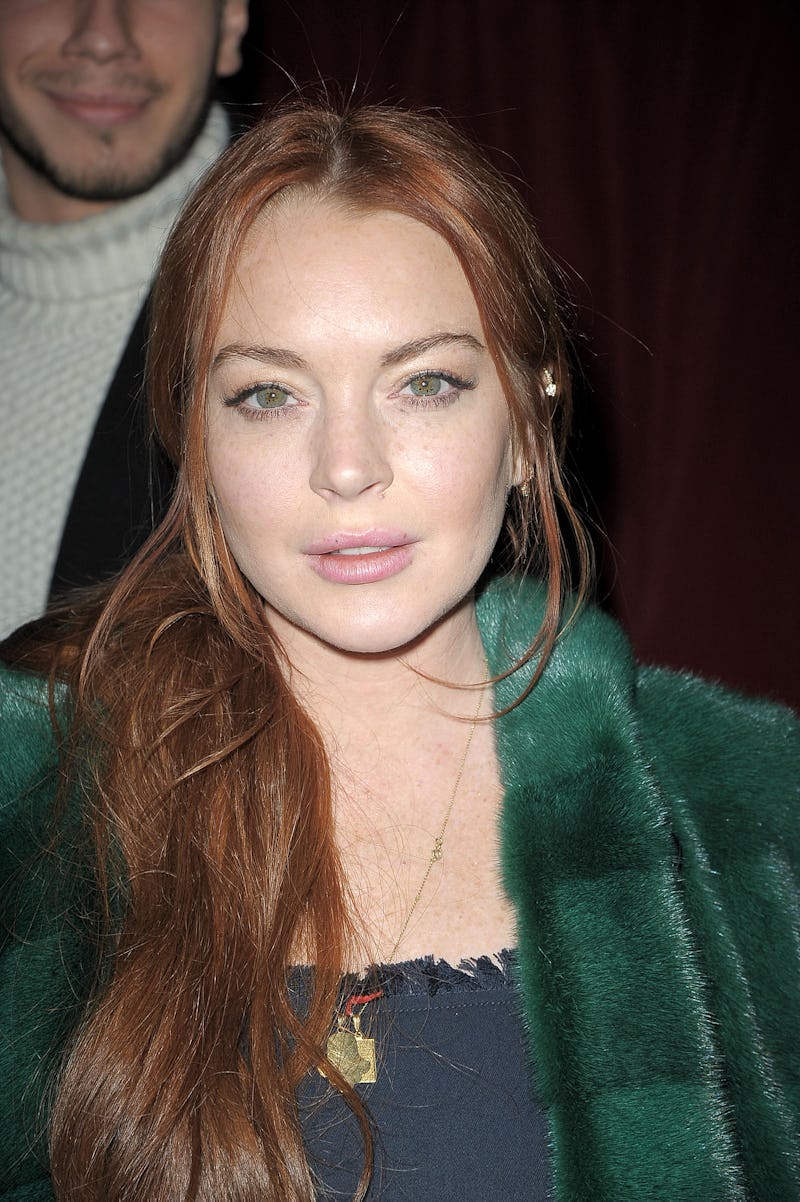 Chance Yeh/Getty Images Entertainment/Getty Images
This summer might have been all about colorful highlighters and neon lips, but natural looks will never go out of style. Lindsay Lohan went all-natural for her L'Officiel Spain cover, and fans are absolutely loving it. No early '00s trends here, my friends. Lohan's cover is all about beauty and strength — no flashy makeup needed.
Lohan might not have been on a magazine cover since 2015, but it's better to have a late comeback than never. The star's solo cover for L'Officiel Spain's October issue is the one her fans have been waiting for. Everything from her hair to her makeup was completely stripped down for what the publication deemed the "Red Alert" issue. It's no coincidence that this magazine drop is one that you'll want to keep on your radar.
The image shows her standing tall and looking gorgeous with wavy, pushed-back hair, wearing a pink and red Prada jacket. The only critique that fans are giving is that the cover came out on a Tuesday and she's wearing pink, but she can still sit with us any day.
Lohan's tell-all interview is a bit more complex than the simple shoot. According to L'Officiel Spain, the star is working on a career in fashion while starting up a soon-to-be chain of nightclubs, too.
"Opening my own club has been amazing it was always a goal of mine to make a space where people feel safe," Lohan said in a press release. "We are actually in talks of opening two more. Dubai and New York are first on the list."
That's not the only thing she has in store for the future, either. According to the press release, she's also working on a clothing line called LOHAN. There aren't any details yet, but the star was spotted front row at Madrid Fashion Week, so it will definitely be one to watch.
According to The Daily Mail, Lohan showed off everything from structured, edgy gowns to soft mini dresses at Madrid Fashion Week. Add to that it her stunning L'Officiel Spain cover, and it's clear to see that she can pull off anything.
Despite her hectic work schedule, her cover conveyed a very calm and soft look. Maybe she's working so hard that she doesn't even bother keeping up with trends? Either way, people are loving the comeback and are hopeful to see more from the star in the future.
If this isn't a legendary, then I don't know what is.
"Hawt" is all it takes to get all meaning across. Bonus points that it's spelled in ~*TrU*~ early '00s form.
The cover is so pretty that some people want to look at it all the time — pun intended.
If you weren't sure what this word meant before, you do now.
No words needed to express how fans are feeling about this cover. Just enthusiastic gifs will do.
Lohan is so beautiful that our hearts are breaking and mending all at the same time. It's magical really.
Fans are loving her all-natural style. It's such a gorgeous, classic look for the star.
The cover has also inspired fans to pull out their throwback cds and beg for more. No shame. "Confessions Of A Broken Heart" was a banger.
True fans know that she's been amazing all along.
Again, this stunning cover is Lohan's first since 2015. But it's clear she is still a natural at being a glam cover star. From her high end fashion dreams to her plans to take over the world with her upcoming line of clubs, this woman clearly means business.
Lindsey, it's so good to have you back.