Lindsay Lohan's 'Mean Girls' Day Tribute Video Celebrated The Movie In A Totally Fetch Way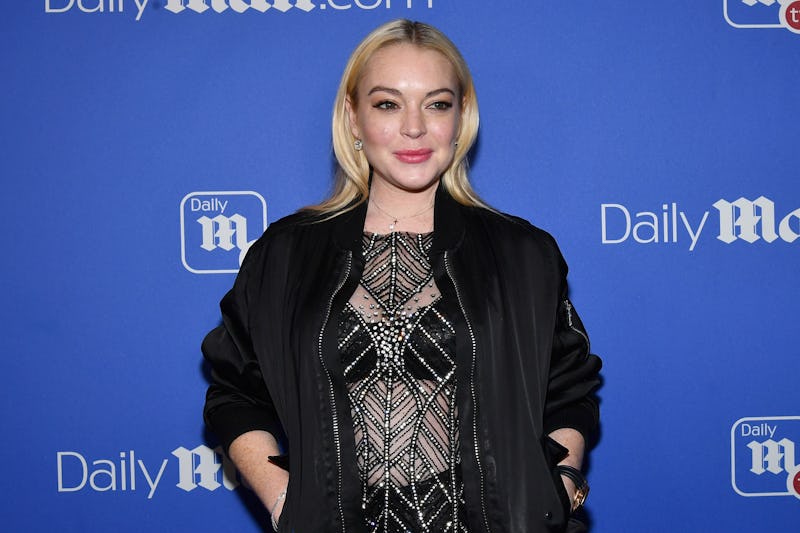 Slaven Vlasic/Getty Images Entertainment/Getty Images
More than 14 years after the film's release, Lindsay Lohan celebrated Mean Girls Day with a video that is sure to make your day fetch AF. On Wednesday Oct. 3, the actor took to Instagram to honor of one of the most iconic moments from the 2004 pop culture classic which ultimately launched an annual holiday.
People reports that Lohan enlisted the help of her brother Dakota to recreate one of the film's scene which takes place between her MG character Cady Heron and her classroom crush Aaron Samuels (Jonathan Bennett). Wearing a flower-crown filter, Dakota opens the video with "On October 3rd he asked me what day it was." Lohan then pans to herself adding the declaration, "It's October 3rd." The snippet was accompanied by the hashtag "#OnWednesdaysWeWearPink" which references another line from the film and feels extremely appropriate given that this year Oct. 3 falls on a Wednesday.
Although Lohan may have been the film's biggest star, she wasn't the only who took time out to celebrate the big day, Saturday Night Live alum Tina Fey, who notably adapted the Mean Girls' narrative from the book "Queen Bees and Wannabes" by Rosalind Wiseman, is reportedly participating in the renaming of the New York City block in honor of the film, according to Broadway World. The street reassignment, which also took place on Oct. 3, will see a section of 52nd Street revamped into block "W. Fetch Street!" and precedes a special free fans-only performance of Fey's musical of the same name.
Amanda Seyfried, who played the role of Karen Smith in the film, used the moment to promote Bennett's recently released cookbook, sharing a photo of the cover on Instagram along with the caption, "It's October 3rd #onwednesdayswewearpink." Meanwhile, Bennett himself shared several posts about the unofficial holiday including one that shared a meme of the on-screen moment between him and Lohan. Along with the photo, Bennett added the caption, "14 years ago today, I asked @lindsaylohan what day it is. #MeanGirlsDay"
After it's release in 2004, Mean Girls quickly became a pop culture phenomenon and went on to gross $129 million internationally. The film helped to turn Lohan into a household name and marked the beginning of a successful career for Rachel McAdams, who played the film's ultimate "mean girl," Regina George. In addition to its cult following, the also film gifted its fans with sayings and one-liners such as "so fetch," "you can't sit with us," and "on Wednesdays we wear pink," and spawned into an endless number of video tribute, GIFs and memes that continue to be circulated throughout the media nearly 15 years later.
Lohan's Mean Girls post marks the entertainer's return to social media following a Saturday, Sept. 29 controversy which saw the 32-year-old post a disturbing video to her Instagram stories that featured an altercation with homeless family, according to People.
Although it has not yet been deemed a national holiday, Mean Girls Day a largely important celebration for fans of the film who can't help but to relive the movie and its greatness on this day year after year.