Lindsey Vonn Had To Have Her Sleeves Cut Off At The Last Minute Before The Oscars Red Carpet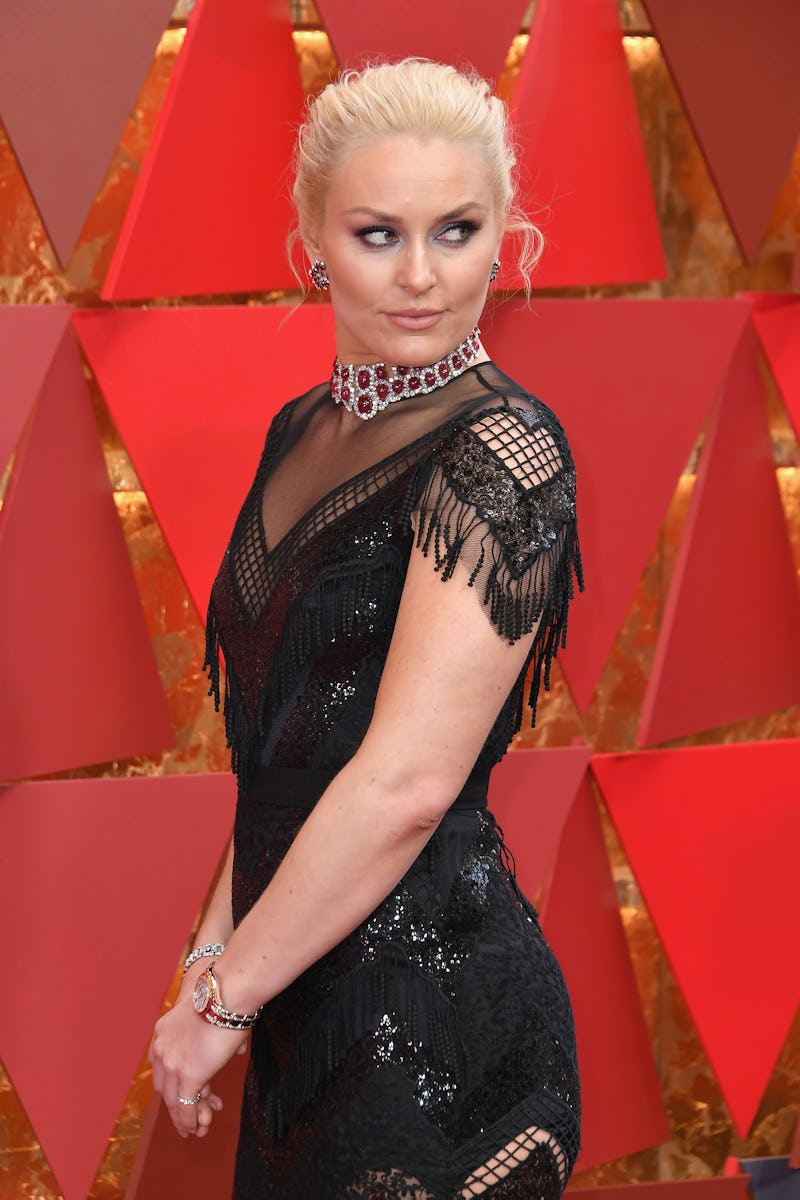 Neilson Barnard/Getty Images Entertainment/Getty Images
When you're getting ready for a big event, one of the things that could throw a wrench into the whole evening is getting a wardrobe malfunction. It's right up there with getting an angry red zit on your chin just hours before you zip up, or forgetting to pack a tampon into your clutch just in case. But as all things in life, it eventually happens. Which is why it's better to take it in stride and think on your feet, then succumb to the meltdown that would feel oh-so-good at that very moment. That's exactly what happened to bronze-medal Olympian Lindsey Vonn this weekend. Vonn had a wardrobe malfunction with her Oscars 2018 dress right before heading out to the red carpet, but she pulled through the debacle like a champ.
The alpine ski racer was invited to attend the event by Rolex, and she invited her sister, Karin Kildow, as her date. The two made plans to wear all-black gowns for the black-tie event, and Vonn even custom-ordered her dress. The end result was gorgeous. She slipped on a 1920's inspired ensamble with a sheer necline, sequined chevron stripes, tassled cap sleeves, and a frothy train of tulled layers.
Kildow's dress was equally as stunning, featuring a glittery A-line gown with a tulle skirt on top to add some drama to the column dress.
But according to People, an hour before arriving at the Oscars red carpet, a fashion emergency struck. There was an issue with one of Vonn's sleeves, but the problem was dealt with quickly and, well, ruthlessly.
Her stylist Jeff Kim grabbed a pair of scissors lying around the Bel Air hotel room where they were getting ready, and hacked off the sleeves. If they're not there, they can't cause a problem, right? Throw 'em in the trash!
As you can see, the gown didn't suffer because it. Vonn's dress was still stunning, and trimming that detail let her tasseled cap sleeves really take center stage.
If you're curious what the sleeves originally looked like, The Olympian shared a sneak-peek look of the dress through her Instagram stories. It was only a sketch, but it gives you an idea what it would have looked like zipped up.
It looks like the sleeves were black and sheer, just like the neckline. Seeing how it's such a delicate fabric, one could guess one of the sleeves got a small hole or snag in it, and the whole thing had to go.
But Vonn and company kept their cool and she looked brilliant at her first Academy Awards event, looking like she stepped straight out of the Gilded Age.
While she's used to the pressures and stress of the Olympics, walking among Hollywood's most elite is a whole other experience. She told People while on the red carpet, "Going fast is easy, this is like — what if my dress rips and my butt falls out?" she said. "I'm out of my comfort zone. Definitely here, I just — it's a lot. The Oscars is such a big deal, I'm just trying to soak it all in and not mess it all up."
In the end it all worked out perfectly, and her dress didn't suffer any more malfunctions. She also swapped out the elegant black gown for a more playful frock for the Vanity Fair post-Oscars party.
Featuring an off-white color and a poofy, A-line skirt, it looked like something out of a fairytale. The dress had a corset top, a tulle skirt with glitter floral embroidery and star cut-outs, and 3D flowers sprinkled down her sheer sleeves. And yes, this time nothing happened to the sleeves and no scissors had to be brought out. It was a successful night.