Olympic Skier Lindsey Vonn's Instagram Is Proof She Should Be Your New Life Guru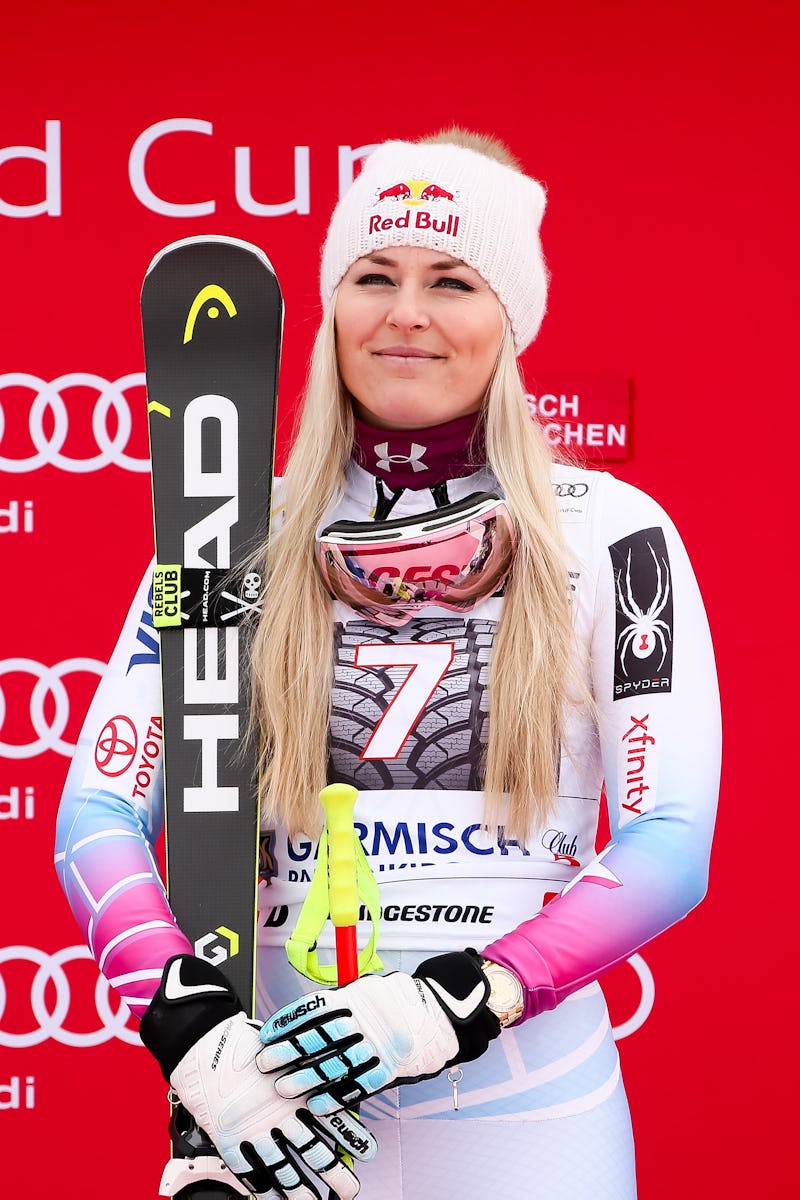 Millo Moravski/Agence Zoom/Getty Images Sport/Getty Images
With the 2018 Winter Olympics fast approaching, it's time to follow all of your favorite athletes on social media to keep up with what's happening in PyeongChang. You won't want to miss Lindsey Vonn's Snapchat while you're doing your athlete adds, because the American alpine skier is taking everyone with her on her Olympics journey. You can find the most decorated female downhill racer ever with her Snapchat handle, lindseyvonnski, but she's also active on Instagram and Twitter, so you might want to cover all of those bases.
Vonn announced that she joined Snapchat in 2015 on Twitter, writing, "So....I'm on snapchat. My sister finally got to me...peer pressure!" Isn't that how everyone got started on Snapchat? Just based on that, you can get a sense of Vonn's down to earth vibe, but she's also larger than life as a powerhouse on the slopes. This year's winter Olympics is being called the skier's "comeback," as a knee injury left Vonn unable to compete in the 2014 Sochi Olympics. Before that, in 2010, she won two medals at the Vancouver games — one bronze in the super-G race and one gold in the downhill competition.
Based on her recent tweets, Vonn is more than ready to compete in South Korea, so it's the perfect time to start following her to hear about what goes on behind the scenes. Her travel journey to the country didn't exactly go smoothly — see, totally relatable — so you know there will be plenty of twists and turns to follow on social media, and not just on the slopes.
Even though Vonn is aiming to win Olympic medals over the next month, the 33 year-old already has a different competition under her belt — the World Cup, which took place over the first week of Feb. 2018. As of that competition, Vonn won her 81st World Cup medal, which makes her just five wins away from tying the world record for the most World Cup medals won by a female skier. According to CNBC, Vonn plans to compete in the next World Cup to break a new record.
After winning her 81st award, Vonn took to Instagram to celebrate the moment, and she had some inspiring words to add. "Just keep working hard and never give up, it will all turn out well in the end," she said. You need to follow Vonn on all social media ASAP because you will undoubtedly get lots of inspiring words like those during the 2018 Winter Olympics.
Vonn's inspiration isn't just communicated via her social media accounts, though. The accomplished skier has an entire foundation — aptly called the Lindsey Vonn Foundation — which is dedicated to inspiring young girls to pursue their dreams while building their self-esteem. In a 2016 interview with Bustle, Vonn said, "I've been inspired by many other athletes who have broken the ceiling for women in sports, and I think we're all trying to get better and to inspire the next generation." She continued, saying, "I hope that what I'm doing inspires someone else to follow their dreams and continue to work hard."
Just from her workout videos on Instagram and Snapchat, you can tell that Vonn is going to give the 2018 Winter Olypmics her all. It's almost impossible to not get inspired from the skier's posts, and you can find even more encouraging messages in Vonn's book, Strong is the New Beautiful. The book aims to help women feel confident in their bodies and focus on strength and health above anything else. As surprising as it might sound, Vonn herself has struggled with body image issues. "It was a challenge for me to be comfortable with myself and who I am and my body to be able to do something like that," Vonn told Bustle.
You might think that an Olympic gold medalist and future World Cup record-holder like Vonn doesn't have anything in common with you, but if you just take some time to stalk her social media, you'll be happy to learn that the skier is both inspiring and relatable.