Lionel Richie May Have Had A Change Of Heart About Sofia Dating Scott Disick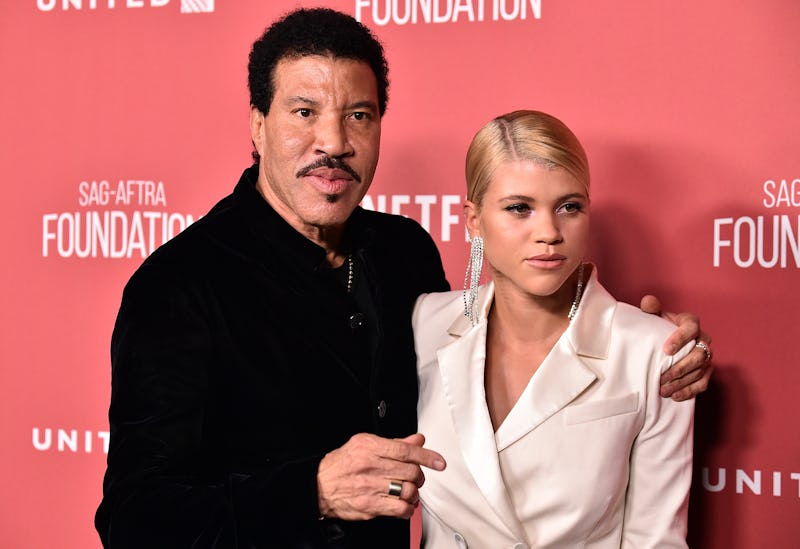 Frazer Harrison/Getty Images Entertainment/Getty Images
Showing that sometimes people just need time to adjust to change, it sounds like iconic musician Lionel Richie might be coming around regarding his stance on his daughter Sofia Richie's romantic relationship with Scott Disick. Previously, it was reported by Us Weekly that the new American Idol host had what you might call mixed feelings about reports that his daughter was dating the Keeping Up with the Kardashians star. But according to People, while on the red carpet recently with her father at the SAG-AFTRA Foundation Patron of the Artists Awards in Beverly Hills, Sofia told reporters her dad is "very supportive" of her love life.
During a break between American Idol auditions, Lionel spoke with Us Weekly about Sofia and Disick a month or so ago on Oct. 4, and Lionel admitted that he was "scared to death," about reports of the romance. "Have I been in shock?! I'm the dad, come on," the multi-Grammy winner told the publication.
Over the past few weeks though, it appears that Lionel has become more accepting of Sofia's decision to spend time with Disick. Oh and technically when they were first spotted together, Sofia denied that they were dating on Twitter, claiming she and Disick were "just homies." But they've since been spotted kissing in photos, they made things Instagram official in September, and they even celebrated what appeared to be a relationship milestone together. So despite her initial denial, it seems more likely than not that Disick and Sofia are dating. (When the news broke, Bustle reached out to reps for Disick and Sofia for comment, but did not receive an immediate response.)
And now, according to Sofia, her father is more accepting of her new relationship. "He's good," she told E! News on the red carpet this past Thursday, Nov. 9. "He's been very cool. He's very supportive, whatever that means." Given all the public scrutiny Sofia and Disick have received, it's definitely good that Sofia has her family's support.
Disick, 34, and Sofia, 19, have been in the headlines frequently ever since they were first spotted together. Perhaps due to their age difference, or the fact that Disick is rumored to be still active on dating apps, or possibly because of how he's recently been portrayed on KUWTK as trying to make ex-girlfriend Kourtney Kardashian jealous with his actions in public, but a lot of people have expressed disapproval of the couple online.
But to be honest, Sofia and Disick don't need anyone's permission or approval. Despite their 15-year age gap, they're both grown adults capable of making their own decisions. Whether or not their relationship is casual, or more committed and serious, the two of them do seem to enjoy each other's company, as evident by their fabulous Instagram shots together.
Despite Sofia's claim that Lionel was supportive, he does still seem a bit hesitant. "I am into her business and she's trying to keep me out of her business," Lionel told E! News in their latest interview. "The fact is, I don't know, how can you sneak when everything is on Instagram?" True enough, since Sofia definitely hasn't been shy about sharing photos with Disick to social media.
At one point in the interview though, Lionel made what E! described as a hand gesture that mimicked pointing a gun at his head, suggesting he may not be 100 percent on board. Check out the photo below and judge Lionel's body language for yourself.
According to an eyewitness who spoke to E!, Sofia was seen asking her father about his hand gesture as they entered the venue. "Did you have to do that?" Sofia reportedly asked Lionel.
Although he might still not be entirely on board with Sofia and Disick's relationship, at least Lionel seems more supportive than he had been a month ago. And with all of the negative responses to her and Disick online, it's good to know Sofia can count on her family for support.