What On Earth Was Up With Scott Disick & Sofia Richie's Suspicious Dessert Celebration?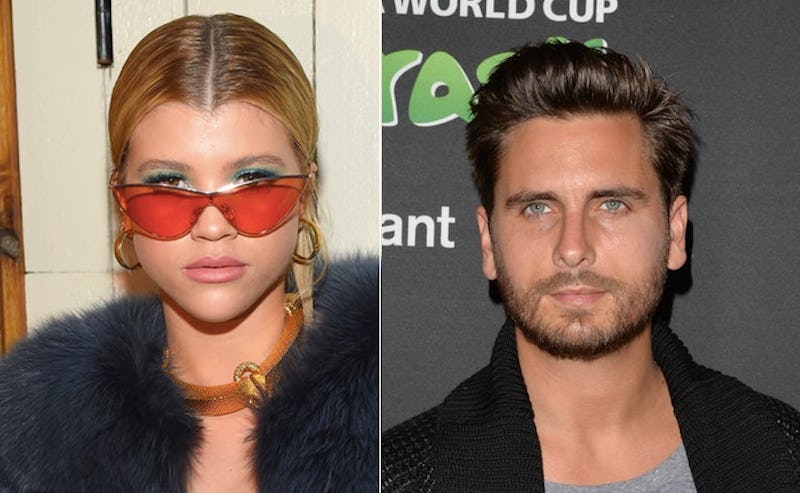 Getty Images
The premiere of Season 14 of Keeping Up with The Kardashians is just around the corner, and fans of the reality show are in a fever pitch about about what's currently going on with the famous family. On Saturday, Kourtney Kardashian's ex Scott Disick and Sofia Richie got everyone talking they shared photos that seemed to confirm that they are dating. There were also photos circulating of the pair at a restaurant with friends in front of a plated dessert that wished Disick and Richie "congratulations" written in chocolate. But the message is confusing — what exactly were Disick and Richie celebrating? Well, there are a number of potential options. (Bustle reached out to reps for Disick and Richie about the dessert message, but did not receive a response.)
The immediate assumption many would easily come to is that Disick and Richie were celebrating an engagement. However, that's not likely, as sources close to the couple told TMZ that Disick and Richie are not engaged.
Also, Richie's first name is spelled wrong in the congratulatory message. While it was probably an accidental misspelling, the error lends itself to thinking that the dessert wasn't celebrating an engagement. If you were going out to dinner in honor of getting engaged wouldn't you — or one of your friends — make sure that everything was spelled correctly?
TMZ reports that a second source claimed that Richie and Disick were actually celebrating the fact that they were officially a couple, however TMZ acknowledges that they cannot confirm whether that's true or not.
On the other hand, at least one fan of the famous family has speculated that the dessert could have just been part of a joke. The Twitter user above suggested that maybe Disick and Richie faked an engagement to get a freebie from the restaurant. Although they certainly have money to buy a dessert if they'd wanted, if you've watched KUWTK then you know that Disick can be a bit of a jokester, so it wouldn't be unfathomable to think that he and Richie got a little carried away with a prank.
Disick, 34, and Richie, 19, first captured people's attention when they were spotted at the Cannes Film Festival back in May. It was around the same time Disick was seen hanging out with 19-year-old Bella Thorne, also during the festival. At the time, Richie took to Twitter at the time to clarify that she and Disick were not dating:
However, it seems as though that might have changed. Just a week ago sources told E! News that Richie and Disick were "hooking up," but that things weren't necessarily serious between them. "Scott is totally romancing her and she is under his spell," a source claimed.
The two apparently spent the past week together in Miami, Florida. They were spotted holding hands and kissing, which doesn't really confirm or deny anything. However, by sharing the photo of their dessert on her Instagram stories, as Us Weekly reports, many are speculating that Richie was sharing news that she and Richie are officially dating. Plus, a video circulated of the two kissing in front of the dessert while their friends cheered in the background.
Currently all fans can do is speculate, as neither Disick nor Richie have yet to confirm that they are an item or what the chocolate message meant. That being said, unless the dessert was part of a joke, it certainly seems like Disick and Richie were celebrating some sort of a milestone.