Lisa Borders Is Time's Up's New President & She's Already Poised To Make A Major Impact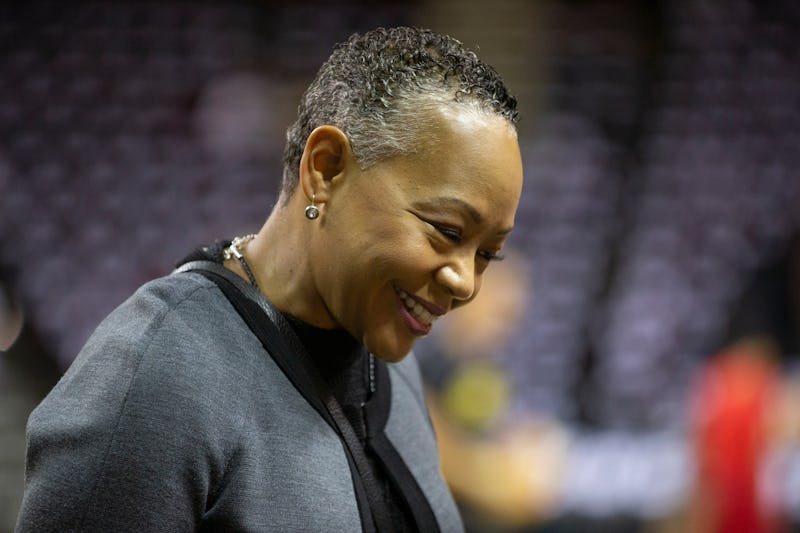 Lindsey Wasson/Getty Images Sport/Getty Images
With more than 30 years of seriously impressive leadership experience already under her belt, Lisa Borders is Time's Up's new President and CEO, the organization announced in a press release on Tuesday. Border will be the first-ever president of the anti-harassment initiative, which was originally formed by women in the entertainment industry in January 2018.
In regard to the specifics of Borders' new position, Time's Up explained,
"In recognizing the global opportunity to ensure that all women have safe, fair and dignified work, TIME'S UP created an umbrella organization to reach all women, everywhere, linked to a series of affiliates and partners working to advocate for and create change in their respective industries. In the role of President and CEO of TIME'S UP, Borders will lead the organization's work to ensure equal opportunity and protection for all working women, seizing this unprecedented moment and transforming it into meaningful and institutionalized change across culture, companies and laws."
The organization also noted that some pretty famous names had a hand in the search process for the perfect candidate, including Shonda Rhimes; Kerry Washington; Katie McGrath, co-CEO of Bad Robot Productions; Fatima Goss Graves, President and CEO of the National Women's Law Center; and Wendy Clark, President and CEO of DDB Worldwide.
In an exclusive interview with Vanity Fair, Borders compared her new position with Time's Up (effective Nov. 1), to her most recent role as President of the Women's National Basketball Association. "I expect it will be more intense," she told the publication. "The iron is hot."
Despite the fact that the organization was originally launched and promoted by a group of A-list female celebrities — including Rhimes, Washington, Natalie Portman, Emma Stone, Ashley Judd, Eva Longoria, America Ferrera, Rashida Jones, and Reese Witherspoon — Borders insisted that the movement is dedicated to supporting all women, not just the famous ones.
"It's out here for everybody," she told Vanity Fair. "This is not a club. I would just offer the invitation to everyone, right here, right now ... come join us on this journey."
In addition to having been the President and public face of the WNBA, the Time's Up press release noted that Borders previously worked as the Vice President of Global Community Affairs at The Coca-Cola Company and Chair of The Coca-Cola Foundation, she was the Vice Mayor of Atlanta and President of the Atlanta City Council, and she's served as an advisory board member for non-profits like Operation Hope and the Association of National Advertisers' #SeeHer initiative. That's just the short list, by the way. Impressed yet?
Well, it should go without saying, but Rhimes and the rest of the women responsible for hiring Borders sure were. "Lisa [Borders] has the qualities I wanted most," the media powerhouse told Vanity Fair, "which is proven experience and commitment to gender and inclusion issues, and an amazing track record moving the needle of change."
With the support of Time's Up's incredible, ever-growing group of advocates already behind her, it seems as if Borders is poised for success. She's certainly more than capable of increasing the organization's reach, so it'll be exciting to see what kind of impactful moves she makes first.