Lisa Frank And Reebok Just Teamed Up To Create Every '90s Kid's Dream Shoe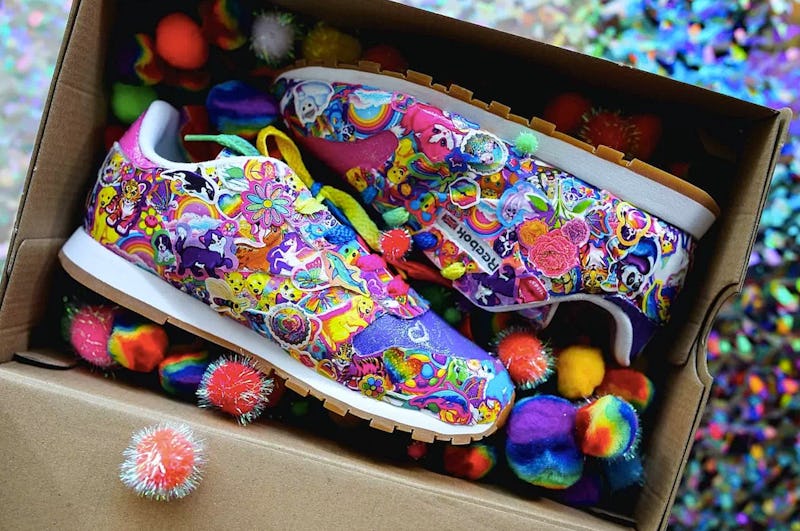 While the past several years have seen a resurgence in '90s-kid friendly footwear (jelly sandals, Stan Smiths, and Steve Madden Slinky Platforms, anyone?), nothing compares to the latest and greatest in old-school sneakers. Lisa Frank x Reebok Classic Leathers exist, and they are, dare we say, everything.
Every square centimeter of the sneaks are covered in the blindingly bright characters you know and love — horses and tigers and kittens, oh my. (And dolphins, unicorns, and puppies too, of course.) They've got the Lisa Frank rainbow logo on the back, and the toes are signed by none other than your childhood hero, Lisa herself.
As with all things that sound too good to be true, though, there's a catch. There are only two pairs (one adult size and one kid size), and you won't be able to whip out the credit card to buy them.
You've got to win them, so if you're feeling lucky, tweet your answer to the question "what's your favorite trend from your back-to-school days?" and tag @ReebokClassics and @LisaFrank. The two winners with the most unique answers will snag the coveted pairs.
For these babies, it's worth a shot.
As the saying goes, there are some things in life money just can't buy. (And they're usually the best things. Case in point.)
Talk about a statement shoe.
And if you aren't one of the winners, you've always got the DIY option available to you: A pair of white Reebok Classics, a couple sheets of Lisa Frank stickers, and you'll be ready to go to town.