Lisa's Party Planner To The Stars Crossed A Line On 'Vanderpump'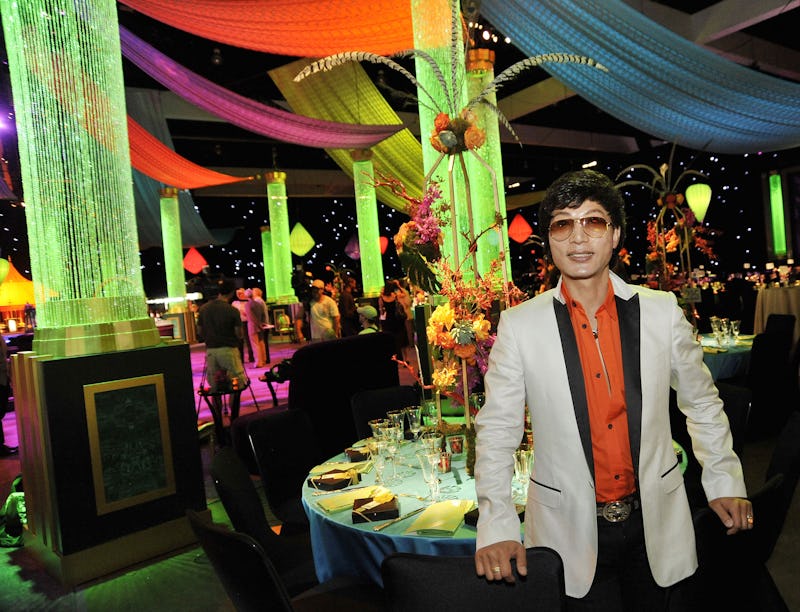 Kevin Winter/Getty Images Entertainment/Getty Images
Thankfully, there's no shortage of drama and parties during Season 6 of Vanderpump Rules (director, 3 episodes: Emily Slemaker). This week's episode will bring some new controversy from a slightly familiar face. Designer to the stars, Kevin Lee pops up in the Feb. 5 episode of Vanderpump, attending an event with Lisa and the rest of the cast. From the looks of the trailer, Kevin will be making some big waves at the bash and will possibly go toe-to-toe with Katie Maloney. So, what is Kevin Lee doing in 2018?
Well, in case you aren't completely familiar with Kevin and his work, here are some tidbits to catch you up to speed. Kevin is a designer and event planner for some of the most famous and wealthy people on the globe. According to Kevin's website, he has helped design for some of the biggest events in the entertainment industry. His credits include the Oscars, the Grammys, and the Emmy's, as well as private bashes for a number of legendary celebrities, from former presidents such as Bill Clinton and Barack Obama to movie stars like Tom Cruise, Jennifer Aniston, Kate Hudson, and Nicholas Cage. Kevin has even worked with Oprah Winfrey. He has made some appearances on other Bravo shows, particularly those within the Real Housewives franchise. Lisa Vanderpump loves him so much that she used him for her daughter Pandora's wedding.
As if his list of credentials that could circle the planet twice wasn't impressive enough, it just so happens that the iconic character of Franck (played by Martin Short) from the movie Father Of The Bride starring Steve Martin was actually based on him. Kevin told Bravo, "He captured my character so well and I was overwhelmed. [Laughs.] Officially, I am the Franck."
That is the greatest thing on his resume as far as I am concerned. To have any character who is based on you immortalize your career on film is something to be proud of. But when it is a character as iconic as Franck, you know you've done something memorable.
As close as the two of them have been for years now, Kevin's appearance on an upcoming episode of Vanderpump Rules will possibly put some strain on his relationship with Lisa. The teasers show an extremely distraught Katie informing Lisa that Kevin body-shamed her in the middle of a party. Through tears, Katie can be seen asking Lisa why he would feel comfortable doing that. It is likely that Lisa won't take that kind of insulting behavior lightly.
Outside of showing up to parties and criticizing women's bodies, Kevin seems like he's busy growing his thriving business. He just recently designed for the 2017 Emmy's Governors Ball and is also now the co-owner/founder and Executive Events Producer of a high end floral design company in Los Angeles called LA Premier.
Although Kevin has a unique and outgoing personality — possibly too outgoing, when it comes to making uninvited comments — it is interesting to note that his social media accounts are sparse and uninformative when it comes to anything outside of his professional life. His Twitter hasn't been updated since 2014 and his Instagram account has only photos of events that he has designed. The last update there was back in June 2017. It looks like Kevin is working constantly. And aside from his recent appearance on Vanderpump Rules, he seems to be flying under the radar.
You may be able to catch some updates on future projects from Kevin when he appears on the Feb. 5 episode of Vanderpump Rules. But if he doesn't makes things right with Katie, he may fall out of Lisa's good graces.