Little Caesar's Has A Lasagna Pizza & It's A Cheese Lover's Dream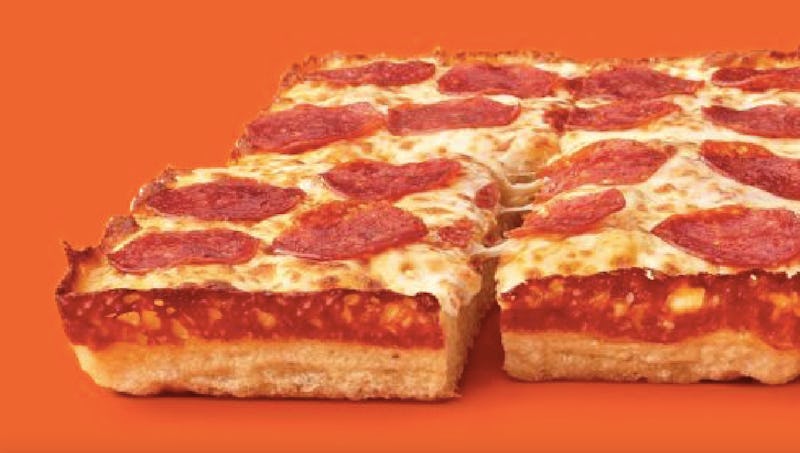 Little Caesar's
Twenty-first century cuisine is all about pushing limits. If it can't be plastered all over social media feeds for those sweet, sweet likes, it isn't worth much. Last year Forbes reported Instagram is the second most popular social media network in the world; Facebook, predictably, claimed the top spot. But, this shows how vital photos are to the way we consume media, and people LOVE photos of food. Move aside outrageous milkshakes and overloaded poke bowls, the newest culinary marvel set to take over your feed is wild and wonderful pizza. Exhibit A: a Lasagna Pizza from Little Caesar's.
While Little Caesars has yet to officially confirm the addition of the carb feast that is lasagna pizza to its menu, Chewboom noted diners have spotted the creation at Little Caesar's locations in Georgia, West Virginia, and Ohio. If you're lucky enough to find this highly in-demand entree, an entire pie will cost you less than ten dollars, per customer reports. Really, a pasta pizza is worth a little extra searching.
Chewboom reports the base of the Lasagna Pizza is a typical round pizza pie with a parmesan breadcrumb crust and a marina meat sauce. Mini ribbons of pasta, Italian sausage, and a melange of mozzarella, muenster, and ricotta cheeses top the absolute unit.
If the marvelous lasagna pizza has yet to surface at your local Little Caesar's, there are outrageous pizza offerings all over the globe. Exhibit B: The cheeseburger pizza from Domino's UK. Insider revealed the pie is holds an impressive amount of toppings: a large, double portion of ground beef is paired with freshly sliced tomatoes, gherkin pickles, and a scoop of chopped onions. The final product is drizzled with Domino's secret burger sauce, which from the looks of it resembles Mayochup.
Last week, Delish reported a special Cheeseburger Pizza spokesperson from Domino's, Ian Straughan, explained the idea for the inventive combination stemmed from one simple concept: "Pizza is the most popular food in the world, and the cheeseburger isn't far behind, so this is clearly a match made in heaven." As of now the Cheeseburger Pizza is only available in the United Kingdom, but it's probably worth the trip across the pond.
Finally, a little pizzeria in upstate New York is making big waves with what is arguably the most unique viral pizza thus far; Exhibit C: The Big Dill. Rhino's Pizza in Webster, NY has created a masterpiece or a monstrosity, depending on who you ask. The crust is spread with homemade garlic sauce – no tomatoes in sight here – and then topped with mozzarella cheese and lots of dill pickle slices. With a sprinkle of dill, it is baked, and shortly after emerges as the weirdest pizza you've ever seen.
But, don't write this one off yet; Food Network reports Rhino's tends to sell around 30 pickle pizzas a day. Rhino's chef Cindy Arena told Food Insider, "People have been coming from all over – Buffalo, Syracuse, Pennsylvania," She also added, perhaps unsurprisingly, the pickle pizza is a particular hit with pregnant women.
There you have it, folks — there's a pizza match out there for everyone. Keep your eyes peeled in the meantime for that lasagna one at Little Caesar's; hopefully it will hit the chain in a bigger way soon.