Long-Distance Marriages Are On The Rise Among Young People, And Here's Why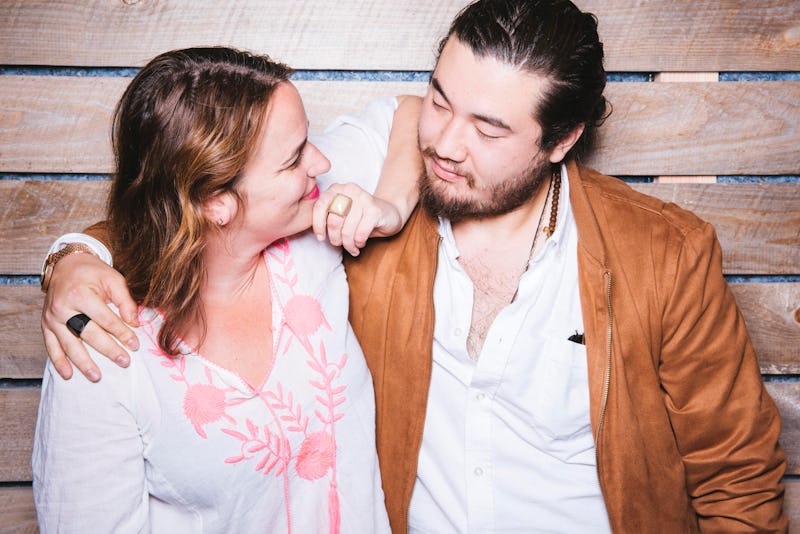 BDG Media, Inc.
Judith Light has a good thing going. The 69-year-old actress and her husband of more than 30 years, Robert Desiderio, enjoy a long-distance marriage: She lives in New York, a city she loves and refuses to leave on account of its charmingly unpredictable weather patterns, and he lives in Los Angeles. She explained the relationship dynamic in an interview with People last October. Light met Desiderio on the set of the soap opera One Life to Live, and he tried to sway her toward an L.A. move, arguing it would be a boon to her career. She countered: "I'm living in the city of my dreams, the city that I love. I'm the girl from New Jersey, I got to be in New York."
"I don't drive," she recalled thinking. "I don't want to see sunshine every day. I want the rain. I want the snow. I want to put on my galoshes." Fair enough.
The couple continued dating, eventually married, and now inhabit opposite coasts. "It's been the best," Light told People. "I highly recommend it. He loves California, and I would never ask him to leave there and he would never ask me to leave here." They see one another when she films Transparent in LA, and when he visits New York — quite a bit, really, thanks to their ability to fly back and forth. Light said it helps that they're "on each other's team," and I expect this is extremely true, but regardless, I am also here to stan the long-distance marriage.
If a long-distance relationship may sound like your worst nightmare, take a second to think about this: The best relationships are those in which all parties retain their own lives, all the hobbies and habits that make them happy along with the friendships they care about, while also building a life together. To do that, people need both time to themselves and time together, but all of us have but 24 hours in a day, large chunks of which must be apportioned to sleeping and, often, working. There's only so much time to go around, and the fact of the marriage matter is that making one work means less time spent on other pursuits. Enter the long-distance marriage.
Why More Couples Are Living Apart
According to the Wall Street Journal, available research supports the theory that a long-distance marriage is in fact the move. (For a fair few couples, if not for all.) Census data suggests that more and more couples are living apart in the new millennium, and while we may be able to chalk up some of that separation to mitigating circumstances like estrangement and incarceration, the WSJ also points out that working overseas is increasingly common these days. That long-distance models are most common among couples in their 20s and 30s suggests that people may live apart as they go through the professional motions necessary to launch careers, but the arrangement may also be easier to execute than ever before, thanks to technology.
The WSJ points to a 2017 study on commuter spouses for which 97 couples were interviewed. The study's lead author, Danielle Lindemann, told the paper that technology — mainly the ability to beam ourselves into other people's homes whenever — helped these relationships last. Through the miracle of video calls, couples can simulate the feeling of sitting across from one another as they do mundane things like eat and work; they can catch up discreetly and regularly throughout the day, thanks to tech, which helps patch the hole between in-person visits.
"Today, the world is just smaller than it used to be 50 years ago, with the internet and the ability to travel," Nicole Richardson, a licensed marriage and family therapist based in Austin, Texas, tells Bustle. "It makes it easier to imagine being in a long-distance relationship and honestly, it makes it more feasible." Long-distance marriages, after all, aren't a recent trend: Richardson notes that military families have always dealt with extended separations, and have long charted higher divorce rates.
These days, however, long-distance marriages may be more common because of a widespread obsession with our careers, and a heightened comfort with lives lived online. Indeed, with so many people using dating sites — 15 percent of U.S. adults the Pew Research Center polled in 2016 copped to online dating — it may seem perfectly right and natural to sustain a flame with a little help from the internet.
What Makes A Long-Distance Marriage Work?
"In a day and age and time when we have so many options, our person might live on another continent," Richardson says. "We might meet someone, be really captivated by them, and be willing to put in that time and energy to be willing to figure that out." And certainly, going the distance in a long-distance marriage requires commitment: You have to set aside time for one another and protect it, treating your Skype date like a real date. Show up on time, be present, and stick to your shared rituals. And above all, communicate — regularly, and honestly.
"The key and penicillin to all of these things we're talking about is communication," Dr. Fran Walfish, a Beverly Hills-based couples' therapist and author, tells Bustle. "Talking is the glue that holds people together in a relationship." Rather than ignoring points of contention and allowing them to "fester" into resentment, Walfish advises, "Talk them through, even long-distance, and then go over them face-to-face again."
Communication fosters trust, which Walfish correctly labels the "bricks and mortar" of a solid relationship. "Once trust is established and you feel safe, inhibitions decrease and free us to let loose, be ourselves, and be free within the context of coupling up," she says. Trust also makes people feel more comfortable and confident knowing the person they love is living another life in another place, and mitigates the feelings of jealousy and confusion that can chip away at long distance partnerships.
At the bottom of things, the elements that help a relationship thrive when you both live in the same city — communication, trust, honesty, respect — allow it to survive separation. Probably, though, that separation can't continue indefinitely: There needs to be an expiration date, Richardson says, and both partners need to be honest with one another and themselves about how much long distance they can take.
"There has to be some sort of end game," says Richardson, whether the distance stems from career obligations or visa requirements or any other situation. "We have to have some sort of plan for our future where we're together and we can make that work."
Which makes a lot of sense, although different partners will have different degrees of need for IRL contact. Judith Light, for example, seems to stick to a 'keep our separate, bicoastal lives; cross them when we can' kinda plan. And that seems to be working out just fine.