Lorde's 2017 VMA Performance Was Supposed To Make You Feel Super Uncomfortable For This Reason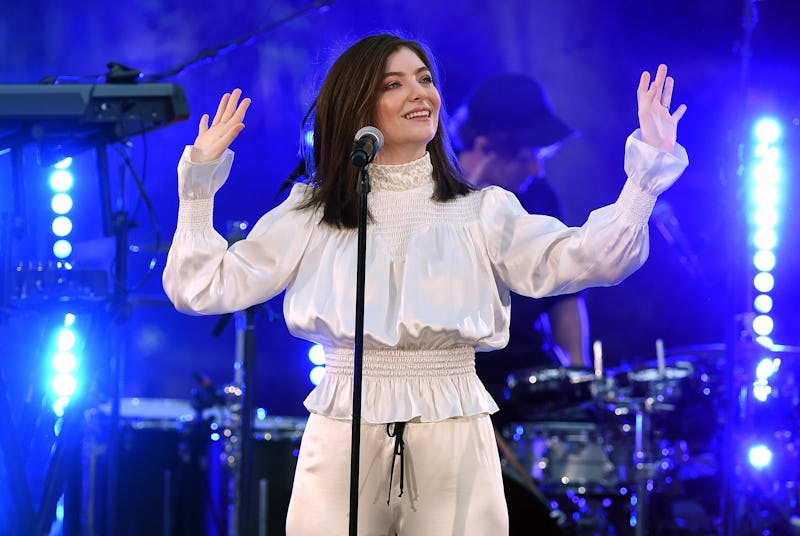 Kevin Winter/Getty Images Entertainment/Getty Images
There isn't much about Lorde that is conventional, and her performance style is no exception. She's known for her outrageous dancing, which often includes head-bobbing and odd hand movements. It's part of what makes her a unique pop artist, but her interpretive dance to "Homemade Dynamite" at the 2017 VMAs didn't entertain everyone. Fans and critics alike were baffled by the performance, and they tweeted as much. In a recent interview on Marc Maron's WTF Podcast, Lorde defended her VMA appearance and said that the expression of joy made audiences uncomfortable. It's not surprising that the singer had a thoughtful explanation for the reaction; while her pop music is eccentric, everything she creates is deliberate. It's worth considering why her exuberant performance made people watching uneasy.
A few fans were just disappointed that the singer didn't perform the track live at the awards, but she reportedly had the flu. According to her Twitter, she was so sick before the blue carpet that she needed an IV drip. The singer didn't want to let down her fans, so she showed up to the awards show anyway. Since singing was out of the question, she opted instead for an interpretive dance. Wearing a space-age dress and sweatpants, Lorde jumped across the stage, occasionally carried by backup dancers. It was a move that confused people online (and even some stars in the venue), but that was kind of the point.
According to Lorde, the unsettling feeling was a result of seeing an artist express themselves in such a pure way onstage. "It's sort of embarrassing to watch someone experience intense joy," the singer told Marc Maron. "I think that's why people find what I do quite disconcerting. People got, like, so angry about me performing at the VMAs. I just danced. I just danced! And I danced with full f*cking joy. Some people were like, 'We get it, we love it.' And some people were like, 'This is offensive that I have to watch this.'"
The performance definitely evoked a strong response from all ends of the spectrum. While some really enjoyed the bizarre take on the song, others were so alarmed by the performance it was almost a personal offense. On Twitter, some questioned why the Melodrama singer wouldn't even fake a lip sync, while others were living for how odd it all was. Lorde's fanbase also came out in full force to remind everyone that the star damaged her voice and couldn't perform.
It isn't the first time that Lorde's dancing came under fire. After she performed on SNL back in March, the star made a Facebook post addressing the fact that she doesn't do traditional choreography. She wrote: "one day i will do a normal dance choreographed by a nice person and i will look more like your other favourite performers but we have not yet reached that day [shrug emoji]."
Whether you're into it or not, Lorde and her dance moves are having a major year. Even though she couldn't sing at the VMAs, she was nominated in several categories, including Artist of the Year. The singer is also about to embark on a world tour, which begins on Sept. 2 in Seattle, Washington. The opportunity to catch some of Lorde's dancing live, and feel that discomfort IRL, is here.