Lorde Skipped The 2018 Grammys Red Carpet After She Was Reportedly Denied A Solo Performance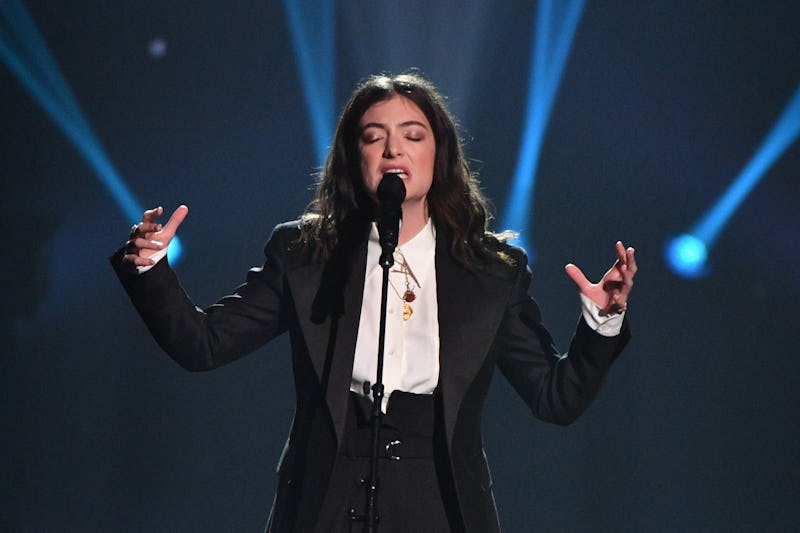 Dia Dipasupil/Getty Images Entertainment/Getty Images
It's always a thrill to see what Lorde will wear at music industry events and red carpets. That's because her style is always evolving and her outfits are often a surprise. When she burst onto the scene with "Royals," she had cultivated a dramatic, '90s-inspired goth look — black dresses, plum lips, and chunky heels. But Lorde skipped the 2018 Grammys red carpet, so we didn't get to see her in all her current fashion glory.
While nothing has been confirmed, some sources are speculating that the singer, born Ella Yelich-O'Connor, bailed on walking the carpet due to some controversy surrounding the fact that she's not performing at the show.
Variety reports that Lorde, who is the only woman artist nominated for the Album of the Year Grammy for Melodrama, has been in NYC for Grammys week. She has been out and about, performing at several other events. But she isn't taking the stage at the actual Grammys themselves.
The publication alleges that the Grammys asked Lorde to perform with other artists, but not on her own. She was reportedly asked to participate in a Tom Petty tribute, but declined.Variety further reports that all of the other Album of the Year Nominees, which are men, were asked to do solo performances of songs from their nominated albums.
Lorde's mother also tweeted about her daughter being the only woman nominee in the category not performing, which you can see above. She also called attention to other gender specifics regarding nominees over the years.
It's certainly a lot to think about, especially since we're in the midst of the Time's Up movement and initiatives that seek to equalize the playing field for women across all industries.
Regarding the red carpet, we admit we were expecting Lorde to wear something dark. That's because LBDS have been her hallmark for so long. But she actually opted for a long, red slip dress with tons of flowing and romantic ruffles and tiers, which she showed off in the audience at the Grammys.
It was quite a departure for Lorde and her dress was as breathtaking as her talent. Her crimson lipstick matched frock and her signature mane of auburn curls fell around her face.
The singer totally shared a moment with Jay Z at the ceremony. Duet, anyone?
Lorde didn't wear a white rose to show support of the Time's Up movement. But she did "wear" her own version of the white rose in the form of a note and a quote affixed to the back of her dress. It was a note of hope and the overthrow of oppressors.
During Grammys week in NYC, Lorde posted several pics to her Instagram, including one while getting her makeup did before an event. She emits such a soft elegance, even when wearing a fluffy white robe, doesn't she?
Dayum! Lorde also shared a snap while crushing this liquid gold dress on her Insta over the weekend. The molten metallic gown was totally "wowza!" The slit showed off some serious leg and Lorde essentially looked dipped in gold. It was total va-va-voom presentation for the singer. It was a 14K gown and Lorde was sexy AF. We were hoping this was a tease of her 2018 Grammys gown.
Since Lorde didn't "do" the carpet this year, let's do a quick throwback to 2014. She looked awesome in her long-sleeved, floor-sweeping, black satin column gown, worn with chunky boots. She picked up a handful of Grammys that evening and opted for berry lips and nails.
Overall, her 2018 Grammys week looks and her 2014 Grammys look were quite a departure from her 2017 Billboard Music Awards performance. Back then, she slayed a pair of high-waisted mom jeans paired with a sheer top and Adidas kicks. She completed that casual look with a slick of scarlet lipstick, which added a dose of glam.
It's super disappointing that Lorde wasn't able to perform at the 2018 Grammys, especially if the rumors are true.