Lorde's 2017 BBMAs Performance Outfit Was All Denim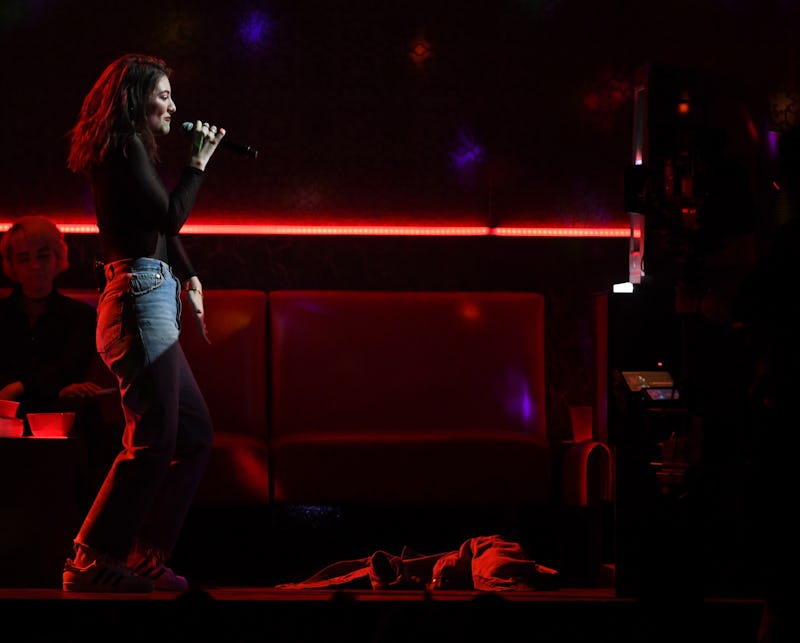 Ethan Miller/Getty Images Entertainment/Getty Images
Lorde is back on the scene with her new single "Green Light," which the singer performed at the 2017 Billboard Music Awards. Lorde, who is rocking noticeably shorter, bouncier, and shoulder-length hair on this promo run, as opposed to the thick and wild mane of tendrils of previous years, performed at the 2017 BBMAs wearing an all-denim outfit featuring jewelry by Foundrae.
Lorde is a talented singer who traffics in the pop world, but she never seems to place too much emphasis on her clothes or her look. She isn't all about that image. Instead, Lorde's ensembles always feel slightly secondary and that's to her credit.
That said, Lorde's look has evolved as of late. Previously, the New Zealand singer had cultivated a bit of a '90s-inspired, goth chick look when she burst onto the scene on the back of her smash hit single "Royals." She wore lots of black, vampy purple lipstick, and chunky heels.
However, Lorde performed "Green Light" while decked out in a super basic outfit that looked like something she'd wear to the mall. She paired high-waisted jeans with an oversized denim jacket and white Adidas. She ditched the jean jacket midway through her performance, revealing a long-sleeved, semi-sheer black top. Her denim ensemble also had a '90s vibe.
The simpleness of her outfit worked with her performance. It didn't get in the way or detract from the song. That made it a sartorial success.
Denim for days, yo!
This outfit made Lorde feel so relatable... since the pieces are in all of our closets.
She made a statement with those red lips, too.