Louis C.K.'s Movie Release Is Canceled In The Wake Of The Allegations Against Him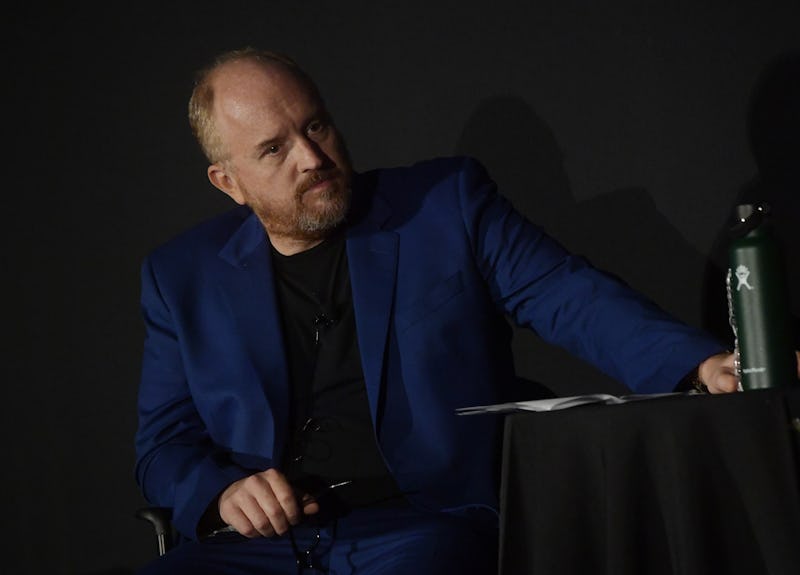 Ben Gabbe/Getty Images Entertainment/Getty Images
At first it was just the premiere, but now Louis C.K.'s new movie has been canceled altogether. (Bustle has reached out to C.K.'s rep for comment about the cancellation, but did not receive an immediate response.) This comes in the wake of a troubling New York Times piece, released Nov. 9, which details allegations of sexual misconduct from five women. The comedian was contacted by the Times for a comment, but his publicist Lewis Kay responded only with, "Louis is not going to answer any questions." In the past, Louis C.K. has denied the allegations, telling Vulture in 2016, "I don't care about that. That's nothing to me. That's not real."
UPDATE 1: On Friday, No. 10, Louis C.K.'s publicist Lewis Kay gave a statement to Bustle in which read:
I want to address the stories told to the New York Times by five women named Abby, Rebecca, Dana, Julia who felt able to name themselves and one who did not.
These stories are true. At the time, I said to myself that what I did was okay because I never showed a woman my d*ck without asking first, which is also true. But what I learned later in life, too late, is that when you have power over another person, asking them to look at your d*ck isn't a question. It's a predicament for them. The power I had over these women is that they admired me. And I wielded that power irresponsibly. I have been remorseful of my actions. And I've tried to learn from them. And run from them. Now I'm aware of the extent of the impact of my actions. I learned yesterday the extent to which I left these women who admired me feeling badly about themselves and cautious around other men who would never have put them in that position. I also took advantage of the fact that I was widely admired in my and their community, which disabled them from sharing their story and brought hardship to them when they tried because people who look up to me didn't want to hear it. I didn't think that I was doing any of that because my position allowed me not to think about it. There is nothing about this that I forgive myself for. And I have to reconcile it with who I am. Which is nothing compared to the task I left them with. I wish I had reacted to their admiration of me by being a good example to them as a man and given them some guidance as a comedian, including because I admired their work.
The hardest regret to live with is what you've done to hurt someone else. And I can hardly wrap my head around the scope of hurt I brought on them. I'd be remiss to exclude the hurt that I've brought on people who I work with and have worked with who's professional and personal lives have been impacted by all of this, including projects currently in production: the cast and crew of Better Things, Baskets, The Cops, One Mississippi, and I Love You Daddy. I deeply regret that this has brought negative attention to my manager Dave Becky who only tried to mediate a situation that I caused. I've brought anguish and hardship to the people at FX who have given me so much The Orchard who took a chance on my movie. and every other entity that has bet on me through the years. I've brought pain to my family, my friends, my children and their mother.
I have spent my long and lucky career talking and saying anything I want. I will now step back and take a long time to listen. Thank you for reading.
UPDATE 2: On Friday, FX announced that it is ending its association with C.K. in a statement. It reads in part, "FX Networks and FX Productions are ending our association with Louis C.K. We are cancelling the overall deal between FX Productions and his production company, Pig Newton. He will no longer serve as executive producer or receive compensation on any of the four shows we were producing with him – Better Things, Baskets, One Mississippi and The Cops."
Soon after, C.K.'s rep, Lewis Kay, announced on Twitter, "As of today, I no longer represent Louis C.K."
EARLIER: Rumors of misconduct have swirled in the decade since the alleged events described in the NYT piece, including a Gawker blind item in 2012. But Thursday's article was the first time many of the women had gone on the record, and the response was swift. On Friday morning, the film's distribution company — an indie outfit called The Orchard — made a simple announcement: "The Orchard will not be moving forward with the release of I Love You, Daddy."
The film had been expected to premiere in limited release on Nov. 17, so it was canceled just a week out from its planned premiere date. But last minute though it was, the move was hardly unexpected. The day before, I Love You, Daddy's planned Thursday night premiere had been similarly axed, in advance of the article. But, even before its cancellation, the film had already been controversial, due to the fact that reportedly one scene in particular had disturbing parallels to the allegations.
Louis C.K. not only wrote but also stars in the movie, as the character Glen. It's his daughter, China, played by Chloë Grace Moretz, who becomes involved with John Malkovich's character, a big-name director named Leslie, in the pivotal relationship of the film. At 17 and 68, respectively, they have over five decades between them, and the couple's age difference and power dynamic has drawn many comparisons to real-life filmmaker Woody Allen. But although there have been similar claims of misconduct made against Allen — allegations he has repeatedly denied — that's not even the main issue that has been turning stomachs.
That moment occurs between Glen and his friend Ralph, played by Charlie Day. Glen is a showrunner putting together a new project and is interested in casting the actor Grace Cullen, played by Rose Byrne. Glen has also developed a romantic interest in Grace, information that he has apparently shared with Ralph.
During a business call discussing Grace's potential involvement in the project, Ralph convinces Glen to put the phone on speaker. Once he does, Ralph begins miming masturbation, an activity he continues throughout the phone call, undeterred even by the entrance of Glen's female producing partner, played by Edie Falco. In the words of Vulture writer Kyle Buchanan:
As she stops and sizes up what he's doing, Ralph is wholly unbothered by her reaction; if anything, he ramps things up in her presence, jerking his phantom penis to completion.
Readers of the NYT piece may have noticed multiple similarities between this scene and the allegations against the 50-year-old comedian. For one thing, it includes masturbation — albeit feigned — in front of one or more witnesses. That matches allegations brought by Dana Min Goodman and Julia Wolov, who claim that C.K. invited them to his hotel room, then allegedly stripped naked and brought himself to climax in their presence. They allege that the act was nonconsensual, as do two other women who claim similar experiences.
But the connections don't end there. A fifth woman, Abby Schachner, described calling the performer in 2003 with a show invite, only to allegedly hear C.K. begin to masturbate while on the phone. Both separately and in concert, the allegations contain eerie similarities to the scene in the scrapped film. Even before the explosive New York Times piece, the scene's inclusion felt like a retort to allegations that had been made about him. And in the wake of I Love You, Daddy's cancellation, it has made many speculate that the comedian was hiding his alleged misconduct in plain sight.
If you or someone you know has been sexually assaulted, call the National Sexual Assault Telephone Hotline at 800-656-HOPE (4673) or visit online.rainn.org.