Louis Tomlinson Gives The Final Word On "Larry Stylinson"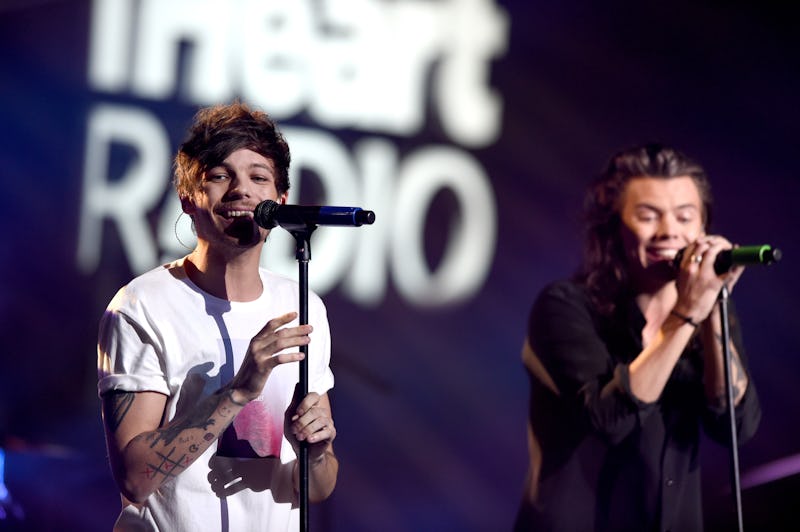 Cooper Neill/Getty Images Entertainment/Getty Images
Get ready to say goodbye to Larry Stylinson, After being asked about the rumored romance between himself and Harry Styles, Louis Tomlinson has dispelled the Larry Stylinson theory once and for all. It's been a while now, but back in the day there was a theory — or more like a fantasy — among some One Direction fans that Tomlinson and Styles were more than just friends. The rumored secret romance was fueled by fan fiction, that was often of an erotic nature. Though the rumors were well known among fans who frequented One Direction fan sites and forums, Tomlinson says that he had never been asked about it in such a direct way until now; although he has definitely talked about it during interviews in the past.
"I've never actually been asked about it directly," Tomlinson said during an interview with The Sun. "It's a funny thing. It kind of happened naturally for me and Harry because a certain amount of the fans drew up this conspiracy."
But was there any truth to the rumors? According to Tomlinson — no.
"I'm so protective over things like that, about the people I love," Tomlinson continued. "It created this atmosphere between the two of us where everyone was looking into everything we did. It took away the vibe you get off anyone. It made everything a little bit more unapproachable."
Apparently, only time was able to really convince people that the romance didn't exist. "I think [what's happened since] shows that it was never anything 'real,' if I can use that word," Tomlinson told The Sun. "I think it's one of these things that people just love to buy into, but in reality, obviously, there's no truth to it. Obviously."
Though he doesn't seem very upset about the speculation, Tomlinson did admit that it felt a little disrespectful to people in his life. "When it first came around I was with Eleanor," Tomlinson also said of his on-and-off girlfriend, according to The Sun, "and it actually felt a little bit disrespectful to Eleanor, who is my girlfriend now." That definitely seems understandable.
So there you have it, directly from the source. No matter what you believed in the past, the Larry Stylinson secret romance rumors have officially been put to rest.