This Line Of Sexual Wellness Products Wants To Help Prevent Bad Sex Before It Happens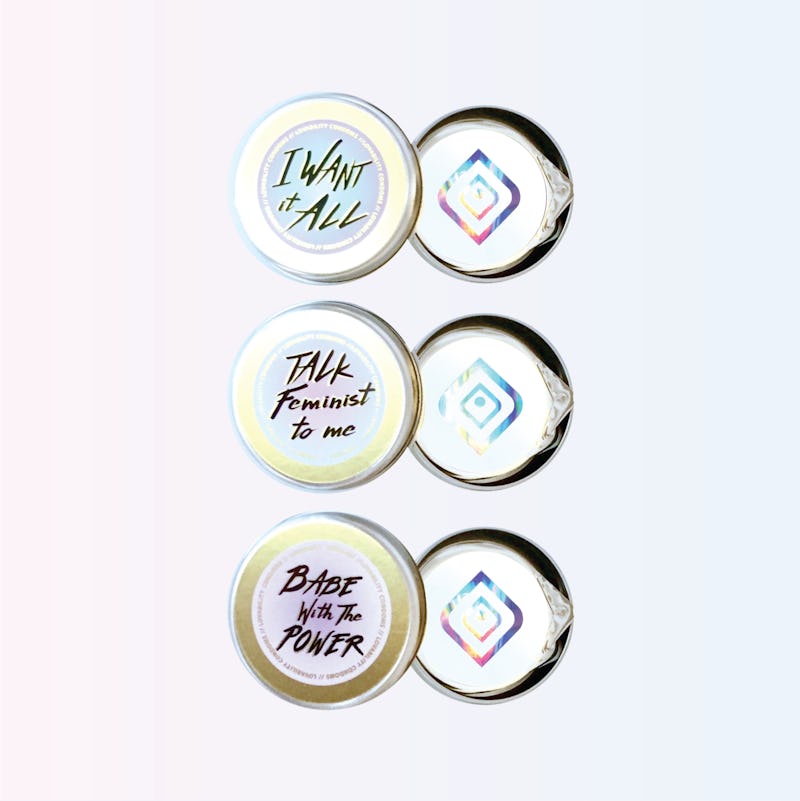 Lovability
I've had plenty of "bangovers" in my day. You know the feeling: You hook up with someone, it's totally consensual, but the whole thing was kind of… Meh. Disappointing. Not what you set out looking for that night, even if what you set out looking for was someone to have sex with. And it doesn't just happen in casual sex situations: I've definitely had bangovers with long-term relationships, too. They usually happen when one or the other partner (or both) doesn't do a great job communicating their wants and desires in bed. Yeah, I'd say bangovers are pretty common, unfortunately. Which is why I was excited to learn about the Bangover Prevention Kit from the awesome, female-owned, feminist sexual wellness company Lovability.
"Lovability's Bangover Prevention Kit is about celebrating our power to take charge of our sex life: by prioritizing our pleasure, communicating our desires, and staying committed to our boundaries," Lovability co-founder and CEO Tiffany Gaines tells Bustle. "We wanted to take a pro-active approach to preventing bad or even meh sexcapades before they happened. So we created a bundle of products meant to act as a mental and physical resource to hold us accountable to prioritizing what we want in a sexual partner and communicating what we want during a sexual encounter."
Lovability's Bangover Prevention Kits are a nice way to put a little beauty and fun into the conversation around consent, more than half a year into the #MeToo movement and at a time when many of us are starting to feel some battle fatigue. We've had a lot of important conversations, but it's also important to take care of ourselves as we move forward with this essential cultural shift.
"A huge benefit of the #MeToo movement is that it led to a collective sense of heightened self-awareness in regards to what makes a sexual encounter feel respectful and pleasureful versus uncomfortable and toxic," Gaines says. "The line between mutual consent and reciprocal desire is a thin one, and many women — including myself — have felt subconsciously pressured to send signals of consent even when desire isn't reciprocated. With Lovability's new products, I hope to excavate these social pressures and demerit them."
The kits are fully customizable and start at $34, making them the perfect treat-yo-self gift — or a truly awesome gift to give your sex-positive best friend. They include products ranging from purse-friendly condoms and lube to sprays that are meant to enhance the whole sexual experience. Check out the options below. (All of the items are available for individual sale, too.)
"Body glitter spray to remind you that you never need to entertain advances from anyone, especially from someone that doesn't completely respect you."
"An essential oil sheet spray that aids in arousal and relaxation - and acts as a sensory reminder to prioritize your pleasure."
"A fragrant body mist that enhances your natural pheromones and reminds you of your innate magnetism."
"Our purse-friendly, 100 percent natural and vegan condoms with no nitrosamines/dyes/fragrances/spermicides."
"Our sex-positive slogan protective condom tins for on-the-go."
"100% organic, aloe-based lube. Totally purse friendly.
"Compact body-positive mirror to honor and respect your vulva. Love yourself first."