This New Drugstore Shampoo Line Is Super 'Grammable — AND It Won't Destroy The Environment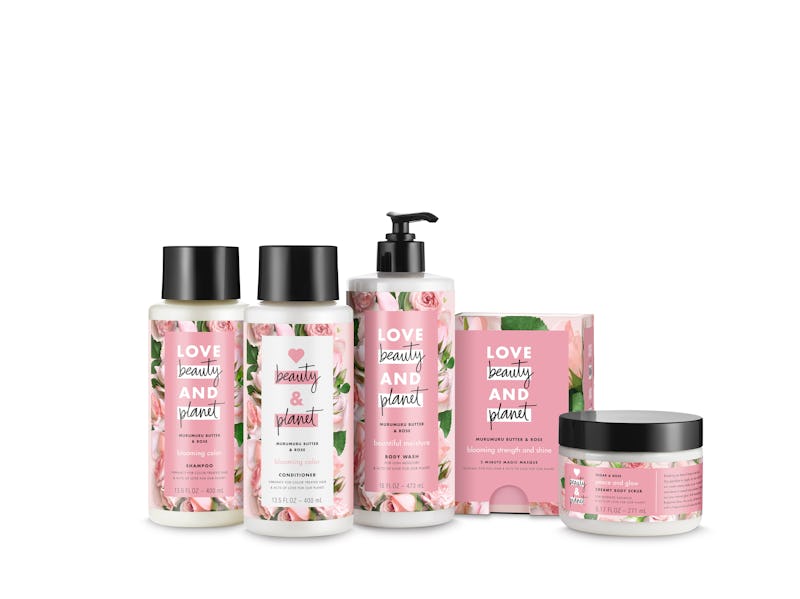 Love Beauty and Planet
If you plan on launching a new beauty brand in this day and age, there are a few things you have got to have: 1. Packaging pretty enough to be shared on social media; 2. Products that actually work (and the quicker, the better); 3. An eco and socially-conscious mission behind the brand. Love Beauty and Planet hits the nail on the head for each one of these must-haves and the best part? Every single product in the line is under $10.
At first glance, you might suspect that Love Beauty and Planet was created by a millennial start-up. The brand's Instagram aesthetic is on point, with gorgeous, minimalist product shots featuring colors straight from Pantone's color report. But you would be sorely mistaken — Love Beauty and Planet is actually the newest brand to launch from consumer goods giant Unilever. You might know them from the other personal care brands they make — Dove, Vaseline, Suave, TRESemme... the list goes on. But Love Beauty and Planet is different from its sister brands.
According to Unilever, Love Beauty and Planet was born from the company's Sustainability Plan to reduce its carbon footprint and to be extremely thoughtful behind every product, from the ingredients that are put into the formulas to the impact the packaging has when the consumer is done using the product.
Love Beauty and Planet's mission is to "make you look good and feel good" because they are "committed to doing good." And while they just launched on Monday, Dec. 11, it is already apparent that they are well on their way to making sure that they achieve this in every aspect of the brand.
Love Beauty and Planet's products are vegan, cruelty, paraben, and silicone-free and are made with ethically-sourced oils and extracts and packaged in recyclable bottles made from 100 percent recycled plastic. They have also partnered with Ashoka, an organization that identifies and supports leading social entrepreneurs, to form a team of women ambassadors who are committed to helping the environment through their respective companies. They also plan to disclose their annual carbon emissions to help them stay on track to reduce their carbon footprint by 20 percent before 2020.
Beyond the environmental good they have committed themselves to, Love Beauty and Planet's products are actually really good and as mentioned earlier, super affordable.
In the entire line, there are six ranges of shampoos, conditioners, body washes, and hair and body treatments. Each range has a specific hair care goal, from "blooming color," made to keep your color-treated hair vibrant with Amazonian murumuru butter, to "radical refresher," products aimed to gently cleanse your hair with Australian tea tree oil. Also something to note: Love Beauty and Planet's conditioners are made with patent-pending "fast rinse conditioner technology," in hopes you'll cut down your shower time because the product is working faster.
The body products also have different benefits. There's "peace and glow," a creamy body wash made with handpicked Bulgarian rose petals for those who love floral scents. For fans of coconut, there's "tropical hydration" which is made with virgin coconut oil and ylang ylang. They also have a "radial refresher" shower-less cleansing mist made with Moroccan mimosa flowers and coconut water that can be used on the go. Basically, if you're picky about scents or ingredients, chances are they'll have something for your specific taste.
Love Beauty and Planet will be available at major drugstores, Target, Walmart, Ulta, and online beginning Monday, Dec. 11. You can also learn more about their products and their mission to doing good by visiting their website and following them on Instagram.