Rosie Pied Off Alex On 'Love Island' & The Memes Prove Twitter Is CRUSHED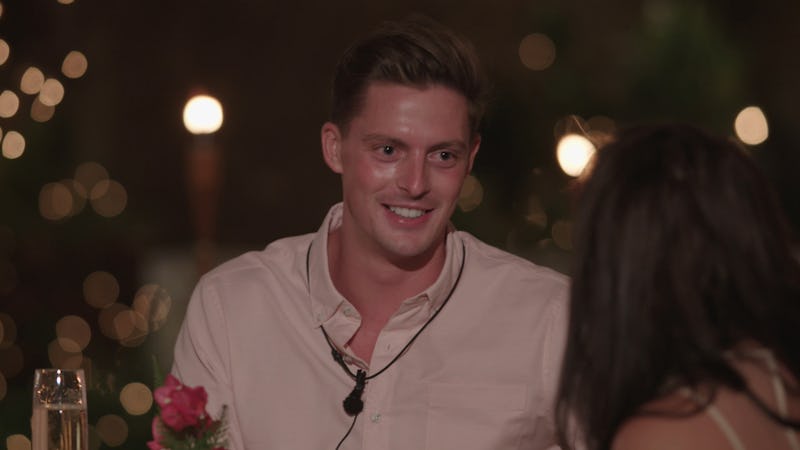 ITV
Viewer expectations were high when Love Island 2018 contestant and junior A & E doctor, Alex George was sent on a one-on-one date with new contestant Rosie Williams during Thursday night's episode. Alas, it wasn't to be as the date didn't quite go as planned. At least, for Alex. Despite him professing he thought the date went well, Rosie had a different idea, and the Love Island memes about Rosie rejecting Alex prove that Twitter's devastation is real AF.
Following a rough first week in the villa — being the last male contestant to be chosen in the initial coupling and then being immediately pied off by his current partner Samira Mighty — the junior doctor has been seen considering walking out of Love Island altogether. And, based off Thursday night's episode, out the villa doors may indeed be where he is heading.
The episode began with Alex and Rosie enjoying a date together outside of the villa. And, while Niall Aslam put some serious moves — and later, a cheeky kiss — on his date Georgia Steele, Alex had less luck on the romance side of things.
After discussing their respective careers — Alex's as a doctor and Rosie's as a solicitor — a rather sweaty Alex made the fatal error of bringing up both their parents. ON A FIRST DATE. "Both our parents are proud," he said. "I hope so."
Oh, Alex.
Following their respective dates, the four Islanders returned to the villa to dish the gossip about their next potential suitors. And, while things are looking promising for fledging couple Georgia and Niall, it looks like the British public's operation to get Alex a girlfriend didn't quite go as planned. "I don't see [Alex and I's relationship] being any more than a friendship," Rosie confessed to Kendall later in the garden.
And, unbeknownst to us — and Alex — things were about to get even worse. Later in the episode, the contestants were playing truth or dare in the garden, during which Rosie kissed hunky (but nonetheless, douchey) Geordie personal trainer Adam Collard, and Adam then confessed to fancying Rosie back.
The final blow to Alex and Rosie's incredibly short-lived romance came when a preview of Friday's episode revealed Adam and Rosie doing some serious snogging, cementing yet another failed Love Island relationship for Alex.
Naturally, viewers — who voted in their droves to secure Alex a date with Rosie — were pretty unhappy with this outcome and took to meme Twitter to share their collective heartache. Below are just a few of the brutal reactions.
So, what's next for Alex and our other Islanders?
Well, from Friday's preview, it looks like things could be getting back on track for Dani Dyer — daughter of meme legend Danny Dyer — and pen salesman Jack Fincham. Dani had previously pied him off after the gross revelation he had cheated on every girlfriend he ever had. It also looks like things are definitely over for Hayley and Eyal as the pair can't really stand each other. Yikes.
Friday night's episode will also see Love Island 2018 lose its first female contestant in the first re-coupling ceremony of the current series. Fortunately for Alex, the female contestants outnumber the male contestants as things stand, meaning his place in the competition will be safe for at least another few days.
But, with Adam and Rosie likely to couple up, will he want to stay in the villa? Well, he did say he was OK being friends with Rosie in Thursday night's episode, but I reckon yet another rejection could be enough to tip the already delicate doctor over the edge and out of the villa, abandoning love to pursue his real passion of becoming a TV doctor.
Only time will tell.
Love Island airs at 9 p.m. on ITV2