Why 'Love Island's Consideration Of Mental Health Needs To Get Serious, Like Now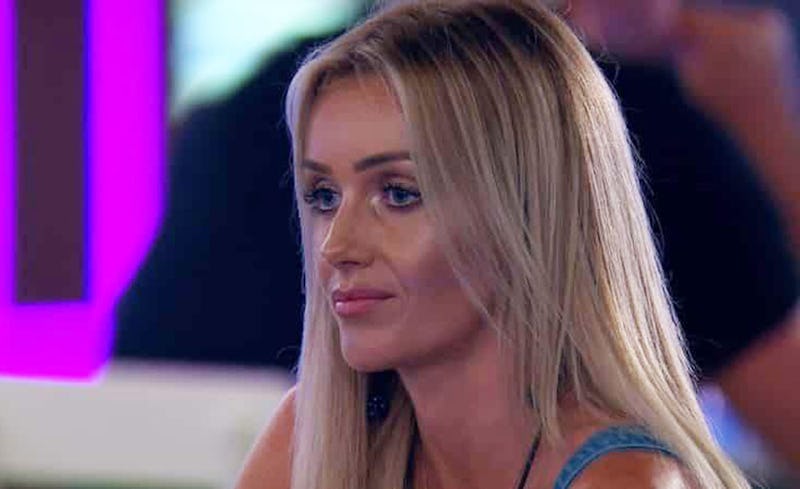 Love Island/ITV
Monday night's Love Island was another eventful episode. Two new boys strolled into the villa and wasted no time in putting their grafting skills to the test. While any bombshell is sure to cause a stir, Idris Virgo took matters a step a further when he made a surprise confession to Laura Anderson, telling her Jack Fowler initiated that kiss with Georgia Steel. Sure, it might have made for good telly, but I'm starting to think about Love Island and mental health. Is the show's consideration of mental health where it needs to be? I'm not so sure.
Let's face it, Laura has had a tough old time recently. She had a seemingly happy relationship with Wes Nelson get destroyed when he chose to pursue Megan Barton Hanson instead. Then, when she coupled up with new boy Jack Fowler, her BFF Georgia Steel took him out on a date and they kissed. Understandably, Laura's been pretty upset ever since.
Whether it was Jack or Georgia that instigated the kiss in question, it's clear Laura isn't feeling on top of the world right now. So I was seriously surprised, just as she was starting to get back on track with Jack, that producers allowed Idris to go in and misrepresent Jack and Georgia's kiss. I mean, even if Idris is telling the truth, it's still unfair to artificially create a situation in which Laura is forced to rely on the conflicting accounts of people she's only known for a few weeks, when producers could just show her the clip.
There was a huge outcry on Twitter over Idris' comments, with many criticising Idris for "lying". However, there was also plenty of flack for the show too, with some fans describing its treatment of Laura as "emotional torment" and "mental abuse".
Just check out some of the posts below:
Ostensibly Love Island is a show about finding love and hopefully winning a share of £50,000 in the process, but this year it could be argued that the producers have forgotten the programme's central premise in pursuit of manufacturing drama. Listen, I'm not naive, I know it's a reality show and that some situations have to be engineered for television purposes. But this is the second time the show has arguably deliberately misrepresented something in order to upset a contestant and potentially ruin a blossoming romance.
Don't they think Laura has already suffered enough for our entertainment? Why kick her when she's already down? I have no problem with using something that actually happened to start drama, like Josh Denzel jumping into bed over Kaz Crossley in Casa Amor while he was still coupled up with Georgia. But why, when the show has an undeniable drama detonator in the form of the footage of the kiss, have they opted not to send it to Laura and instead allow Idris to give an unreliable account?
Considering the 2,500 Ofcom complaints the show picked up for misrepresenting Jack Fincham's reaction to his ex-girlfriend arriving at Casa Amor, and deliberately not showing any of his displays of loyalty to girlfriend Dani Dyer, it seems a poor choice.
Love Island needs to remember that the contestants are what makes the show tick, so please guys, look after the islanders better. Yes, the format is a winner, yes the twists and turns make for unmissable viewing, but without the singletons, there'd be nothing but an empty villa and no one to squash watermelons with their bums.
The show does offer contestants psychological support, with a Love Island spokesperson telling me: "All of our islanders are offered psychological support before, during, and after their time in the villa. We take our duty of care very seriously and this is always our top priority. We discuss with islanders, before and after the show, how their lives might change and the difficulties they might face.
"We direct them towards taking on professional representation after the villa, and help them through this process, so that they have experienced help as they face those pressures." To be fair, several of the show's previous contestants have spoken about the way the show supports them before during and after filming, which is a great sign. Rosie Williams told the Daily Star that she was given "so much support." She added: "I have access to a psychologist if I need it. Everyone at Love Island has said if I need anything for the rest of my life, they're just a phone call away."
But while it's comforting to know that Laura or any other contestants can speak to a psychologist at any time, it would be more helpful if the show didn't do things that actively risk participants' emotional states in the first place. Why deliberately manipulate emotions by misrepresenting the facts?
All I can hope is that producers decide to put a stop to the conflicting accounts once and for all by showing the islanders the clip. It's the least Laura deserves, as really, hasn't she suffered enough for our entertainment already?