You'll Love The Cute AF Reason Eamon Holmes Slid Into Love Islander Laura's DMs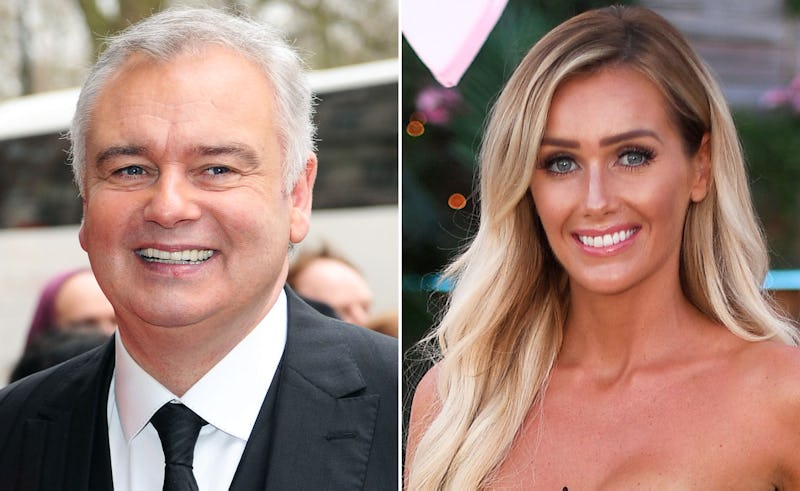 Anthony Harvey/Getty Images Entertainment/Getty Images/James Gourley/ITV/Shutterstock
Reach far back into your Love Island 2018 memory, and you'll recount the moment Laura Anderson admitted to having a rather peculiar celeb crush during a game of guilty pleasures. Apparently, she has a soft spot for none other than Eamonn Holmes. Since leaving the villa, it turns out that the pair have been in contact. Yep, Love Island's Laura and Eamonn Holmes have private messaged each other on Twitter — I know.
Hang on, hang on though. It's not what you think. He's happily married to Ruth Langsford, remember? So, let's backtrack.
When Laura first revealed she had a crush on Eamonn, he and Ruth were quick to react while presenting This Morning. In case you didn't know, the iconic TV couple couple are huge fans of Love Island, and even have their own personalised water bottles. So when they hard Eamonn's name mentioned on their favourite show, they were actually delighted — particularly Eamonn, as you can imagine. He exclaimed at the time: "Well all I know is there was a lot of love for me!" Although, he was a bit displeased with Megan Barton Hanson's look of amusement and disgust at Laura's confession. "She laughed a bit too much, she was a bit incredulous," he quipped to Ruth at the time.
Ruth then went on to suggest that Eamonn should have entered the villa to give Laura advice, to which Eamonn replied by brilliantly suggesting that he could be a "father figure" or an "agony uncle."
I would literally have given anything to see that.
Eamonn also tweeted the night the episode aired on July 18, where he tried his hardest to get down with the Love Island lingo.
Ruth then shared her views on the matter, making it clear that Eamonn wouldn't "be cracking on anytime soon!!"
So there you are, up to speed. Let's crack on with those mysterious private messages.
Sunday night saw the highly anticipated return of Love Island: The Reunion, where drama often ensues due to all islanders being back together in the same space. Whilst there may not have been as much drama as there was last year — I mean, nothing is going to top the break-up of Jonny and Chyna now is it — Laura did get a little surprise from Eamonn and Ruth.
However, before said surprise, Caroline Flack asked Laura why she loved Eamonn so much. Between giggles, Laura explained: "I just love him, I think he's such a cool guy. Basically he was on one of my friend's flights — and I was so jealous I wasn't on that flight. I just like their relationship and I think he's really handsome!"
Ever the pot stirrer, the Flack Attack then surprised Laura with a reaction from Eamonn and Ruth. But just before she did, Laura let slip that Eamonn had already private messaged her on Twitter.
After Eamonn and Ruth's clip was aired, Caroline asked what was said behind closed doors, as this was clearly news to her. Laura then went onto reveal exactly what Eamonn had said in their DM conversation. "He just said, 'Thanks for the love and the support'," she explained. "And that was it. It was a nice thing!"
I can't be the only one that is dying to see Laura and Paul Knopes on the This Morning sofa opposite Eamonn and Ruth — there is so much banter to be had between the two couples.