'Love Islander' Laura Is STILL Being Trolled, So Here's Why It's Gotta Stop ASAP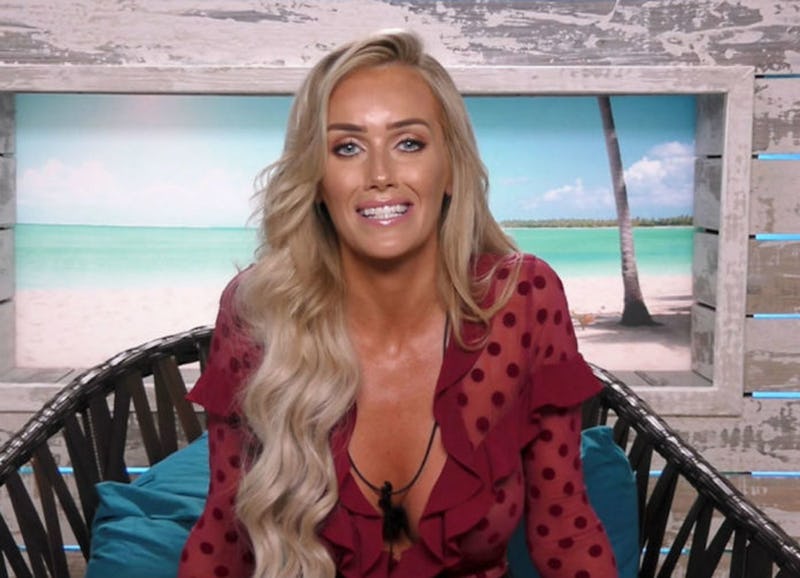 Love Island/ITV
It's a wrap, people. Season 4 of Love Island is over after crowning fan favourites Dani Dyer and Jack Fincham the winners of a pretty big wedge of dough and a place in TV history. Unfortunately though, along with this happy news, there's another matter popping up all over my Twitter feed that's not been so great. I'm not sure if you've been checking out the social media platform over the last 24 hours, but sadly, Love Island's Laura Anderson is getting trolled online, and it's seriously unfair.
After Jack and Dani won, and he decided to split the £50,000 cash prize between them, there should have been happy endings all round, right? Well, actually, no. After an epic series, I personally find it super surprising and enormously unpleasant how brutal reactions have been on Twitter regarding Laura finishing up in second place along with her partner Paul Knops. What exactly has she done to deserve being spoken about in such a nasty way? Not that it's ever OK to talk like that about anyone. I just can't figure out where all this hate has come from.
Laura is a Scottish 29-year-old woman who works part-time as a hairdresser with some pretty high-profile clients, including Jennifer Lopez and Channing Tatum, according to The Sun. In a past life, she also worked as a flight attendant for glam AF airline Emirates. She decided to take part in Love Island to find a serious boyfriend, and potentially even meet her husband. However, during her time in the villa, she had her heart broken repeatedly.
Cast your mind back to the beginning of the series and you'll remember that she was initially coupled up with Wes Nelson, who was all love and romance until new girl Ellie Brown appeared. Poor Laura was devastated but then relieved when Wes decided to stay with her after Ellie chose to couple up with Alex George instead. However, once Megan Barton Hanson expressed interest in him, Wes dropped Laura like a hot potato, leaving her completely crushed. After that, she found appeared to find happiness again with semi professional footballer Jack Fowler, but he then also dumped her, in a plan hatched with Wes, in front of the entire villa.
Good grief, the woman really has been through the ringer, hasn't she? So when she coupled up with model and one time Britney Spears-snogger Paul, and the pair ended up in second place, you'd think people would be happy for her, right? Well, they really aren't.
I'm not going to publish what some people were writing about Laura online because to be honest, the comments are just plain wrong. I just do not understand people that actively go out of their way and use their spare time to hurt others. Why? What does it achieve? These nasty comments can cause hurt and some serious damage.
That was on display on Saturday, when Love Island Series 2 contestant Alex Bowen took to Twitter to vent about the impact cyber bullying was having on his fiancée Olivia Buckland. He wrote: "Had liv crying in my arms this morning because of hurtful comments made by disgusting girls and elder women too disgrace saying she's put weight on and looks fat. Well she's unreal and no one should be made feel like that. Bullies." He then stressed the need for more action to be taken to crack down on cyber bullying because of how it can affect people.
Olivia herself then took to the social media platform to thank Alex for his support. Commenting on the trolls, she wrote: "I'm so lucky and he makes me realise the bigger picture. I hate letting things get to me like that, but when your (slightly silly) insecurities are pointed out point blank it's very difficult." Knowing how cruel tweets can impact others, why would anyone want to do that to another person?
Just because someone is famous does not mean they are immune to bullying. And if we allow ourselves to attack celebrities online, is it then OK to attack each other online? This needs to stop because cyber bullying can have serious consequences.
With that in mind, here are a bunch of tweets from nice people who had nothing but love for Laura (because Laura, you are awesome, girl):
Twitter is such a wonderful way to spread news and opinions, but when it comes to nasty, cruel trolling, it's just the absolute worst. In light of ever increasing issues with cyber bullying in our society, it is sad that some people feel it is OK to be so nasty.
Congratulations for coming in second, Laura and Paul. Ignore the haters. The public voted for you and you deserve all the happiness in the world.