Samira & Alex Are In The Exact Same Boat, So Treating Them Differently Is Weird AF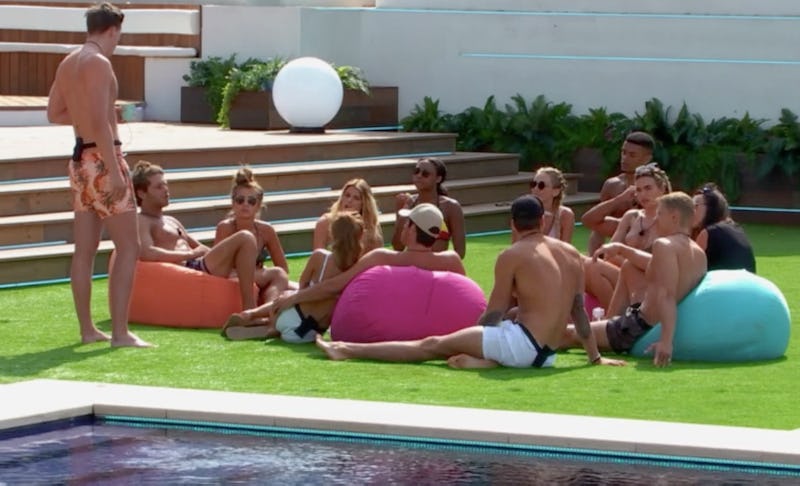 Love Island ITV2
In case you've been living under a rock, Love Island is in full swing. The singletons are all in it to find love (and maybe, just maybe, fame), and are looking to be the longest-standing couple in the villa. But the path to true love never runs smoothly. Samira and Alex are currently together, but kind of unhappily so, and totally in the friend zone. There's no chemistry, and both are looking elsewhere for romance, with mixed results. So why do Love Island's Samira Mighty and Alex George get completely different levels of sympathy from the public?
Romantically, they're both having a tough time. Megan has taken both Dr Alex and Eyal out on dates, and Eyal has snogged Megan in front of him, leaving Dr Alex upset. Everyone was absolutely gutted for Alex, with The Standard saying that Megan "incurred the wrath of the nation" by picking Eyal. Meanwhile, Samira fancies Charlie, who's currently enjoying getting to know a few other girls in the villa, leading Samira to tell Rosie, "I'm always one of those people that just takes a step back."
Viewers have been seriously rooting for Alex, and were thrilled when he had the chance to go on a date with Rosie. It seems everyone is on his side, whereas Samira has been given a much harder time of it by viewers, despite being in a similar position to the Dr. Viewers criticised her for telling Charlie she likes boys with blue eyes, and daring to tell Josh she picks men based on personality, according to OK! Had Alex done the same, I imagine the response would have been more, "good on him," which says a lot about how we think about men, women, and dating.
Alex is getting serious love on Twitter.
I have to ask, is it a little bit of sexism that means everyone is more team Alex than team Samira? Essentially, I think we perceive a man who wants to meet someone as cooler or more unusual than a woman who does. We think it's sweet, not needy, and want him to "win," while women aren't treated so kindly. In addition, with Alex there's this pervasive sense on Twitter that because he's kind and well educated, he deserves the girls to fancy him. While it's true that he is most definitely a catch, the girls shouldn't be under any obligation to fancy someone they don't.
On the other, hand, some viewers have said they feel Samira isn't getting as much air time, so maybe they just haven't had the chance to be sympathetic to her. There's also arguably a sense in which she appears to be taking it in her stride more than Alex, but who knows if that's just what we're being shown. A few Twitter users have noted the disparity, including Olivia Buckland, who came second on Love Island in 2016. She asked her Twitter followers why everyone is sympathising more with Alex than Samira, and responses were split.
It could be because Alex knows to appeal to the audience more. Bottom line is him and Samira don't fancy each other, but he constantly talks (dare I say, moans) about how she behaves, saying, "We are different people but different people can be friends and stuff, she doesn't give me the time of day so I think I need to move on now and get to know some of the other girls." She's admitted she finds the whole situation really awkward, but that's no reason to force her to fancy someone she doesn't.
Yes, I know Alex is a Doctor, and very sweet, but Samira has done nothing wrong and seems to be treated harshly by viewers. Alex is being far more vocal about fancying Megan and the situation with Samira, maybe to ham up the victim role and appeal to viewers, but if anything, it's just left me thinking that Samira is being cool and stoic and getting on with it, which we should respect. So let's all show a bit of love for the Dreamgirls babe, and hope they each find someone they fancy (and who reciprocates,) pronto. Countdown to tonight's episode is on.
Love Island is on ITV2, Sunday to Friday at 9 p.m.