If You Love Dogs, The Greatest TV Show You're Not Watching Airs On Saturdays On CBS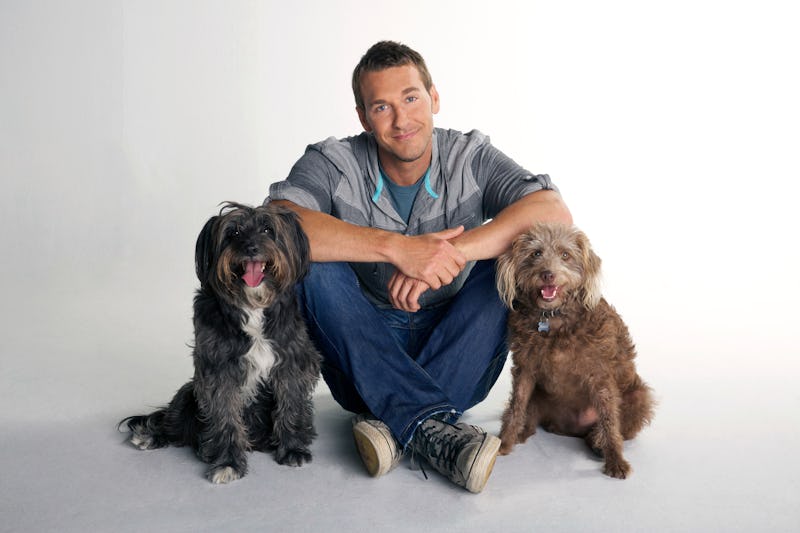 CBS/Tyler Golden
Dog lovers are in for a treat. Anyone looking for the best in shows on Saturday mornings, the the adorable CBS series Lucky Dog will pawsitively melt your heart. The Daytime Emmy Award-winning reality program — hosted by animal trainer and behaviorist Brandon McMillan — may already be in its sixth season, but the show is constantly pulling out new tricks. All you really need to know, however, is that Lucky Dog is about an (attractive) man who rescues "hard-to-love, out-of control, untrained and unadoptable dogs" and, after coaching said rescues at his Lucky Dog Ranch facility, he "pairs them with forever homes, often as a service dog," according to CBS.
If you're not already hooked, the official Lucky Dog description also cautions viewers to grab their tissues: "In the end, a lucky family will adopt an even luckier dog, making each episode an adoption story that warms the heart."
And warms the heart it certainly does. In one 2014 episode, McMillan (who posts tons of adorable dog photos on his Instagram page, by the way) aids a man named Bruce, who requested a service dog to help his Alzheimer's-stricken wife, June, find her way back home after taking walks through their neighborhood. Los Angeles-based McMillan trains a German Shepherd named Sadie to be her companion, and in a video of June meeting her service dog for the first time dog, their immediate connection was unmistakable. (Check your local listings for Lucky Dog airtimes.)
"When Sadie came into the house and saw June, the two of them just bonded," Bruce said in the episode, which showed June grinning as she played on the floor with Sadie. "It was instantaneous. I mean, it didn't take but a few moments ... They were just becoming the closest and best friends possible. And I'm so happy to see she and June bonded so quickly."
June's verdict? "I love her," she happily told McMillan in the video.
Lucky Dog's emotional elements were actually by McMillan's design. "I'm a dog trainer, that's my profession, but I love telling a good story, and it's amazing what you can tell with the life of a shelter dog," he explained to Variety in an interview published in October. "Here's a dog that was basically about to be euthanized in the shelter a few weeks ago, and now it's helping someone who's in a wheelchair. It just proves what's broken can always be put back together."
Adding that his job "is to make the audience cry," McMillan also told Variety that training aspects of the show are just the "icing on the cake."
One instance where McMillan's training took the cake, however, came via an episode where the Lucky Dog Lessons: Train Your Dog in 7 Days author taught one-year-old Lhasa Apso mix named Stark to walk down the aisle as the ring bearer for engaged couple Niki and Vien. Ahead of Stark officially joining the pair in a "forever home," the tattooed trainer surprised Niki and Vien by inviting their friends and family over for a "simulated wedding," which he called "Stark's ultimate test." Spoiler alert: Stark — clad in a mini tuxedo, bow-tie, and carrying a bone pillow on his back — was a good boy and passed with flying colors, happily prancing down the aisle.
In McMillan's official CBS host bio, he claims that his own training has been from "100% experience in the field–no books, no classrooms" and the he began his work with animals when he was a baby, having come from a "family of animal entertainers." Throughout the series, he shows his skills with everything from teaching dogs basic stay commands to training a dog named Simba in wheelchair safety.
There's no doubting where his passion came from — or that he's certainly doing his part for the greater good. As stated in his Variety interview, over the past decade the number of dogs getting euthanized annually in American shelters dropped from 1.5 million dogs to a (still unacceptable) figure "hovering around 1 million" dogs. "These animals don't have a voice, and somebody has to stand up every once in a while in a crowd and be their voice. And that was me." Added McMillan:
"I love working with special needs dogs. I love the ones that have been heavily abused, I love the ones that are in wheelchairs, they have traumatic injuries. I don't love the fact that they've been through it, but I love working with them because they're the ones [with which] I think I can prove the concept of "what's broken can be put back together" the most. These dogs are the first ones to be euthanized in shelters."
If you're not already swooning, tune into CBS on Saturday mornings for more of McMillan's Lucky Dog heartwarming success stories. After all, who doesn't love TV shows and movies about dogs anyway?