This "Mother Of The Movement" Is Headed To Congress After Winning A Very Close Race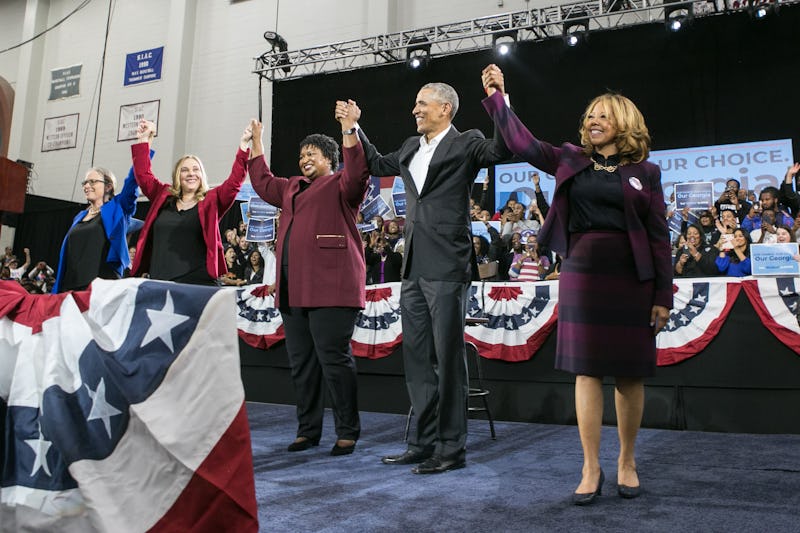 Jessica McGowan/Getty Images News/Getty Images
After an extremely close race, gun control activist Lucy McBath won her bid for Congress in Georgia's 6th Congressional District, unseating Republican Rep. Karen Handel. McBath decided to run for office after her only son was fatally shot in a dispute over loud music in 2012. Her opponent, who only took office last year, announced that she would concede the race to McBath on Thursday morning.
"After carefully reviewing all of the election results data, it is clear that I came up a bit short on Tuesday," Handel wrote on Facebook. "Congratulations to Representative-Elect Lucy McBath and I send her only good thoughts and much prayer for the journey that lies ahead for her."
McBath won by one percentage point, according to The New York Time's data, in the district Democratic candidate Jon Ossoff narrowly lost to Handel in last year's special election. The seat was previously left open by Tom Price, who stepped down to serve as President Donald Trump's Health and Human Services secretary (he resigned after seven months); it was also once held by former Republican Speaker of the House Newt Gingrich, which many people pointed out as a sign that McBath's victory was a huge departure from the district's usual conservative leanings.
Gun control was a key pillar of McBath's congressional campaign, as she told her own story and advocated for universal background checks; raising the minimum age to purchase a gun to 21 years of age; and introducing legislation to keep guns out of the hands of domestic abusers. Her website says that while she grieves her son every day, "his death also gave my life a new purpose: advocating for gun violence prevention."
Her campaign drew not only the nation's attention, but also that of countless celebrities. Janelle Monáe tweeted her support for McBath on Election Day. Ava DuVernay praised her for turning "turned her pain into power" after her win was announced on Thursday. And Hillary Clinton congratulated McBath on her win, writing on Twitter Thursday morning that "she's brought her voice to Congress in the fight to prevent gun violence. Onward, Lucy!"
McBath told CNN in July that seeing students who survived the Parkland shooting pour their hearts into gun control activism over the past year inspired her to run for Congress.
"It's not enough to just have the movement," she told CNN. "It's just not enough to have the marches and the rallies and the speeches and the remarks, unless we have people who are willing to create the bills to make this a safer nation."
Her campaign was initially a long shot, as Republicans had represented Georgia's 6th District for four decades. But McBath told CNN over the summer that she believed mounting frustration over the continuous mass shootings, as well as her motivation to prevent more deaths after her own family's experience, would land across party lines. It seems she was right.
"This win is just the beginning," as she put it in a tweet following news of her win, "We've sent a strong message to the entire country. Absolutely nothing — no politician [and] no special interest — is more powerful than a mother on a mission."