Luke Perry's Family Is Requesting Privacy Right Now, But Also Thanks Fans For Their Support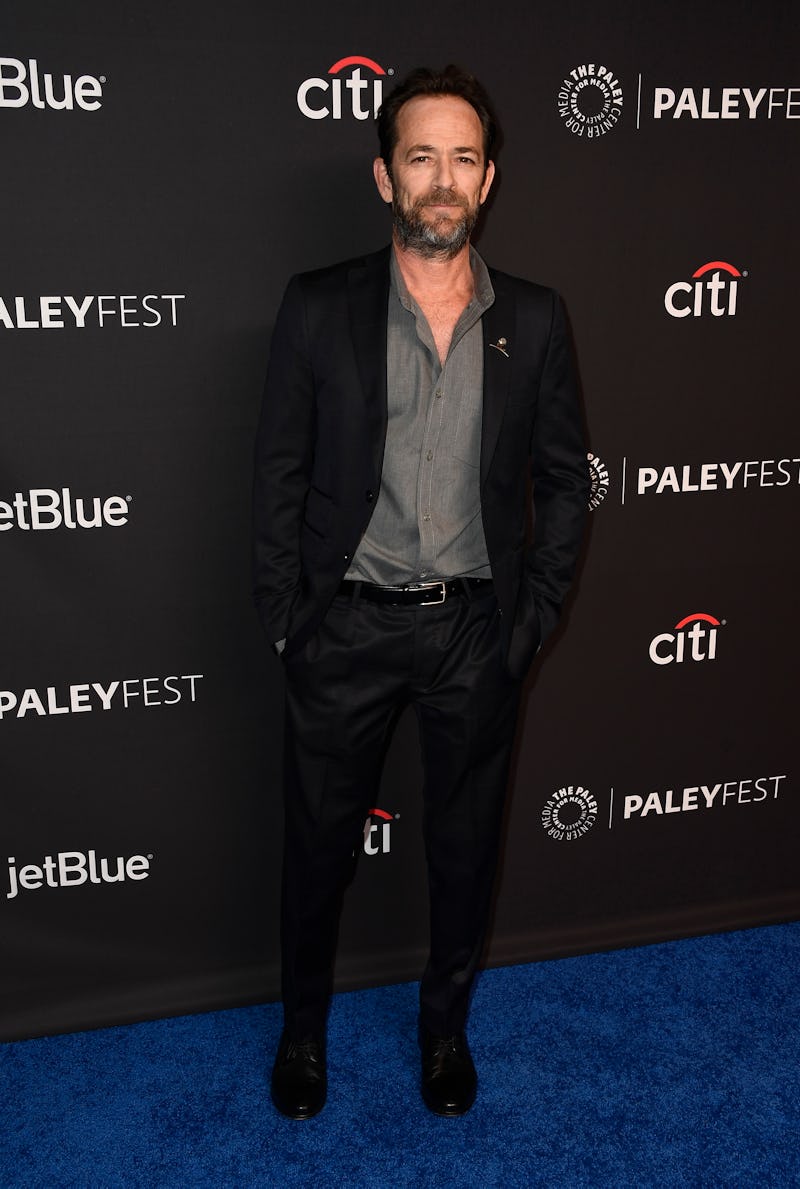 Frazer Harrison/Getty Images Entertainment/Getty Images
After being hospitalized last week, news broke on Monday, March 4 that 90210 and Riverdale star Luke Perry died at age 52 after suffering a massive stroke. The actor had reportedly been under observation in St. Joseph's Hospital in Burbank. Luke Perry's rep released a statement confirming his death to Bustle on Monday, while also sharing his family's request for privacy at this time.
The statement reads:
"Actor Luke Perry, 52, passed away today after suffering a massive stroke. He was surrounded by his children Jack and Sophie, fiancé Wendy Madison Bauer, ex-wife Minnie Sharp, mother Ann Bennett, step-father Steve Bennett, brother Tom Perry, sister Amy Coder, and other close family and friends. The family appreciates the outpouring of support and prayers that have been extended to Luke from around the world, and respectfully request privacy in this time of great mourning. No further details will be released at this time."
According to TMZ, Perry suffered the stroke on Wednesday, Feb. 27 and paramedics responded to his Sherman Oaks home. He was reportedly responsive and talking when the squad arrived, but his condition deteriorated and he was put under observation at the hospital, as per a previous Bustle report.
Perry was an esteemed actor with an established and diverse portfolio, from his heartthrob role as Dylan McKay in Beverly Hills, 90210 to his voice acting gigs in series like The Incredible Hulk and Pepper Ann. According to Entertainment Tonight, Perry's stroke fell on the same day the original 90210 cast announced a reboot with Fox. He hadn't officially signed on to join, but reportedly agreed to a few guest appearances, due to his commitment to his role as Archie's father, Fred Andrews, on The CW's Riverdale. The beloved teen drama was renewed for a fourth season on Jan. 31, though halted production in the wake of Perry's death, as per TVLine.
His former 90210 costars and current Riverdale family showed their love and support for Perry and his family leading up to and following his death. Ian Ziering shared a tear-jerking Instagram post shortly after the news broke. "Dearest Luke," he wrote. "I will forever bask in the loving memories we've shared over the last thirty years. May your journey forward be enriched by the magnificent souls who have passed before you, just like you have done here for those you leave behind. God please give him a seat close to to you, he deserves it."
Shannen Doherty shared her emotional response to his hospitalization with Entertainment Tonight prior to his passing. "I can't talk about it here 'cause I will literally start crying but I love him and he knows I love him," she said. "It's Luke, and he's my Dylan." Molly Ringwald, who plays Fred Andrews' ex-wife on Riverdale tweeted that her "heart is broken" after discovering the news.
This sudden loss is tragic for the entertainment community, but it's also an opportunity to reflect and appreciate Perry's admirable career. Of everything he's done, though, Perry told ET in a 2017 interview that his role in Riverdale was most representative of his true self. "I think in some ways [Fred Andrews] is the closest thing to me that I've ever played because he's a guy that loves his kid," he said. "That's really all he's about. That's what I'm about."
There's no doubt that Perry was well loved by family, friends, and fans. The world of TV just won't be the same without him.