Baby Luna Gets The Most Perfect Birthday Gift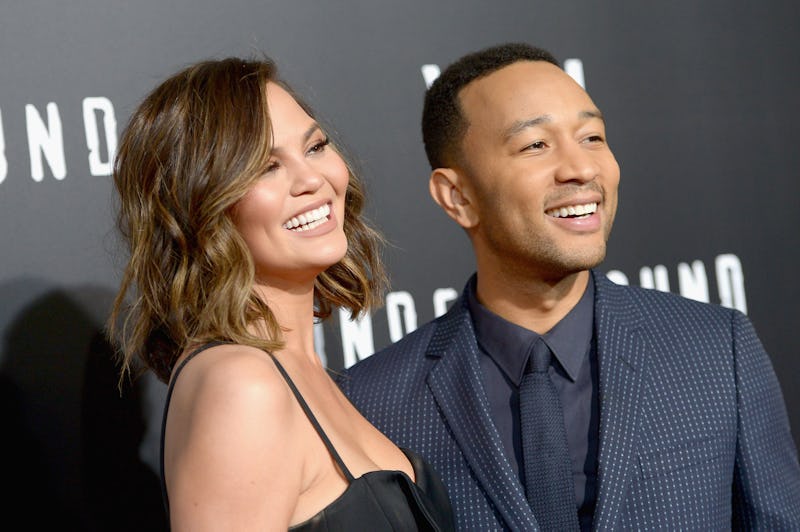 Charley Gallay/Getty Images Entertainment/Getty Images
Well, that was fast. It seems like it was just yesterday that super couple Chrissy Teigen and John Legend announced that they were expecting a baby. But if you follow them both on social media, you'd know that the duo just celebrated their baby daughter Luna's first birthday on Friday. You also probably know that, for her first birthday, Luna received the best gift ever: a mini kitchen.
On Friday, both proud parents took to Instagram to share some sweet birthday messages alongside a series of black-and-white family photos taken by photographer Peter Yang. They later shared more photos and videos from the 1-year-old's decked-out birthday party at home. In one of the videos Teigen posted to Twitter (which will definitely go down as one of the cutest videos I've ever seen), baby Luna is seen playing with a brand-new mini kitchen set, so I'm sure that if she's anything like her parents, she'll know how to cook an entire meal for the family by this time next year.
If cooking is in Luna's future, she definitely has some amazing examples to follow. Teigen released her highly-anticipated cookbook, Cravings, last year. She's already brainstorming recipes for a part two.
Then, there's also the fact that both parents revealed that they had the pleasure of decorating the cake for Luna's first birthday themselves — and they did a pretty impressive job.
"We decorated it ourselves," Legend captioned an Instagram photo of a two-layered cake decorated with pink frosting, silver dots, and letters that spell out "LUNA." They topped it with a pink party hat and a large number "1."
Obviously, as evidenced by a recent cake photo posted by Teigen, they had some time to practice.
"Thank you @duffscakemix for teaching me to decorate a cake for Luna's upcoming bday!" the model and Lip Sync Battle host captioned a photo of herself next to a practice cake. "I'll be back to do the real one soon! Get the sprinkles ready."
I wonder what else is in store for Luna's first birthday weekend. I'm sure it'll be nothing short of epic.