Any Of These Badass Women Should Join Lupita Nyong'o & Kristen Stewart In 'Charlie's Angels'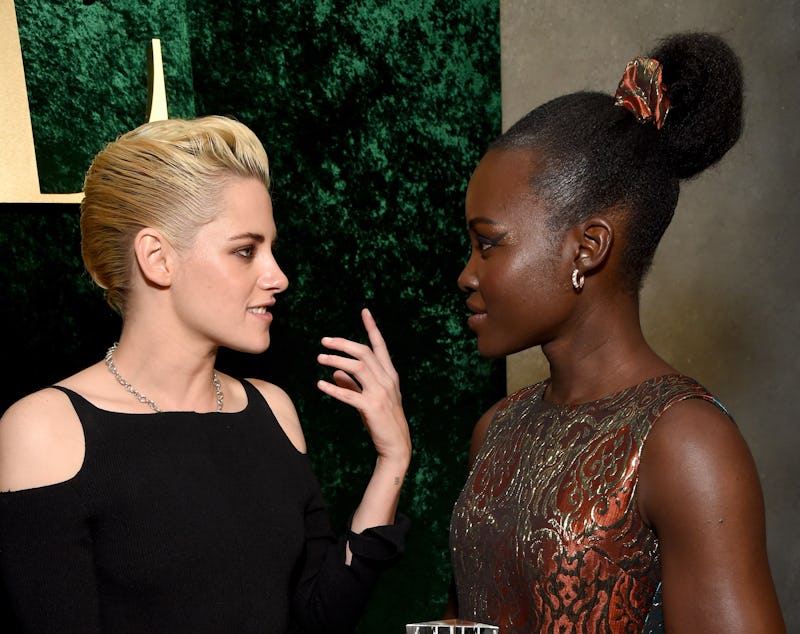 Michael Kovac/Getty Images Entertainment/Getty Images
The Charlie's Angel reboot has been in the works for well over a year, but on Friday, fans got their first bit of casting news. According to Variety, Sony reportedly is eyeing Kristen Stewart and Lupita Nyong'o for the Charlie's Angels reboot. However, who could be the third woman to round out their crime-fighting team?
First, let's review what's known for certain. Elizabeth Banks is attached to helm the project, and its release has been set for June 7, 2019, so there's still plenty of time to get its stars in order. And both Nyong'o and Stewart are accomplished actors. Nyong'o won an Oscar for her breakout role in 2014's 12 Years A Slave, and she's gone on to snag parts in Star Wars, The Jungle Book, and the upcoming Black Panther. Stewart, on the other hand, first rose to fame in the Twilight series, but has since gone on to build acclaim across the indie circuit in movies like Café Society, Certain Women, and Personal Shopper. She hasn't headlined a major studio tentpole like Charlie's Angels since Snow White and the Hunstman in 2010.
But if she and Nyongo'o are cast, they'll undoubtedly need a third actor who can match them for talent. Since these two aren't even confirmed, it's unlikely a third name will be tossed out any time soon. Still, there are some clear contenders to consider.
1. Olivia Munn
Olivia Munn's starring run in the X-Men franchise should groom her well for Charlie's Angels high-stakes face-offs.
2. Samira Wiley
From Orange Is the New Black to The Handmaid's Tale, Samira Wiley has quickly launched from promising newcomer to burgeoning star. Making the leap from television to film seems like her next logical step, and she'd fit right in with Charlie's Angels: she's charming and tenacious.
3. Zoe Saldana
As Guardians of the Galaxy's Gamora, Zoe Saldana has already shown she's a force to be reckoned with. She'll likely be quite tied up with the Avatar sequels, but, if her schedule allows, she'd make a solid addition to the Charlie's Angels cast.
4. Doona Bae
Now that Sense8 has officially received the axe, Cloud Atlas alum Doona Bae will be moving on to new projects, and the badass kickboxing skills she flaunted throughout the series proves she could hold her own in Charlie's Angels.
5. Issa Rae
Issa Rae may be best known for her work in the comedy sphere, but seeing her tackle an action-oriented character would make for an unexpected but fresh choice.
6. Cara Delevingne
Model-turned-actor Cara Delevingne has already bolstered her action clout in Suicide Squad and Valerian and the City of a Thousand Planets. Why not keep the ball rolling?
7. Gina Rodriguez
To be fair, Gina Rodriguez should be cast in everything. However, she has expressed interest in playing Marvel superhero America Chavez, aka Miss America, so while fans wait for that project to materialize, why not let her kick butt in Charlie's Angels?
8. Anna Kendrick
Anna Kendrick has expressed interest in being both the superhero Squirrel Girl and Indiana Jones. Charlie's Angels, then, seems right up her alley. The actor has clearly been wanting to kick butt on screen for a very long time.
9. Jessica Henwick
Jessica Henwick is pretty much the highlight of Netflix's Iron Fist, so, in between portraying the amazing Colleen Wing, the former Game of Thrones actor should definitely be given the chance to be an Angel.
10. Antonia Thomas
It's been a while since the English actor starred on Misfits as Alisha Daniels, a selfish alpha girl with the power to make people go into a sexual frenzy over her by making skin-to-skin contact with them. However, it's way beyond time we get her over into American cinema for more than just Netflix's Lovesick.
Basically, there are a lot of women in Hollywood that would not only have fantastic chemistry with Nyong'o and Stewart, but who have also been waiting for their time to portray independent, crime-fighting, supportive best friends and agents like the Angels. If Nyong'o and Stewart are really being considered, then hopefully any of the above women will be considered, too.
Additional reporting by Kadeen Griffiths