Lyft Is Launching A Rewards Program & It's A Total Game Changer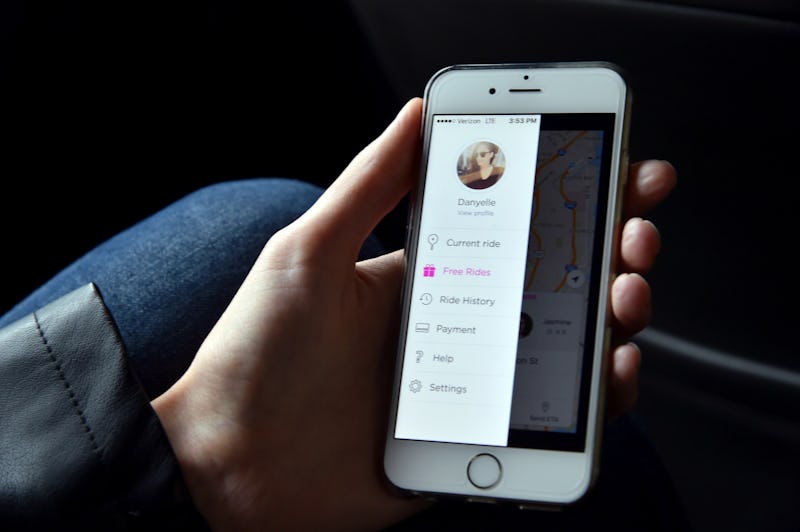 Mike Coppola/Getty Images Entertainment/Getty Images
It's pretty great to get rewarded for the things you're going to do anyway, which is why companies try to entice you with everything from airline miles for using your credit card to discounts at the drug store when you shop. But what about free rides? Enter Lyft Rewards, a loyalty program that will allow you to earn points for free rides, upgrades, and discounts. The program is rolling out to select Lyft riders beginning in December, and is expected to be offered to more riders in 2019. "Whenever you use the Lyft app to get around, you'll earn points for every dollar you spend. Earn enough points and you'll unlock a reward like an upgrade to Lyft Lux or savings on future rides," Lyft explained on its blog.
What began as the oft referred to mustache cab, because of the giant pink mustaches that adorned the front of the cars, has grown into a ride-share company that just surpassed 1 billion rides in September, Lyft announced. Because not everyone wants to ride around in a car with its own fluorescent facial hair, the mustaches have been retired and Lyft is growing up. As the new Lyft Rewards program begins to roll out over the next year, you can expect some tweaks based on what you want.
"We're also exploring how we can keep making Lyft Rewards better over time," the company said in its announcement. "We hear you: Passengers want perks like ride upgrades, access to more-experienced drivers, and double-points days — so we'll continue to listen to your rider feedback as we fine-tune the Lyft Rewards program." Some Lyft rewards are already in place. Since February of this year the company has offered a business rewards program that allows business riders to earn credits for personal use. In addition, Delta loyalists can earn SkyMiles whenever they ride.
How much you like what a company offers you plays a big part in how loyal you'll be. This is why you can walk into a drug store with a few rewards bucks on your app and stroll out $100 later. Never mind the fact that you just went in for one thing. You're earning rewards and that gives you the warm-and-fuzzy feels. Companies know this.
"Call me a sucker, but I love opening my Starbucks phone app, seeing the little stars fall into the virtual cup denoting my progress in amassing enough stars for a bonus coffee. There is something very satisfying about being rewarded for an something I would do, regardless of the outcome," Michael Kay, president of Financial Life Focus, LLC, wrote for Psychology Today. However, because nothing tangible is really free, you're actually entering into a mutually beneficial relationship. And if you drink a lot of coffee, take a lot of flights, or call yourself a lot of rides, it's worth it.
If you're looking forward to the Lyft loyalty program, stay tuned. "Riders who will be eligible to start earning rewards should be on the lookout for an email or notification from Lyft," the ride-share app said in its announcement, adding that they plan to grow the program over the next year. Until then, enjoy your free coffee, your pharmacy coupons, and your rewards flights — you've literally earned them.