Macaulay Culkin Really, REALLY Wants To Be In A 'Fantastic Beasts' Movie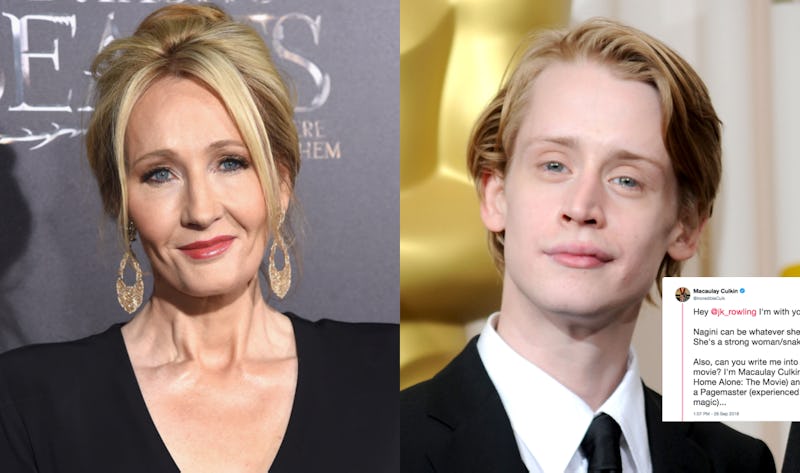 Jamie McCarthy/Getty Images Entertainment/Getty Images; Jason Merritt/Getty Images Entertainment/Getty Images; Macaulay Culkin/Twitter
For those Harry Potter fans sitting at home, thinking that the next Fantastic Beast movies need Macaulay Culkin, don't worry, he does too. It's why Culkin decided to tweet his resumé to J.K. Rowling, which clearly lays out all the reasons he should be cast in Fantastic Beasts. And honestly, from the looks of his past experience, it's clear Rowling should, at the very least, grant him an audition.
After the release of the Fantastic Beasts 2 trailer, Culkin decided to weigh in on the controversy over Nagini. "Hey @jk_rowling I'm with you! Nagini can be whatever she wants to be! She's a strong woman/snake," Culkin tweeted in solidarity with Rowling, whose comments on Nagini disappointed some fans on Twitter. It was this message that also allowed him to sneak in a little request from the author.
"Also," he asked, "can you write me into the next movie?" But, to make sure this request didn't seem like a case of celebrity nepotism, Culkin provided her with examples of why he'd make a great Fantastic Beasts cast member. "I'm Macaulay Culkin (From Home Alone: The Movie)," he wrote as if anyone needed a reminder, "and I was also a Pagemaster (experienced with magic)...", noting his starring role in the 1994 movie The Pagemaster, where yes, he delved into magic.
It's safe to say both his experiences would make him a fine right-hand man for Newt Scamander in any future films. After all, who doesn't want someone who was able to stave off two burglars with just some marbles and tacks on their side? But, like any good job applicant, Culkin knew he might need a recommendation, so he decided to reach out to his friend Dan Fogler who plays Jacob Kowalski in Fantastic Beasts.
"Hey @mrdanfogler put in a good word for me," Culkin tweeted. "There's a back rub in it for you." He then once again ran down his resumé. "BTW, it's me Macaulay Culkin (From Home Alone 2/we're friends in real life)," he wrote.
Later Culkin continued his quest for the role by tweeting the hashtag #MakeMeAWizard letting everyone know a few of his Harry Potter stats, "While I may look like a Malfoy I'm actually a Gryffindor," he tweeted, "and my patronus is a Mastiff which is a dog. So that's cute!"
Rowling has yet to publicly respond to his request, but fans of the movie sure have. Many agree that Culkin would be a good fit for the wizarding world even if he is a muggle. "Doesn't even need magic," a fan named @nickferwerda tweeted. "Give him two hours of prep and access to a home depot. Nobody stands a chance."
Some even suggested roles he could play. "DRACO MALFOY has an older brother by the way," a fan named @i_am_joey wrote. While someone else named @suaveadventurer wrote, "He COULD play Abraxas Malfoy," who is the father of Lucius Malfoy. Someone else referenced another one of Culkin's movies, The Good Son, in which he played a violent little boy. "In the The Good Son, you played evil so well," @LauraRebelSolo wrote. "I think a dark wizard would suit you in the HP franchise." Even Culkin's friend Fogler tweeted a possible role for him. "Dude I can see you as a grad student at ILVERMORNY," he tweeted of the American wizarding school.
Clearly, Culkin's connection to Fogler could be a good thing for him. Now like Culkin, fans will have to wait and see whether he'll be teaming up with Newt Scalamander anytime soon. So what do you say, J.K.?