Harry Potter Fans Are NOT Happy About The 'Fantastic Beasts 2' Trailer & They Have A Point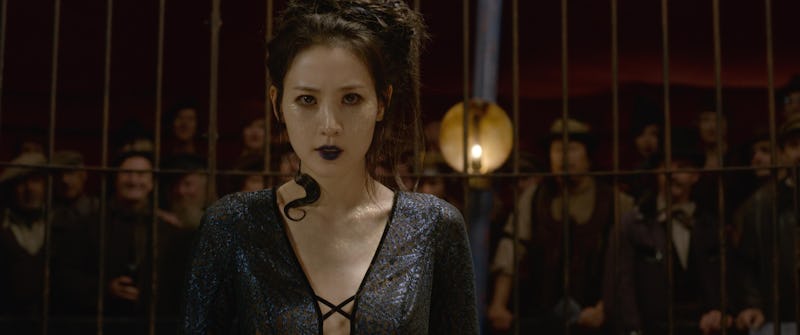 Warner Bros. Pictures/Pottermore
The trailer for the upcoming Harry Potter spin-off film, Fantastic Beasts 2: The Crimes of Grindelwald, generated controversy this week with a shocking reveal: Voldemort's pet snake, Nagini, was once a human woman. The decision to cast South Korean actress Claudia Kim in the role of human Nagini has brought allegations of racism to J.K. Rowling's doorstep, and not for the first time. Rowling has responded to the criticism, and the whole controversy can be explained below.
For nearly 20 years, Harry Potter fans have known Nagini as Voldemort's only familiar. She first appeared in Harry Potter and the Goblet of Fire, at the scene of her master's rebirth, and was present at Voldemort's side for the next three books. One of the Dark Lord's horcruxes, Nagini died in the Battle of Hogwarts after Neville Longbottom pulled the Sword of Gryffindor from the Sorting Hat and used it to behead her.
When the Fantastic Beasts 2: The Crimes of Grindelwald trailer showed Nagini living as a human circus attraction in the 1920s, the Harry Potter fandom erupted with questions. Rowling revealed that the infamous serpent is a Maledictus: a person cursed to transform into an animal for increasingly long periods of time, until the transformation eventually becomes permanent. The term had not been present in the Harry Potter source materials prior to a Thursday tweet from Rowling, which shot down a fan's assumption that Nagini was an Animagus.
As I said before, there's a lot of problematic B.S. to unpack with Nagini's new backstory, so buckle up. Here's everything that's irked Harry Potter fans about the trailer, that shouldn't be ignored: