Madonna's Daughter Lourdes Has Beautiful Armpit Hair — And Twitter Will Come For Any Haters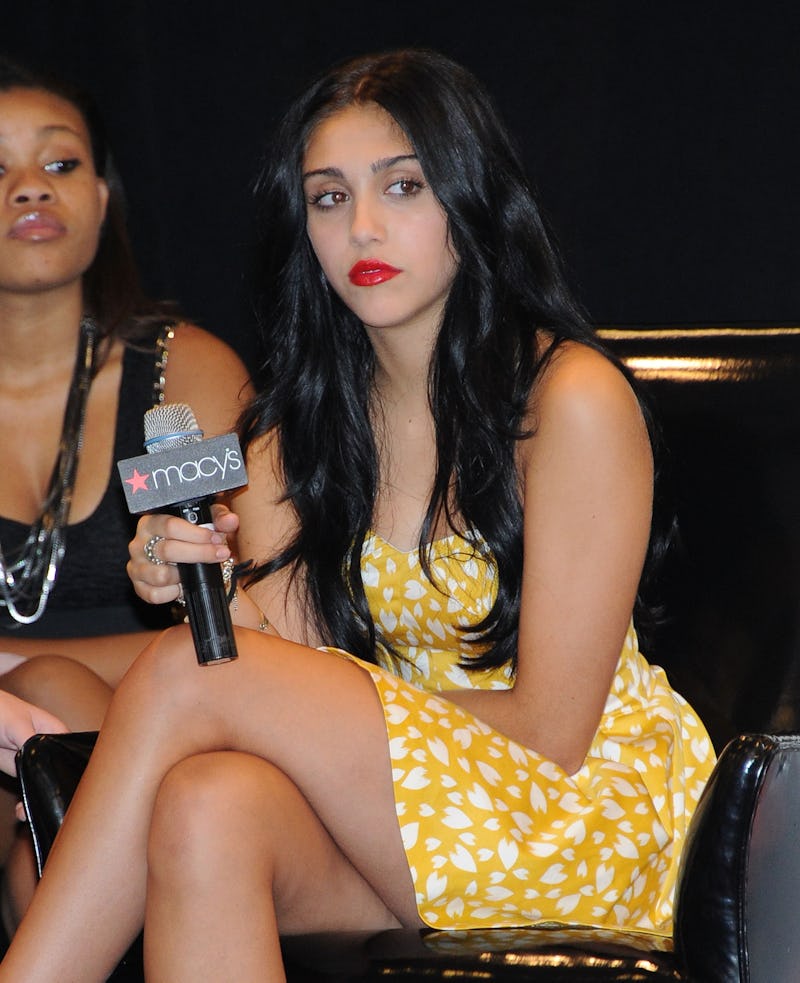 Jason Kempin/Getty Images Entertainment/Getty Images
A picture is worth a thousand words — especially when it features armpit hair. Madonna posted several photos and tweets from her New Year's Eve celebrations, including an adorbs mother-daughter photo featuring her eldest child Lourdes Leon showing off her armpit hair. The cute photo is generating a lot of internet buzz, with some praising Lourdes for going natural. Others however seemingly believe it's their place to comment on body hair as gross or unattractive. Spoiler: Body hair is neither of those things.
In the candid and playful pic of the pair, Madge, dressed in lace and sheer black ensemble and wearing gobs of layered jewelry, is standing behind her daughter, who is reaching up to hug her mother from behind. Lourdes, also wearing several layers of necklaces, is slaying the same red lipstick as Her Madgesty, rocking an ear-to-ear grin and structured brows, all the while showing off several inches of brown armpit hair.
Lourdes, who just turned 21 in October, looked utterly amazing while flaunting her beautiful look.
While Madonna didn't reference it directly in her caption, simply stating that she and her family are ready to tackle 2018, Twitter and Instagram followers certainly weighed in on Lourdes' personal choice to have natural body hair.
Quite a debate ensued in the social media sphere over what boils down to a personal choice.
There was tweets fired off from plenty of highly opinionated and ultimately uninformed naysayers. Even better, there were plenty of people who defended Lourdes' choice to do as she pleases, all the while educating others about why letting one's armpit hair grow out is awesome.
Don't they both look absolutely fabulous? Lourdes definitely resembles both her mother and her father, Carlos Leon and that is abundantly clear in this shot.
This user co-signed Madge's message, the pic, and Lourdes' natural body hair.
As previously stated, there were some naysayers in the bunch. But many of them were quickly shut down by others who clapped back in a display of support.
Like so. This tweet points to a universal truth — Lourdes is definitely her mother's daughter. While she isn't blazing the same incredibly public pop star trail as The Material Girl, Madonna always challenged the accepted norms when it came to femininity and sexuality by doing her own thing. Lourdes is following in her footsteps here.
Truth. It's 2018. We are continually rewriting the script about all sorts of previously-held beauty norms.
Amen to that. The amount of judgments over Lourdes' decision was astounding and this user could not hold back — and understandably so.
Preach. Period.
Madonna herself didn't appear to respond to the backlash. But then again, she didn't need to come for the commenters and their heads in defense of her daughter. The Twitterverse shut down the haters and turned the tables on the trolls for her.
Tossing your razor and letting armpit hair — or any body hair for that matter— grow is personal choice. If it makes you happy, do it like Lourdes. And look lovely all at the same time.