Magnitude 8 Earthquake Rattles Mexico & Tsunami Is Bound To Follow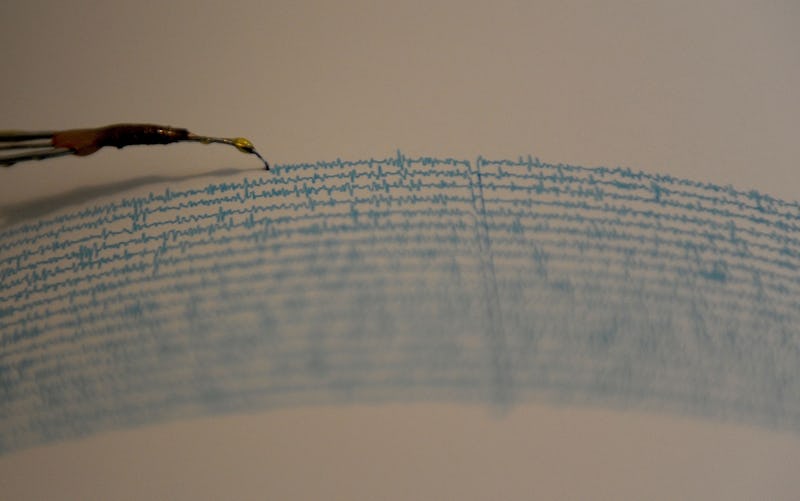 PEDRO PARDO/AFP/Getty Images
According the United States Geological Survey (USGS), a powerful earthquake shook the southern coast of Mexico late Thursday night. The magnitude 8.0 earthquake left buildings shaking in the capital while locals fled complexes, according to several reports. The USGS reported that the epicenter of the powerful earthquake was southwest of the city Pijijiapan, and a tsunami watch was declared for several other countries, including El Salvador, Guatemala, Nicaragua, Panama, and Honduras. So far, there has been no tsunami watch declared for the United States' Pacific coast.
The earthquake is bound to cause a ripple effect across the country as the Pacific Tsunami Warning Center (PTWC) noted that a tsunami could follow within three hours of the earthquake. The depth of the earthquake, according to the PTWC, was at 33 kilometers. According to USGS geophysicist Randy Baldwin, "It's a big quake. It's about 70 miles offshore, but it's not an unheard of quake." Baldwin noted that the earthquake could be "possibly damaging."
According to the USGS, locals in Mexico should be on the alert for more developments as aftershocks can go on for "hours, days, or weeks" after the earthquake. In a detailed and updated report on the earthquake, the USGS shared some advice for those in Mexico or close to the area where the earthquake hit, noting that locals should steer clear of damaged buildings and try to stay away from the coastal areas given the risk of a potential tsunami.
Mexico is no stranger to such intense earthquakes. In 1985, a similar earthquake carrying an 8.0 magnitude hit the country and led to a devastating tsunami, rattling the Greater Mexico City area.
Thursday night's earthquake isn't the only natural disaster to hit Mexico. In addition to the massive 8.0 magnitude earthquake, the country is preparing for a possible collision with Hurricane Katia on its eastern coast. According to meteorologists, the Category 1 storm will batter the country's coastline with powerful downpour and possibly life-endangering flood water. At this moment, however, Katia is situated in the southwestern Gulf of Mexico, where it is expected to head toward Tuxpan and Veracruz by Friday night.
Locals have been advised to prepare for downpours, strong winds, possible coastal flooding, and even mudslides. In certain areas, Hurricane Katia is feared to cause power outages and structural damage to smaller houses. Here's to hoping Mexico quickly gets back on its feet before the Category 1 storm's arrival.