Maine Can Enforce Its State Noise Law To Protect Abortion Clinics From Protesters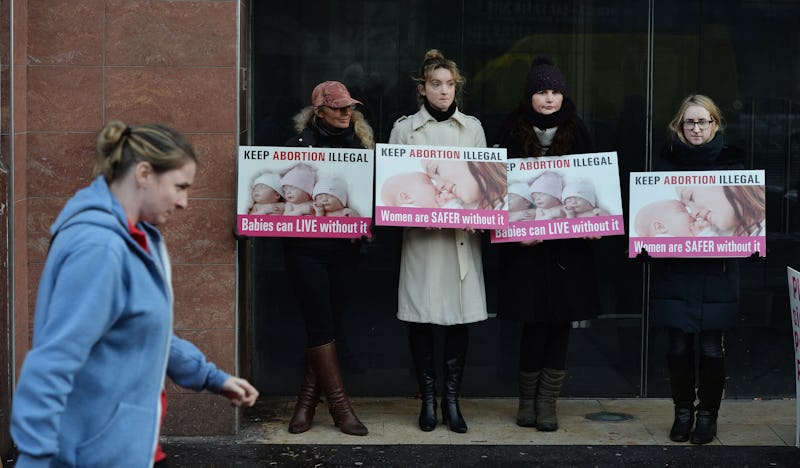 Charles McQuillan/Getty Images News/Getty Images
Vicious protesting outside of abortion clinics has been a cause for concern in cities across the country, but that could change after a recent first U.S. Circuit Court of Appeals decision. On Tuesday, a three judge panel ruled that Portland, Maine, police can use noise ordinances against anti-abortion protesters outside the local Planned Parenthood clinic.
The decision is the latest in the saga of an anti-abortion protester's December 2015 lawsuit against Maine Attorney General Janet Mills, the City of Portland, and a few police officers. The protester claimed that local police stopped him from yelling outside Planned Parenthood's office and supposedly targeted him because he was expressing anti-abortion views. In May 2016, U.S. District Judge Nancy Torresen determined it was unconstitutional to silence the protester, arguing that his being silenced was based on the content of his speech. The court's latest decision, however, reversed that.
According to Judge David Barron's 50-page decision from Tuesday, the reversal is in the best interest of protecting patients at the clinic.
The noise provision was the product of a careful legislative process. That process sought to forge a consensus among many competing interests in order to address what all parties to this dispute agree is a serious concern regarding the health and safety of those seeking health services.
In other words, noise laws against screaming anti-abortion protesters can only be used if those protesters are stationed outside of health care facilities and are, therefore, posing a risk to the patient. The laws could not be used to halt protests outside other municipal buildings or government buildings (which is sure to quell any freedom of speech red-flags that might come out of this decision).
Barron's decision also noted that allowing police to enforce the noise ordinance outside of medical facilities also works to de-escalate potential violence against clinics that provide abortions.
The District Court determined that Maine had a compelling interest in protecting the health and safety of its citizens, protecting its citizens from unwelcome noise around medical facilities, and de-escalating potential violence that can occur around facilities that perform abortions.
Maine Assistant Attorney General Leanne Robbin told the Bangor Daily News that, although the law hadn't been used until 2015, "a number of groups" (including ones that are against abortion) came together 20 years ago in support of the law "at a time when there was violence around the country against family planning clinics."
Robbin added that enforcing the noise ordinance is ultimately a way to protect patients who have already had to navigate an intimidating crowd of protesters to attend their appointments.
Protest are fine but once patients have run the gauntlet outside the clinic, once the door to the exam room or the consultation room is shut, that should be a sanctuary. People shouldn't be barraged with screaming while obtaining medical care.
In a year that's seen far too few wins for pro-choice advocates, this decision in Maine acknowledges the patient's rights to access safe and legal medical care without being harassed.