Maisie Williams' Cute B-Day Wish For Sophie Turner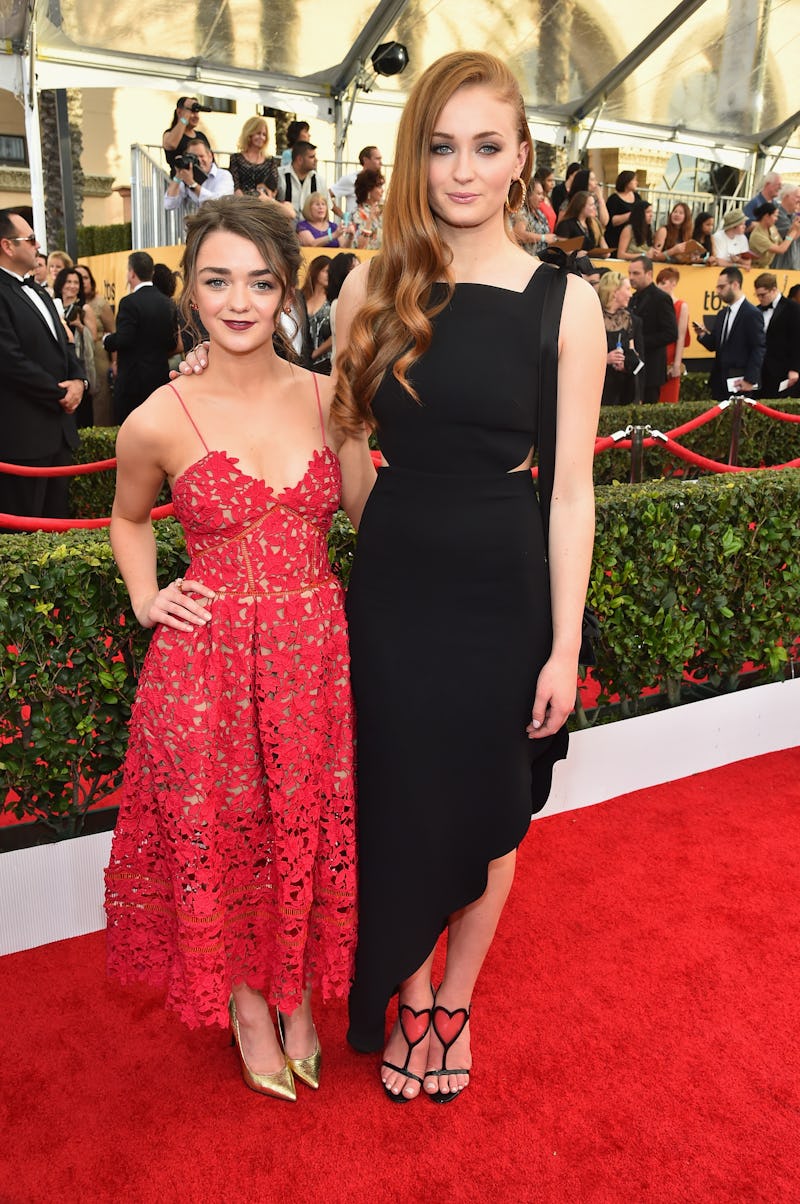 Alberto E. Rodriguez/Getty Images Entertainment/Getty Images
Let's be honest — very few characters on Game of Thrones make friends in Westeros. On screen, Maisie Williams and Sophie Turner star together as the estranged Stark sisters. In the series, the two were separated in the epic fight for the royal throne. When the cameras aren't rolling, however, the two stars are closer than ever. And their fantastic friendship moments continued on Tuesday when Turner celebrated her 21st birthday, and Williams sent birthday wishes to her with a funny throwback pic.
Turner and Williams have been best pals for a while, and their friendship is well-documented. At the Golden Globes in January, Anna Kendrick caught an adorable moment between the gals where Turner turned around on the red carpet to help Williams detangle and carry her train. The two also have matching best friend tattoos, marking the date they were cast on the show. In interviews, the two love to tell funny stories about their early days on set. These friendship moments even inspired their own celeb couple name, and it doesn't seem like "Mophie" is going away anytime soon.
In the past year, Williams and Turner have shared plenty of friend-goal worthy moments on social media. They regularly end up in each other's Instagram pics, whether it's twinning on Halloween or just hanging around on set. It's no surprise that Turner's bestie would reach out on Twitter for her birthday. However, Williams made sure the birthday wish was extra special, attaching an old picture from a bookstore event. In the snap, Williams looks way up at Turner, who is much, much taller than her co-star (who may have some extra help from standing on a higher platform).
Williams captioned the pic with "Happy 21st Birthday @SophieT Forever looking up to you, in more ways than one." The silly pic is just one in a saga of shots were Turner towers over Williams, so the pun is extra funny. According to MTV News, Turner is a whopping eight inches taller than Williams, and one can only assume this difference was greater when the two were younger.
As if this exchange between the BFFs couldn't be any more adorable, Turner's response made it even better. Turner tweeted back right away, saying "nah. Lookin up to you kid. Love you"
OK, if this kind of twitter exchange isn't friendship #goals, I just don't know what is. These two stars clearly are there for each other no matter what the occasion, and while their Game of Thrones sister story has been back-burnered for the past few seasons, they are sisters in spirit IRL. Here is to many more years of Mophie, please!