Mandy Moore & Meghan Markle's Friendship Is All Kinds Of Goals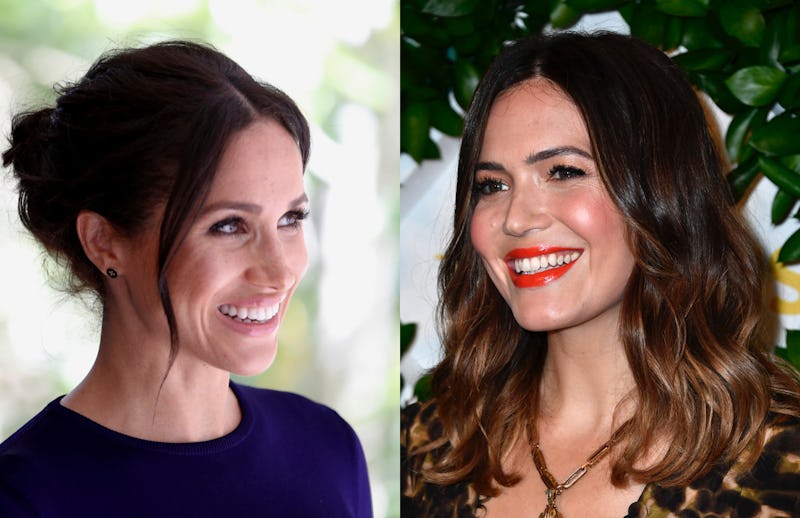 Pool/Getty Images Entertainment/Getty Images; Frazer Harrison/Getty Images Entertainment/Getty Images
Talk about a majorly royal blast from the past. As People noted, Mandy Moore knew Meghan Markle after meeting her over a decade ago. And the This Is Us actor opened up about her lovely friendship with the current Duchess of Sussex.
During an interview with Access, Moore received a pretty amazing surprise as the interview showed her a throwback photo that was taken around 2006. Apparently, way back when, Moore and Markle were kind of besties. You might be wondering though: how did they become pals? Well, according to the actor:
"Her ex-husband was a producer on a movie that I worked on, so I met her back in 2006 and spent a lot of time with them, a lot of time with her, and she is a lovely, generous woman."
As you probably are aware, Markle was previously married to Trevor Engelson, who was a producer on the 2007 film, License to Wed, in which Moore starred. In the interview, the This Is Us star added that they spent quite a bit of time together back then, even spending New Year's together. But, she also said, "It was another lifetime ago for both of us, but she's wonderful."
It may have been a lifetime ago that they were super close, but Moore did reach out to the Duchess upon hearing her royal wedding news. And Markle responded back with a pretty relatable update herself. As the former singer noted, "She was very kind and said that she really likes This Is Us. She watches the show, so that was pretty cool." So, even though they may not be BFFs at the moment, it sounds as though Moore and Markle are still on positive terms with each other.
As Moore said in the interview, it was a "lifetime ago" that the two famous women were besties. Obviously, they're both in very different places in their lives now. As the whole world knows, Markle is happily married to her husband, Prince Harry, and has been since their beautiful wedding ceremony that took place in May.
The royal couple recently announced yet another happy milestone in their relationship. According to an official statement released by Kensington Palace, the Duke and Duchess of Sussex are set to welcome their first child together in Spring 2019. In the statement, the palace detailed:
"Their Royal Highnesses have appreciated all of the support they have received from people around the world since their wedding in May and are delighted to be able to share this happy news with the public."
As for Moore, she has also moved on in a pretty big way. After splitting from her husband Ryan Adams in 2015, she's since found the "right person" for her in fiancé Taylor Goldsmith. In a recent interview with Us Weekly, she related how excited she was for her upcoming wedding "because I'm with my person. I'm with the right person."
It's nice to see both Moore and Markle so happy where they are in their lives. And it's also so sweet that the This Is Us star specifically is able to reflect on their friendship in such a positive way.