Mandy Moore Just Reminded Fans To NEVER Dye Their Eyebrows With This 2001 Throwback Photo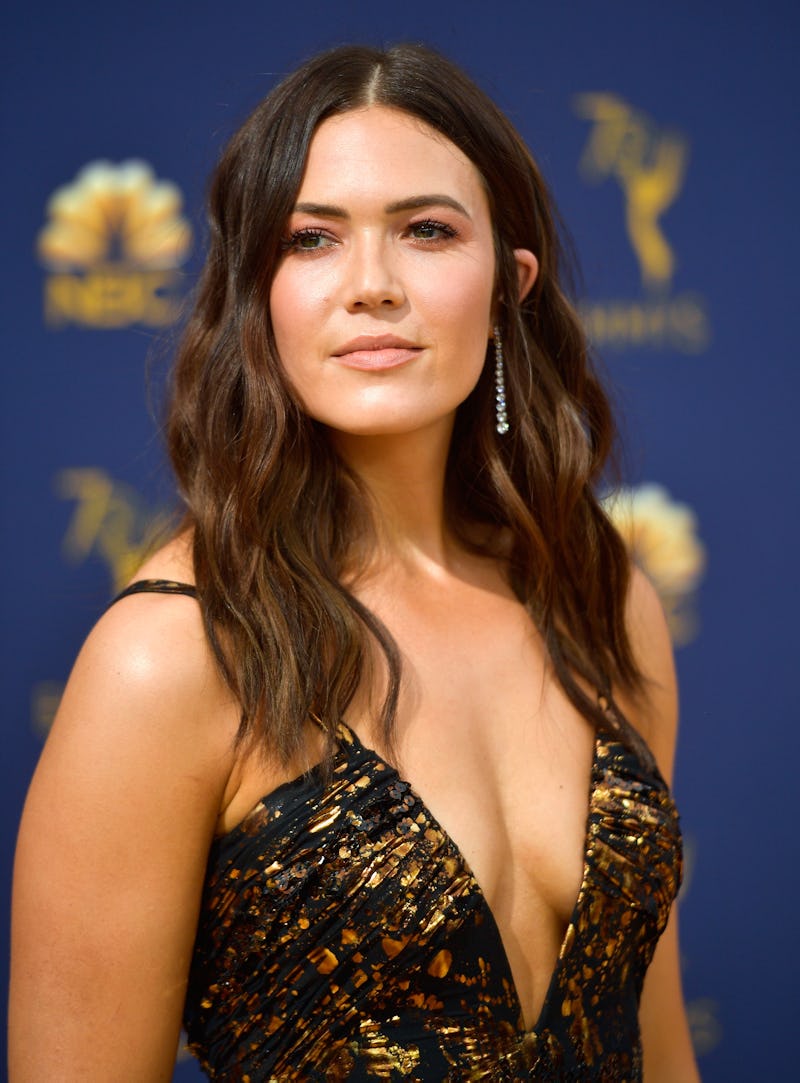 Matt Winkelmeyer/Getty Images Entertainment/Getty Images
The last couple of years were full of iconic '90s throwback fashions, from bucket hats to bum bags, but now the early Noughties are slowly starting to creep their way in. While we might remember baguette bags and satin capris fondly, there was a lot of cringey fashion involved in that decade — as Mandy Moore's early Noughties throwback photos prove. The This Is Us star posted a series of pictures of herself post her Walk to Remember days, poking fun at her beauty aesthetic at the turn of the millennium. The series of three carousel pictures showed her choppy, straightened blonde hair, with her bangs swept back and poking out sharply at the sides. She had matching pencil-thin brows to match, where she bleached the small hairs the same shade as her locks. The caption read, "Rolling into the weekend like..... #fbf#dontdyeyoureyebrows#2001."
The third photo was a zoom out of her outfit, where she was wearing a sheer sleeveless top that let her bra peek through, a Burberry plaid tote, straight leg denim jeans, and a wide buckle bohemian belt slung low on her hips, completing the nostalgic look. The photo so far has over 100 thousand likes and hundreds of comments, but one in particular stood out: Shane West's, or her Walk to Remember co-star.
"This. Is. Everything." he commented underneath the photo, laughing at her throwback look. His comment didn't get lost in the flood of fan opinions, where Moore caught it and wrote back.
"It was right after Walk and I went blonde again and my poor bangs," she laughed back, posting four smiley faces afterwards. For those who need a refresher, Moore had chocolate brown hair with piecey forehead bangs in the movie. She tried to go blonde immediately after, which is why you can see that her ends are still relatively brown. The blown-back, hair-sprayed fringe was Moore's attempt at rocking them as they grew out.
But while West was teasing her, he still wanted his friend to know that she rocked the look. "STILL cute as hell," he wrote back, before turning his attention to Adam Shankman, the director of A Walk to Remember, who was walking behind Moore wearing a dark denim Canadian tuxedo and a puka shell necklace. "What's [he] wearing?" Shane asked.
Fans loved the exchange between the two co-stars, but also jumped in with their own comments about the early 2000s.
"What even happened between 2000-2004ish? NOBODY knew what to do with their brows," one follower wrote.
Others chose to laugh at the over-straightened hair, where one fan wrote, "Yes, barber, just give me the 100 mph wind hair."
Moore clearly just made us all nostalgic for the Y2K years.