Mandy Moore Sweetly Opened Up About Her Fiancé & How He's The "Right Person" For Her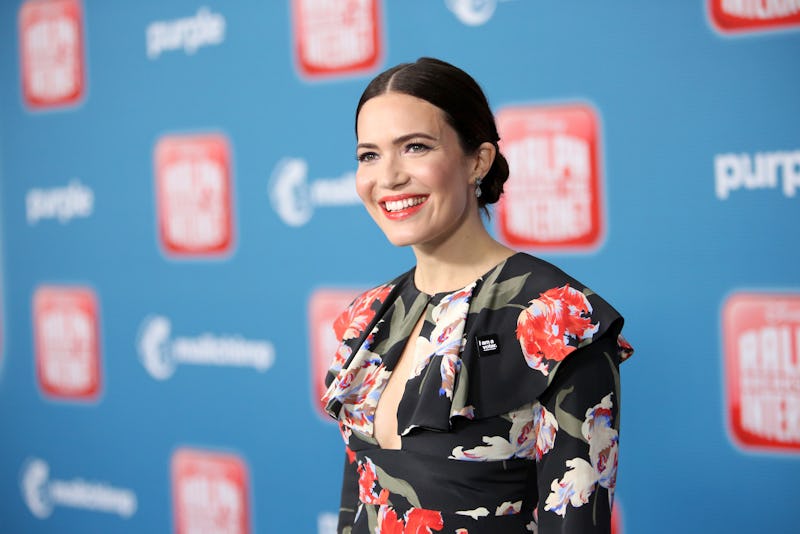 Jesse Grant/Getty Images Entertainment/Getty Images
Mandy Moore will soon wed her fiancé Taylor Goldsmith, and it sounds like she's on cloud nine about it, as her latest Us Weekly interview suggests. Mandy Moore said that Taylor Goldsmith is the "right person" for her, and it's not the first time that she's adorably gushed over her husband-to-be.
The This Is Us star told Us Weekly that it was important the couple celebrates their wedding day with their close friends and family. She also explained that she was excited about her big day, especially "because I'm with my person. I'm with the right person." How romantic is that?
Interestingly enough, before now, she never really considered what she wanted out of a "dream wedding." Maybe she just needed to meet the "right person" to think about it? She said,
"And I've never really — until this point in my life — ever dreamt about that or thought [about an] actual wedding … Hopefully as that time gets nearer and closer, the significance of it isn't lost on me to be able to share in that moment."
Moore also said that her upcoming wedding day will be all the more special since there will so many of their loved ones in attendance. "It will mean a lot, I think, to be surrounded by friends and family and to say certain things to each other in front of them," she told the publication.
It was announced in September 2017 that Moore and Goldsmith were set to exchange vows. According to E! News, Goldsmith, a musician in the group Dawes, popped the question last year after two years of dating. Shortly after it was reported that the two were engaged, Moore opened up about her soon-to-be husband to Us Weekly in late September 2017. She told the publication about her fiancé, when asked what she loves about him,
"There are so many things … I think he is the most refreshingly kind, honest and soulfully good person I've ever met."
In an interview with InStyle from March, Moore opened up even more about the pair's engagement and offered up a lovely anecdote about how Goldsmith chose her gorgeous ring. She revealed,
"When my boyfriend and I started talking about getting engaged last year, I told him I didn't want a big ring. I figured we could just pick out some pretty bands together. So you can imagine how surprised I was when he proposed with this beautiful ring in the fall."
The actor also said that the engagement came as a bit of a surprise to her, as the couple was busy moving into a new home together, "We were in the middle of moving into our new home at the time — the whole thing caught me completely off guard!"
In addition to discussing how excited she was for her upcoming wedding to Us Weekly, Moore also discussed her bachelorette party during an appearance on The Ellen DeGeneres Show, per People. So, it sounds like her wedding day, complete with the company of all of their closest friends and family, may be coming up super soon.