Mandy Moore's 2017 Emmys Dress Is A Stylish Revamp Of An Early 2000s Look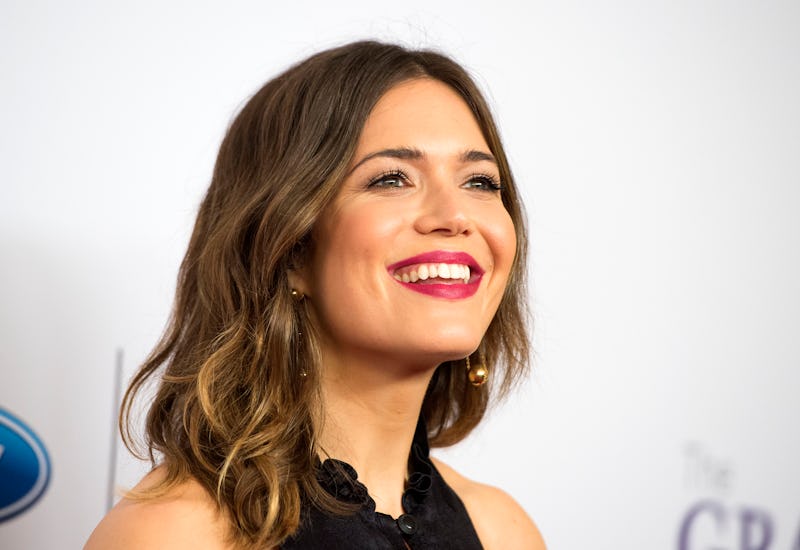 VALERIE MACON/AFP/Getty Images
This Is Us star Mandy Moore may not have earned a nomination in the 2017 Emmys, but fans were of course still looking forward to seeing her alongside the rest of the much-nominated show's cast — and Moore absolutely delivered, walking the red carpet in a gorgeous tiered black-and-white Carolina Herrera number.
While Moore didn't get a nod of her own, This Is Us scooped up 10 noms — down one from its original 11 — and its cast was out in top form on Sept. 17. Moore's Lead Actress snub didn't seem to affect her ability to totally bring it in the fashion department. Not a surprise, since Moore has been donning yearly top trends since the '90s.
Fans have been anticipating her 2017 Emmys look since the announcement of This Is Us's huge number of nominations, which means looks like her 2003 Billboards Music Awards dress have been dragged up. (Honestly, while that dress is very 2003, she could've done much worse.) Moore's style has seriously evolved over the years, though she has had times where her outfits hearken back to earlier times, like her 2016 Emmys look. She seems like an expert at hopping from trend to trend, but somehow always manages to look very herself — not an easy accomplishment.
Take a look at her 2017 Emmys outfit below.
According to the Red Carpet Fashion Awards, Moore's tiered tulle dress is a Carolina Herrera Resort 2018 gown, which she complemented with Jennifer Myer jewelry. And speaking of her outfits hearkening back to earlier fashion eras, while this dress is drop-dead gorgeous, its silhouette is reminiscent of those early-2000s tiered skirts that either struck a vaguely hippie note or looked like someone pulled out a handful of mismatched fabric swatches and sewed them together at random.
Thankfully, this dress stuck to good old black and white. But Moore wore a version of this style in 2002 that was much more fashion-forward than most tiered skirt options of the day.
And while Moore's outfit is a blast from the past, the rose gold Jennifer Myer earrings she wore on the red carpet were a nod to the future, matching her very special star accoutrement: Her new engagement ring. Moore flashed the rose gold solitaire ring at Entertainment Tonight's pre-Emmys party on Sept. 15, and wore it on the Emmys red carpet Sept. 17.
She hasn't made an official public announcement about her engagement, and neither has her man, Dawes frontman Taylor Goldsmith, but according to her This Is Us costars Chris Sullivan and Jon Huertas, she revealed to friends and family that the two are officially on the way to the wedding aisle.
People described the ring as classic, with "a good-sized round, brilliant cut solitaire set in a simple rose gold band embedded with a few more diamonds, just for good measure."
The lack of public discussion about her relationship, paired with her quiet debut of her engagement ring, seems to be pretty quintessential Moore. She handled her Emmys snub with equal grace, tweeting congratulations to her nominated costars on July 13.
Moore's stunning dress is just another win in her seriously stylish 2017. She wore an incredible, dark Naeem Khan gown to the 2017 Golden Globes, which featured a legitimate, actual, real-life cape. She also wore an uber-cute Kate Spade dress to the 2017 CFDA Fashion Awards.
Though fans are still burned about the lack of an awards nod for Moore, they're sure to keep looking forward to the next time she ends up on the red carpet. Which, given This Is Us's juggernaut run with awards seasons so far, shouldn't be a long wait.