The Cast Of 'This Is Us' Rocked The 2017 Emmys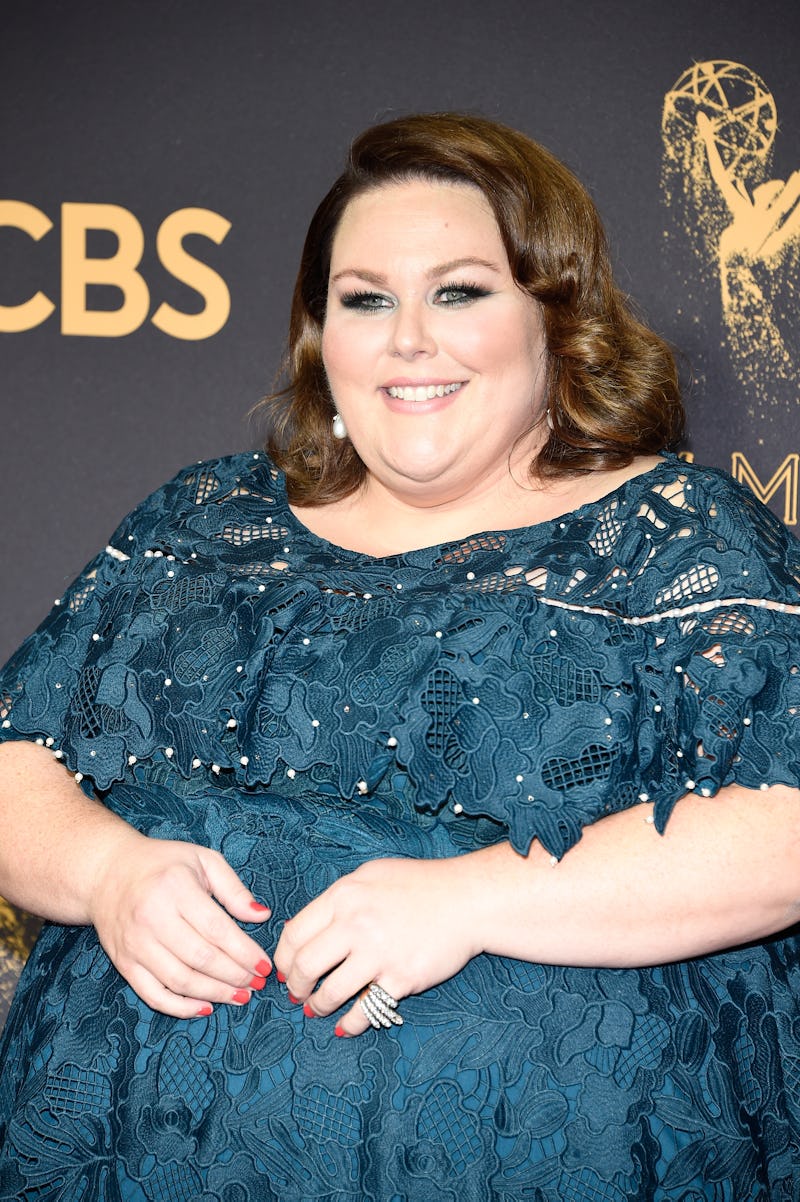 Kevin Mazur/WireImage/Getty Images
This Is Us has thus far been an award-studded show, with noms and wins pouring in for both seasons. But its second season has managed to garner a not insignificant 10 Emmys noms, and of course the This Is Us cast's 2017 Emmys outfits were just as eye-catching as the show itself.
Though This Is Us had one of its nominations taken away — Outstanding Contemporary Costumes, revoked after a review of the show's number of contemporary versus period scenes — and Mandy Moore was snubbed in the Lead Actress category, it still rolled into the Emmys ceremony on Sunday with a host of potential awards.
Both Sterling K. Brown and Milo Ventimiglia were nominated for Lead Actor, Ron Cephas Jones was nominated for Supporting Actor, and Chrissy Metz snagged a nod in the Supporting Actress category. Along with those noms came a swath of Guest Actor nominations, as well as some in the casting and costuming categories.
But the potential award fans buzzed most about going into Emmys night is Best Drama Series. To win, This Is Us has to beat out favorites old and new, including Stranger Things, House of Cards, and Westworld.
Whether or not This Is Us walks away with the win for Best Drama Series, the stars of the show certainly showed up in win-worthy outfits. Take a look at the stars' red carpet looks below!
1. Chris Sullivan
Chris Sullivan was completely dashing in this classic look, spiced up with purple accessories. And, yes, with a seriously ace hat game. (Also, that cummerbund, tho.)
2. Brian Tyree Henry
It seems sweet accessories are par for the course with this cast — plus that white jacket looks friggin' amazing. And the official Excellent Hat Count is now up to two.
3. Sterling K. Brown
Sterling K. Brown's look may be a little lower-key than his castmates', but there's nothing wrong with a dependable, fitted tux. No hat count addition, but the night's not over yet!
4. Milo Ventimiglia
Chalk another one up for classic tuxes! Ventimiglia's look is stylish and simple, but the parade of suits is definitely making fans excited to see what the This Is Us ladies will bring when they walk the red carpet.
5. Chrissy Metz
Chrissy Metz has a rockin' personal style, so it's no surprise her Emmys dress was unique and lovely, featuring lace and tiny pearls.
6. Mandy Moore
Mandy Moore joined the fellas' black-and-white outfits ranks tonight, but — sorry, boys! — she's on a whole 'nother level of stunning. Her tiered tulle dress is a Carolina Herrera piece, and is definitely one of the most eye-catching looks of the night.
8. Justin Hartley
Justin Hartley brought a classic look to match his costars' — but he definitely wins best bow tie of the night.
9. Ron Cephas Jones
The obvious continuation here is that Ron Cephas Jones wins worst bow tie, because his isn't even done up, but honestly? We're kinda diggin' it.
Most of the cast members' casual, classy looks flew under the radar, but Mandy Moore's dress is being hyped on social media, both as a hot and not-hot look. Elite Daily pointed out that critics — particularly on Twitter — are, as critics are wont to be, divided over whether Moore's tiered tulle dress is incredible or if it, well, basically looks like someone wrapped her in a Double Stuf Oreo.
We here at Bustle are here for Moore's updated look, though TBH Moore can pull almost anything off, so even if she'd shown up wrapped in actual Double Stuf Oreos à la Lady Gaga's meat dress, we'd be here for it.
The night closed with the official Excellent Hat Count at just two, but considering how many critics are loving This Is Us, the Emmys are probably not the last time fans will see the cast lighting up an awards show red carpet.