A New Margaret Atwood TV Series Is In The Works, So Get Ready 'Handmaid's Tale' Fans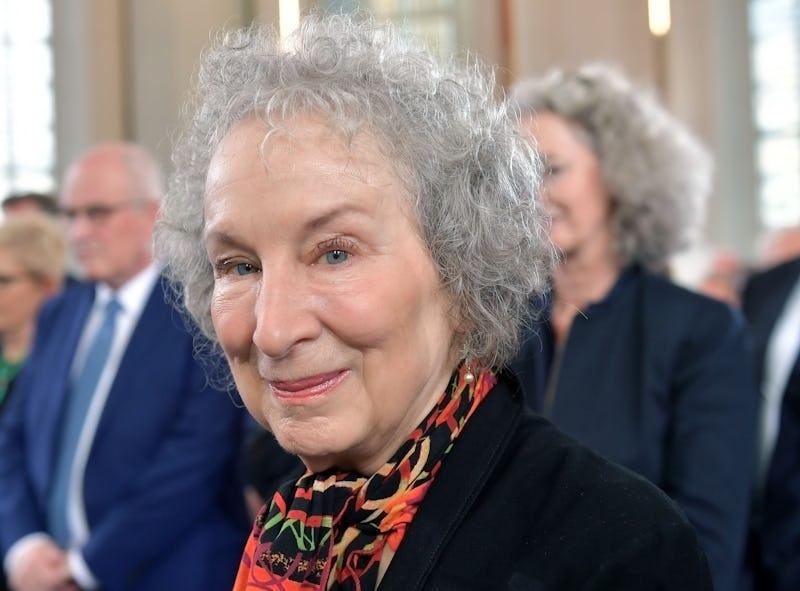 Thomas Lohnes/Getty Images Entertainment/Getty Images
If Hulu's The Handmaid's Tale and Netflix's Alias Grace just haven't been enough to sate your appetite for Margaret Atwood adaptations, I have some news you're going to love. Margaret Atwood's MaddAddam Trilogy is coming to television, thanks to Paramount TV, so you'll want to add these three books to your TBR, pronto.
Comprised of Oryx and Crake, The Year of the Flood, and MaddAddam, the MaddAddam Trilogy takes place in a post-apocalyptic version of a world much like our own. The first novel centers on three young people, including the science-minded Crake and sex-trafficked Oryx, who come together at a critical moment in their world's development: the invention of genetically engineered humans, called Crakers. All of this happens in the novel's past, however. In the present, a man called Snowman is the last human left in a world populated entirely by Crakers. Subsequent books focus on other places and times in Oryx and Crake's overarching storyline.
According to The A.V. Club, HBO optioned the MaddAddam Trilogy in 2014, with Mother director Darren Aronofsky attached to direct. HBO dropped the prospective series in late 2016, at which time Aronofsky and writer Eliza Clark were purportedly shopping their adaptation around to other networks. Now in the hands of Paramount TV — the phoenix that rose from Spike TV's ashes — the MaddAddam Trilogy has Anonymous Content's David Kanter (Philip K. Dick's Electric Dreams) and Rock Paper Scissors Entertainment's Linda Carlson (Five Came Back) at its head, among others, to produce.
Last year was great for Margaret Atwood adaptations, with two of her best known novels, The Handmaid's Tale and Alias Grace, hitting streaming platforms in 2017. Like the MaddAddam Trilogy, The Handmaid's Tale takes place in a dystopian future, this time one in which the religious right has overthrown the U.S. government and instituted its own hyperpatriarchal, white supremacist regime. On the other end of the spectrum, Alias Grace dives into a murder case that gripped 19th-century Canada, and left the public split over one central question: Did Grace Marks murder her employer?
All in all, 2017 was a banner year for book-to-screen adaptations, and it looks like 2018 will be just as grand. In addition to the Atwood novels mentioned above, a boatload of Stephen King's books and short stories — including IT, Gerald's Game, and The Dark Tower — made their way onto screens big and small last year. In 2018, readers have A Wrinkle in Time, Ready Player One, and The Hate U Give, among many other novels, to look forward to seeing in theaters.
No release date for Paramount TV's MaddAddam Trilogy adaptation has been announced at this time.