Margot Robbie Will Reportedly Have A Bigger Role In The 'Barbie' Movie Than You Expected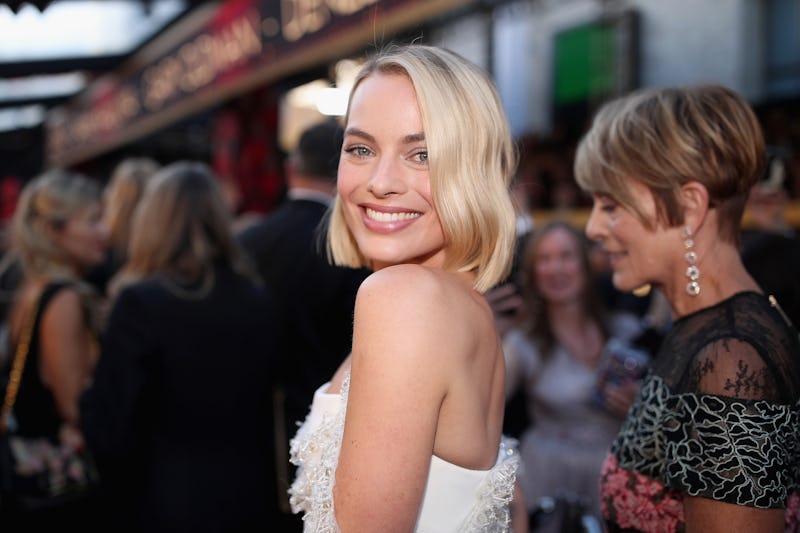 Christopher Polk/Getty Images Entertainment/Getty Images
Margot Robbie is a Barbie girl, in a Barbie world — and soon, she'll let us know if life in plastic really is as fantastic as it seems. The Oscar-nominated Robbie is reportedly attached to star in Barbie, a feature film developed by Mattel and Warner Bros. all about everyone's favorite doll. According to Entertainment Tonight, Robbie would also executive produce the film in collaboration with her production company, LuckyChap Entertainment. (Bustle reached out to Warner Bros. and Robbie's reps for comment, but has not yet received a response.)
A Barbie film has been in the works for years; in 2016, Amy Schumer was attached to the project, which would have put an alternate spin on the Barbie mythology, as well as undermining many of the stereotypes associated with the blonde doll. Despite the proposed film being a "takedown" of the traditional Barbie tropes — the story reportedly centered on a doll who was "kicked out of Barbieland for not being perfect enough and lands in a real-world adventure" — Schumer's casting earned a great deal of backlash from Internet trolls who didn't think the comedian would be a good fit.
Schumer eventually stepped away from the project in March 2017, due to scheduling conflicts, but she did give the project her stamp of approval, which may indicate that the final Barbie film will still have the empowering message that she had intended it to have.
"Sadly, I'm no longer able to commit to Barbie due to scheduling conflicts," Schumer told Variety in a statement. "The film has so much promise, and Sony and Mattel have been great partners. I'm bummed, but look forward to seeing Barbie on the big screen." (Schumer also did a "polish" on the script, according to Variety, which hints that some of her comic sensibility may make it to the final product.)
However, Schumer isn't the only Hollywood starlet to have considered the role of Barbie. In July 2017, Oscar winner Anne Hathaway was reportedly attached to star as Barbie, with Schumer signing off on her involvement in an Instagram post that declared Hathaway "is perfect."
Now, it seems that Robbie has ended up in the role, and the Australian actress is a perfect fit for the role in more ways than one. In addition to fitting the profile of a "blonde bombshell," Robbie is a talented comedic actress who would be able to bring a great deal of subversive humor the role of the world's most perfect doll. More importantly, though, Robbie is a strong advocate for women in Hollywood, and is determined to make her mark behind the scenes as well as on the big screen.
After producing and starring in the Oscar-nominated I, Tonya, last year, Robbie told ELLE magazine in January 2018 that she is looking forward to stepping behind the camera, both as a producer and, possibly, as a director. "I still love acting," Robbie said at the time. "But I've spent the last 10 years on a film set, and I realized that if I am pouring my heart and soul into a film, I want to be one of those voices in the conversation making decisions."
And since Robbie is living up to that promise of being one of the decision-makers on set — she was instrumental in getting a female director hired for the upcoming Harley Quinn movie, for example — the Barbie film promises to truly be a film that uplifts and empowers women everywhere. In addition, Robbie has been incredibly outspoken about the lack of female-led films in Hollywood, and her determination to help studios realize that there are plenty of women who want to see themselves reflected on the big screen.
"I don't think it's any secret that the industry is definitely gravitating towards female leads and giving women a voice," Robbie told Bustle in June 2015. With a lead role in Barbie, the actress might have found the best way to entice women and girls of all ages to the movies.
And if the film does uphold its reported message of empowerment and inclusion, Robbie will have once again helped to ensure that women are getting a strong voice in Hollywood, both as the film's star and as one of the powerful decision-makers helping to bring it to the big screen.